Gene Hackman Thought He Would Never Work Again After Hoosiers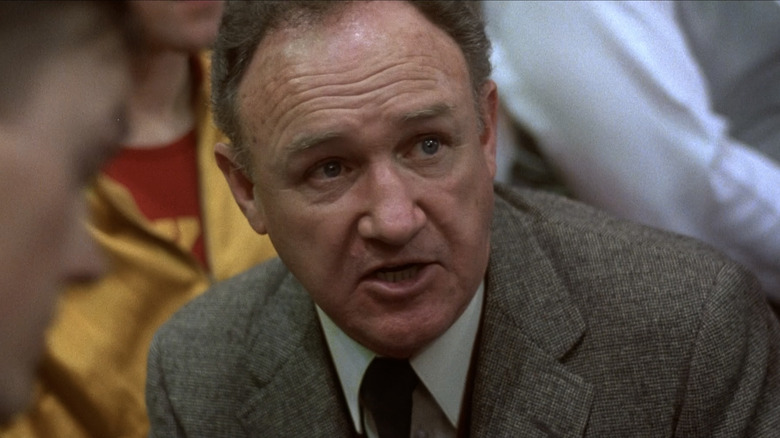 Orion Pictures
Nowadays, if you make a list of the greatest sports movies of all time and you don't put "Hoosiers" on it, you'll most certainly receive a cavalcade of flack. The picture about a small town Indiana high school basketball team pulls those inspirational sports story heartstrings better than most other movies of its genre, and regardless of what sport they are about, most modern sports movies essentially use "Hoosiers" as a blueprint. It's classic underdog story through and through, and if you give yourself over to its blunt sentimentality, you will get swept away in the emotion. It's the movie everyone's dad absolutely adores, and my own dad is no exception.
Key to why "Hoosiers" is able to hit so many people is because of Gene Hackman's performance as Coach Norman Dale. Hackman is one of the finest actors the American film scene has ever seen, and he brings an instant heaping of gravitas when he steps on scene. He's especially good at peeling back that initial gruff, ornery exterior to reveal someone filled with a lot of heart. That is exactly what this particular role calls for, and you honestly cannot imagine anyone else delivering the line "I love you guys" in his final locker room pep talk for his team.
Hackman is one of those performers who cannot help but be completely transfixing on screen, and that even goes to the roles where he is not even that engaged with the material. I know that because "Hoosiers" was not a film he was thrilled to be making. While he was making the film, he thought he was at a career nadir and thought maybe his time as a fixture of American cinema was at an end.
'I hope you've invested well'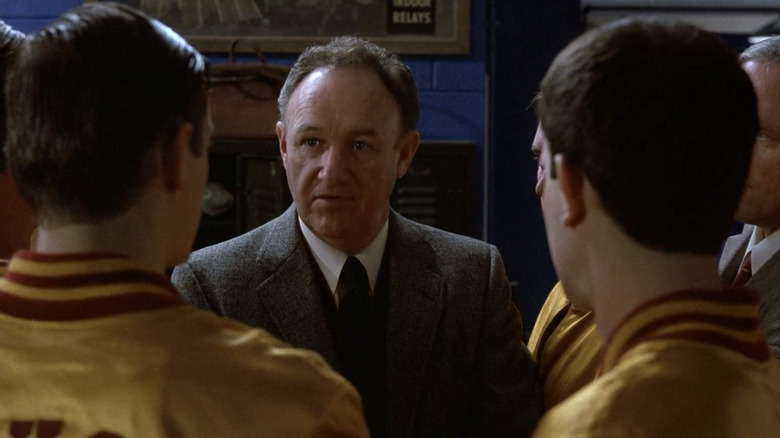 Orion Pictures
On paper, I can understand why Gene Hackman was not too thrilled making this movie. At its heart, this is a cheesy sports movie being directed by first time filmmaker in David Anspaugh ("Rudy"). If this film wasn't executed exactly right, it would leave every person in the audience rolling their eyes until they couldn't see. 
Anspaugh appeared on The Rich Eisen Show and recalled Hackman's pure discontent making the movie, calling him "minorly disagreeable," which sounds like the nicest way to phrase it. He continues on to describe a scene in the movie where Hackman made that distaste fairly explicit:
"There's a scene in the montage where Hickory starts winning, and there's a shot of Dennis Hopper. The camera's across the floor, and it's shooting towards the Hickory bench, and you've got music going. And you see Hopper and Hackman sitting there, and you see Dennis kind of laugh and slap his leg. That was a reaction, and I didn't find this out until just a couple year before Dennis passed. He finally told me, 'Don't you know what happened there? Hackman said to me, 'Dennis, I hope you've invested well, because we'll never work again after this film.' He had no belief in that movie, or me, at the time."
Of course, "Hoosiers" did not tank Gene Hackman or Dennis Hopper's career. In fact, Hopper even got an Oscar nomination for his performance in the film. Hackman continued on being number one on the call sheet for so many big movies and earned two more Oscar nominations within the following six years, including a win for "Unforgiven." This was one of those cases where Hackman's annoyance seeped into the performance and gave it the truth it needed. He may have thought "No basketball movie has ever made any money," but that didn't stop him from putting in the work. 
And "Hoosiers" did make decent money, and now it's considered a classic.