The 'Bane' Of Tony Dalton's Existence Became His Greatest Asset On Better Call Saul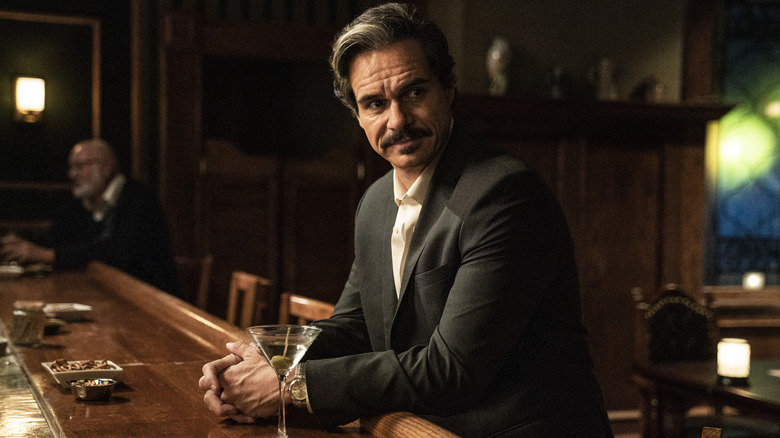 AMC
Not a single person could've ever predicted what would be in store for all of us — viewers, writers, and even actors alike — when Saul Goodman name-dropped a mysterious and unseen "Lalo" in sheer panic during his very first appearance in season 2 of "Breaking Bad." Although it would take years for the throwaway line to end up producing fruit in the spinoff series/prequel "Better Call Saul," creators Vince Gilligan and Peter Gould clearly set a high creative bar for themselves to expand on that moment — and eventually exceeded their own high standards. As one of the greatest additions to the "Breaking Bad"/"Better Call Saul" universe, Tony Dalton's casting as Lalo Salamanca provided an instant shot in the arm (not that "Better Call Saul" even needed such a boost in the first place, mind you) and balanced out the far different antagonistic energy exuded by Giancarlo Esposito's Gus Fring with a flashier, more arrogant, but equally as calculating proficiency.
Of course, as well written as the character undoubtedly remains while we barrel towards a midseason confrontation for the ages, viewers never would've responded so strongly to the charismatic villain if it weren't for Dalton's impeccable work in bringing the character to life. Born in Texas, raised in Mexico City, and educated in Massachusetts, the actor has traveled a long and winding path on his way to achieving success in Hollywood. But as is often the case with people of color, casting directors saw him as a difficult fit into any one box. According to the actor himself, it took until "Better Call Saul" for the "bane" of his existence to finally turn to his advantage.
'It finally worked in my favor'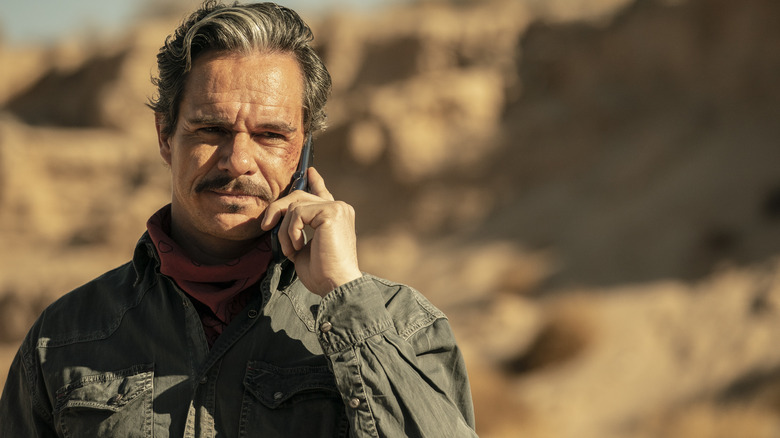 AMC
Until "Better Call Saul," Tony Dalton had mostly made his living in several Spanish-language features and shows over the years, with a minor role in Lana and Lilly Wachowski's "Sense8" serving as his most well-known role to American viewers. When "Better Call Saul" provided his big break and gave him the chance to shape the character of Lalo Salamanca into an unforgettable figure, Dalton explained in an interview with the New York Times in 2020 (soon after the airing of the explosive season 5 finale, which saw Lalo escape from the Gus Fring-orchestrated hit attempt at his Mexican home) that he brought both charm and his own varied cultural background to the role.
"The charm part was mine, to be honest," he explained to the Times while recounting a previous role where his character was paper thin and given no personality. "I think once the writers saw that I was playing Lalo with charm, they started writing charm into the scripts. It's completely and totally a collaboration." But unfortunately, it took far longer than it should've for Dalton to end up with a role as meaty and complex as Lalo. To hear the actor tell it, the culprit is an immensely frustrating one:
"I have this thing that's sort of chased me around. 'Well, you don't look that Mexican, you don't sound Mexican, but you are Mexican. So, do we give you a Mexican part or do we give you an American part?' It's been the bane of my existence as an actor. It finally worked in my favor."
Given how far both Dalton and Lalo have come, it's readily apparent that Vince Gilligan and Peter Gould made the right call in bringing the actor on board — even in spite of some initial hesitance. As "Better Call Saul" rumbles toward its final conclusion, we're appreciating every second we get of Tony Dalton as Lalo Salamanca.