Obi-Wan Kenobi Star Ewan McGregor Shares What It Was Like To Reunite With Hayden Christensen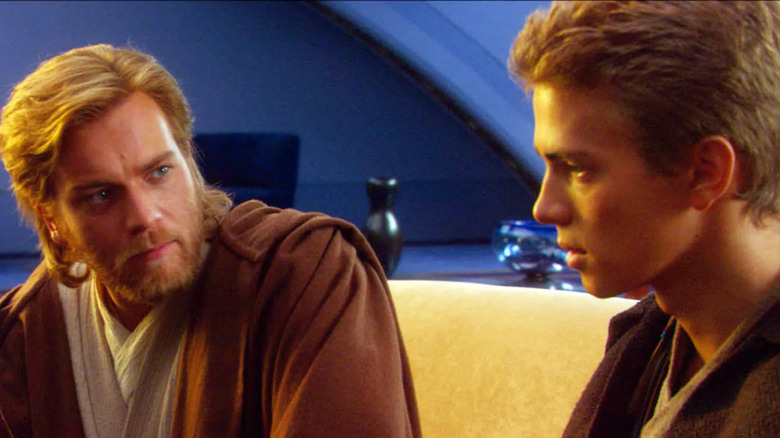 20th Century Fox
The "Star Wars" limited series "Obi-Wan Kenobi" is set to debut on Disney+ in just a few days. The series will star Ewan McGregor as the title character, and will detail the events of Obi-Wan's life in the span between the 2005 film "Star Wars: Episode III – Revenge of the Sith" and the original 1977 "Star Wars." At the end of "Sith," Obi-Wan battled his erstwhile apprentice Anakin Skywalker (Hayden Christensen) nearly to the death, leaving Anakin limbless and severely burnt next to a lava flow. Anakin was rescued by his new boss, the evil Emperor Palpatine (Ian McDiarmid), and locked into a black suit, completing his transformation into Darth Vader. Anakin's son Luke was handed off to a nondescript couple on the backwater planet Tatooine, with Obi-Wan moving into a nearby cave where he would oversee the youngster's upbringing from afar. "Obi-Wan Kenobi" will feature parts of that overseeing process. 
"Obi-Wan Kenobi" will also feature, perhaps inevitably, new encounters between Obi-Wan and Darth Vader, likely full of animosity as the former had previously left the latter to die, and the latter having already personally murdered the attendants of a Jedi school and many others besides.
/Film attended a virtual press conference for the new show today, at which showrunner and director Deborah Chow ("The Mandalorian," "Jessica Jones," "American Gods") and McGregor discussed some of the details of "Obi-Wan Kenobi" — most notably how that reunion felt in terms of both "Star Wars" canon and on-set interaction.
What relationships matter to Obi-Wan?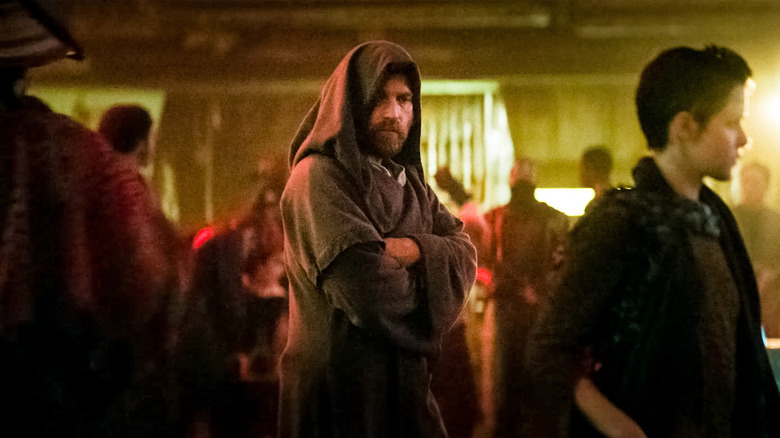 Lucasfilm
Chow was asked what was it that intrigued her about having Obi-Wan Kenobi and Darth Vader together again. For her, it was a natural continuation of the many decades of history the characters had (and will have) in the chronology of the series (indeed, it will be in "Star Wars" that Darth Vader will face off against Obi-Wan again, leading to Obi-Wan's ascendance/death). For Chow, it was a natural, obvious step to reunite the two.
"I think when we were developing the material and we were really looking at the character of Obi-Wan, and looking and [asking] 'What was important in his life? What were the relationships that were meaningful?' And obviously, the history coming out of 'Revenge of the Sith' is so strong and it's so powerful, that it really felt like, for us, that obviously there'd be so much weight coming into this story that was connected to Anakin/Vader. So I think it just felt natural that it would be Hayden, and that we would continue this relationship in the series."
Prior to the events of "Revenge of the Sith," Obi-Wan and Anakin's relationship was explored in "Star Wars: Episode I – The Phantom Menace," wherein Anakin was a young boy, "Star Wars: Episode II – Attack of the Clones," wherein Anakin was an impetuous youth, and the seven-season long animated series "Star Wars: The Clone Wars," which would eventually overlap with the events of "Sith" as well as spawn its own animated feature. The relationship between Obi-Wan and Anakin has been granted more screentime than any other in "Star Wars" history.
Do the time warp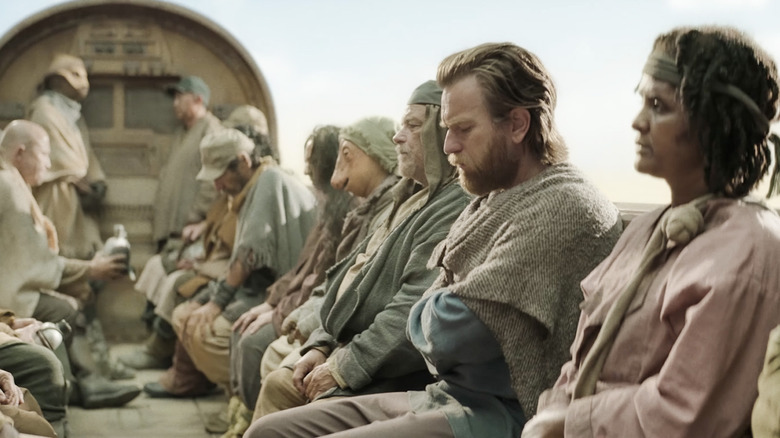 Lucasfilm
/Film also asked McGregor what it was like to re-team with Christensen after 17 years. Neither McGregor nor Christensen appeared in the animated series, so acting with Christensen again gave the actor a rush of nostalgia. He recalls the time they spent filming back in the early '00s, and how it felt to see him again: 
"Great. We just were so close when we made the first. We made 'Episodes II' and 'III' together, and we made them in Australia, so we were both away from home, and we had so much time training for the fights together, and then being on set together. But also, because we were so far from home, we spent a lot of time outside of work together as well. So we were close. And then over the years, I guess, we slightly lost touch. I hadn't seen Hayden for years. So when I saw him again and was able to talk about this project with him, it was very, very exciting. It was great."
It was great, but also, in McGregor's words "peculiar." After all this time, the actors are back playing the same characters again. 
"When we were acting together, it was really like some kind of time warp. Really, looking across at him on set was like the last 17 years didn't happen at all. It was really peculiar."
The first two episodes of "Obi-Wan Kenobi" will debut on Disney+ on May 27, with the remaining episodes set to air each week for the following four weeks. The show also stars Joel Edgerton, Bonnie Piesse, Sung Kang, Rupert Friend, Indira Varma, O'Shea Jackson, Jr. and Kumail Nanjiani.