The Daily Stream: The Last Waltz Should Be Streamed Loud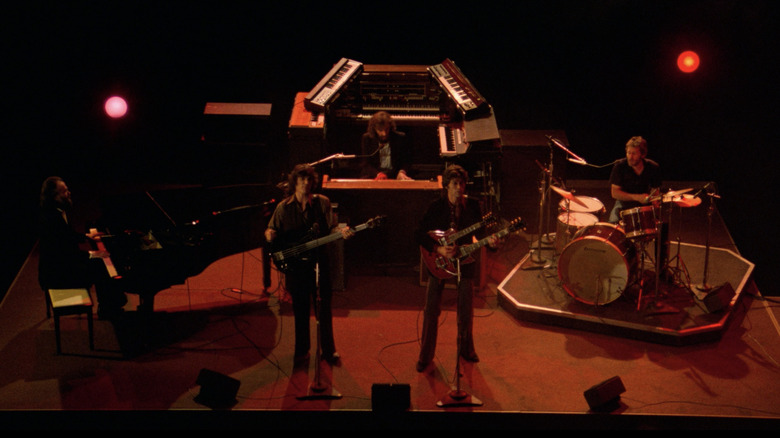 United Artists
(Welcome to The Daily Stream, an ongoing series in which the /Film team shares what they've been watching, why it's worth checking out, and where you can stream it.)
The Movie: "The Last Waltz"
Where You Can Stream It: Prime Video, Criterion Channel, Pluto TV, Tubi
The Pitch: While everyone wants to believe that the band they are in will last the test of time, most bands are not The Rolling Stones. After 16 years of gigging, touring, and recording, the mostly Canadian folk-rock band The Band were calling it quits with one final, blowout concert at the Winterland Ballroom in San Francisco, the venue for their first gig where they were dubbed "The Band." Not only did they play some of their biggest hits, like "Up on Cripple Creek" and "The Night They Drove Old Dixie Down," but they were joined by a litany of special guests. Some of them were their biggest influences, like Muddy Waters and The Staple Singers. Some were people they formerly worked as the band for, like Bob Dylan and Ronnie Hawkins. And then there were just all-star contemporaries who came along to jam, like Joni Mitchell, Neil Young, and Ringo Starr. All of this, along with interspersed interviews with the band members, was captured by the one and only Martin Scorsese for a truly electric, joyous (and cocaine-fueled) night of music.
Why it's essential viewing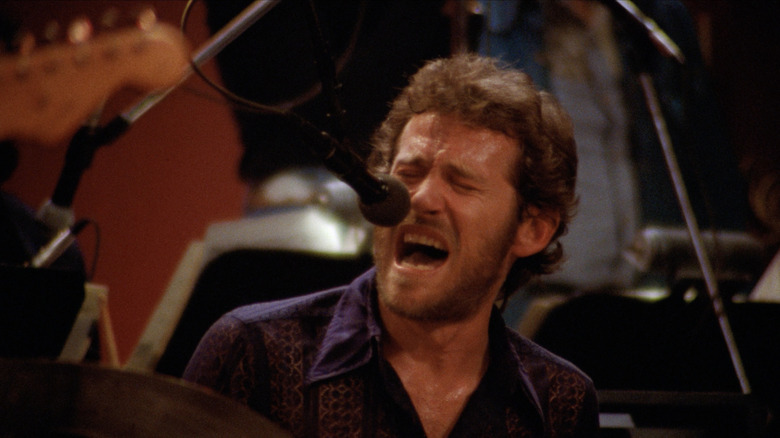 United Artists
If you were to choose what is the greatest concert film of all time, you really only have two choices: "The Last Waltz" or "Stop Making Sense." I would not fault you for picking either, and depending on the day, I waffle between the two. "Stop Making Sense," the 1984 Jonathan Demme picture chronicling a Talking Heads performance, is maybe more of a perfect object, capturing that band's precision and singular approach to performance. "The Last Waltz" has much more of a "go-with-the-flow" energy, more befitting The Band's style of music, which takes its inspirations from blues, jazz, and soul. While, of course, planning a concert this big requires a lot of preparation, there is an improvisational quality to all of it. A new guest star will come one, and it feels like they just decide to play whatever song on the spot, which sometimes was true.
Scorsese matches that flow perfectly. He will cut in an interview with one of the band members (usually Robbie Robertson, more on that later), and these guys are totally unpolished in front of a camera. With the exception of Robertson, no one even is trying to be either. Then there are times when the performances will not be during the concert but shot in a studio later. Even with the change of location, set-up, costuming, and ability to move the camera, it all feels completely of a piece with the rest of the show. Scorsese's decision not to get designated shots of the audience aids in capturing this freewheeling nature. We are with The Band, and whatever they decide to do next is what will happen. If they tell a rambling story, we follow that. If Eric Clapton and Robbie Robertson duel back and forth with guitar solos, that is what we will do. Scorsese even leaves in moments where people want to change how they answer a question he asks. It's an anything-goes affair, and the spontaneity is infectious.
The music just rules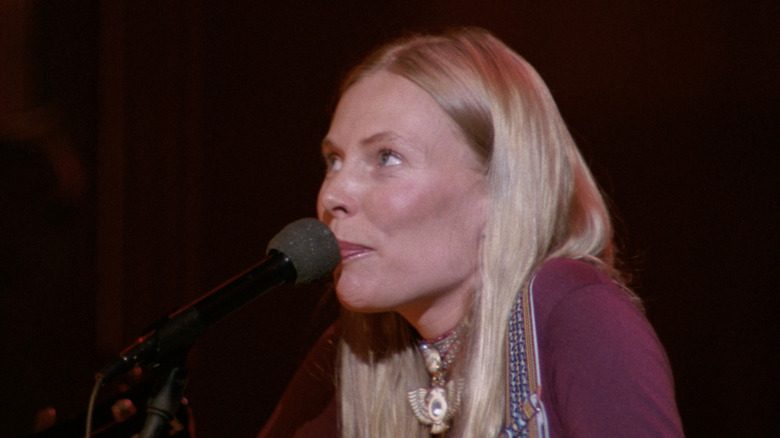 United Artists
What matters most in a concert film, though, is the music. If the music is bad, why would you want to be at that concert? Today, The Band may not be seen as one of the all-time greats, but they were a damn good group of musicians who wrote a lot of beautiful songs. Seeing and hearing Levon Helm poor his whole soul into that twangy, gravelly voice of his as he pounds away on the drums is the kind of primal music making you could be enraptured by for far longer than the running time of "The Last Waltz." Then on the other side of the stage, you have Rick Danko flying up and down his bass, matching Helm's vocals in spirit but without any of the natural tone. He still makes it beautiful. The performance of "The Weight" with The Staple Singers unquestionably is one of my favorite musical numbers ever captured on film.
Oh, yeah. And you have a list as long as your arm of straight-up legends coming on to perform some of their best songs. It is so star-studded that you could accidentally forget that Dr. John comes on to do "Such a Night" or Emmylou Harris comes in for "Evangeline," a song first performed for "The Last Waltz." My favorite guest performance is inimitable Joni Mitchell coming in to perform her terrific song "Coyote." We even get bonus Joni here when she provides backstage background vocals during Neil Young's "Helpless." If you are not overly familiar with this era of music, "The Last Waltz" also acts as a great primer to get you into it.
Yes, there is too much Robbie Robertson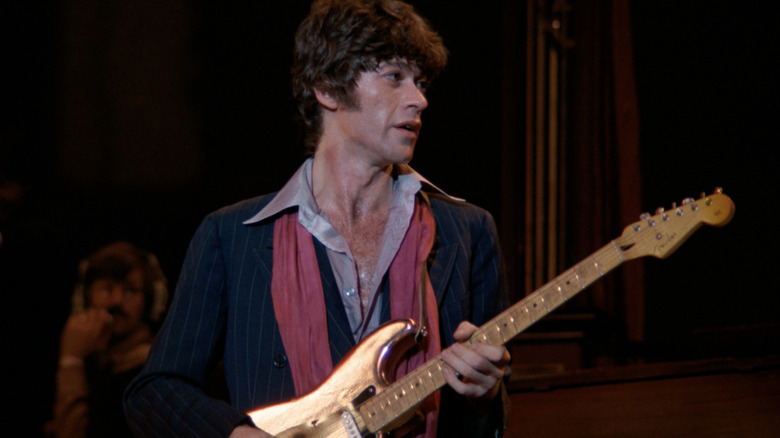 United Artists
The one drawback about "The Last Waltz" is the friendship between Martin Scorsese and Robbie Robertson. Well, I don't care that they are friends. I'm glad they are and continue to work together through today, as he is writing music for Scorsese's upcoming "Killers of the Flower Moon." But ... there's way too much focus on Robbie Robertson here. Almost every interview in the film includes him in some capacity, and on stage, it feels like every third shot is a cut to Robertson wailing away on his guitar. Levon Helm, Rick Danko, Richard Manuel, and Garth Hudson deserve just as much spotlighting as Robertson does. Hudson, in particular, really draws the short end of the stick when it comes to screen time. If that was by choice on his part, wanting to keep to himself, fine. If not, I needed more balance. Considering Robertson's inflated reputation that contributed in breaking the band up, it doesn't help.
Outside of that, "The Last Waltz" is the blueprint for an exceptional concert feature. You see a band, or The Band, in full control of their sound just enjoying playing together for what was presumably the last time (The Band did reunite in 1983 minus Robbie Robertson). Before we even see the United Artists logo, we get a title card that says "This Film Should Be Played Loud," and boy, does "The Last Waltz" earn that sentiment. Click play, crank up the volume, and have a grand ol' time.