Jon M. Chu Was Connected To Crazy Rich Asians Long Before Becoming Its Director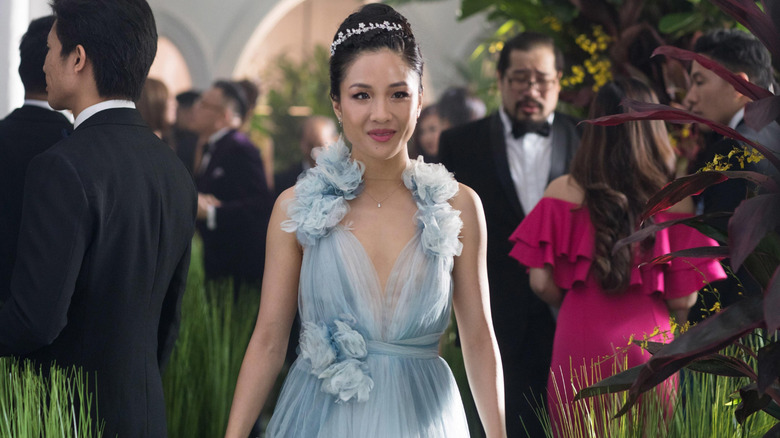 Warner Bros.
Who says romantic comedies are dead? Not Jon M. Chu. In 2018, Chu directed "Crazy Rich Asians," a movie that lives up to the extravagance implied by its title. The film stars Constance Wu as Rachel Chu, a Chinese American economics professor who travels with her boyfriend, Nick Young (Henry Golding), to attend his best friend's wedding in Singapore, only to learn his family is actually extremely wealthy. What ensues is a old-school comedy of manners that Jon M. Chu brings to life with the same visual flamboyance found in his earlier work, including the "Step Up" movies.
"Crazy Rich Asians" also carries over a motif that has defined Chu's films since his feature directing debut on 2008's "Step Up 2: The Streets" — that of characters trapped between two worlds (be it due to class, culture, or a mix of factors) who must find a way to coexist in both. The movie pits Rachel against Nick's mother, Eleanor (Michelle Yeoh), who believes Rachel is too American (read: self-centered) to make the sacrifices that would allow Nick to run the family business like his parents want. This then leads to Rachel uncovering the truth about why her mother immigrated to the United States so many years ago.
As Chu told The Hollywood Reporter in 2018, he deeply related to the way Rachel discovers her roots in "Crazy Rich Asians." He was also quick to note what he assumed was an inadvertent nod to his own career in Kevin Kwan's source novel (a bestseller published in 2013). When Chu and Kwan met for the first time, however: "Kevin's like, 'No, I am talking about you,'" Chu told THR.
Chu's real-world connection to the book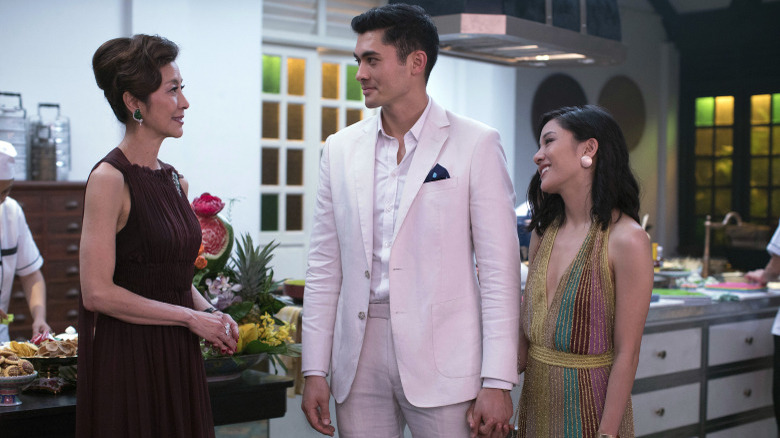 Warner Bros.
Kevin Kwan's book "Crazy Rich Asians" mentions Rachel Chu has an extended family in the U.S., including a cousin who became a very successful director in Hollywood. This isn't an accidental reference to Jon M. Chu's real-life success, either. Kwan was close friends with the director's cousin Vivian (who lived in New York) before he wrote the novel. She would often talk to him about her family in California, which is where Chu was born and grew up. Kwan would, in turn, draw inspiration from her and the stories she shared while creating the Rachel Chu character.
Indeed, Kwan confirmed this real-life connection when he and Vivian attended Chu's own wedding in 2018. He posted a photo of the three to Instagram, writing:
"More than 10 years ago, my dear friend Vivian in New York started telling me stories about how she grew up in Northern California amongst all her cousins and how close knit they all were. As I moved to the U.S. when I was 11 and had to leave behind my closest cousins, I was fascinated by the stories of her cool American-Born Chinese family, so different from my own, and her stories inspired me when I created the character of Rachel Chu and her family."
The author went on to affirm that Chu was "one of the cousins Vivian had been talking about for so many years." He added, "I never dreamed that he would one day direct the film based on my book, a film with a heroine who is inspired by the women in his own family."
The connections don't stop there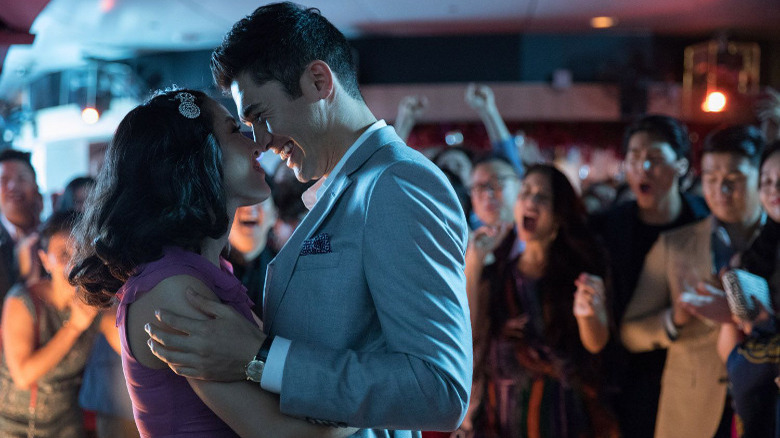 Warner Bros.
Wind the clock back to the early 1990s and you will find yet another link between Jon M. Chu and "Crazy Rich Asians." When "The Joy Luck Club" — a film that, like "Crazy Rich Asians," broke new ground with its subject matter and inclusion of Asian and Asian American artists on both sides of the camera — came out in 1993, Chu and his family won an auction to have dinner with one of the movie's stars, Lisa Lu. 25 years later, Lu would costar in "Crazy Rich Asians" as Nick's grandmother, who teams up with Eleanor to dig into Rachel's past, only to learn her father is still alive (much to Rachel's shock).
Funnily enough, "Crazy Rich Asians" scribe Adele Lim, herself Malaysian American, has her own connection to the property. During production, Lim toured what she called the "beautiful old colonial bungalow" set used to create the Young family home at Tyersall Park in Singapore, which was really filmed at a pair of abandoned mansions in Carcosa Seri Negara at Perdana Botanical Gardens in Kuala Lumpur, Malaysia. It was only then she realized this was the same place where she had gotten married. "It felt so much like things were coming full circle," said Lim.
"There were so many different weird little things that gave us signs that [this production] was destiny," said Chu. The film itself was a critical and financial hit, grossing $238.5 million on a $30 million budget. Again, rom-coms are far from dead and buried; they've just adapted and evolved to better keep up with the times.