The Daily Stream: Betty Is A Superb Slice Of Skater Girl Life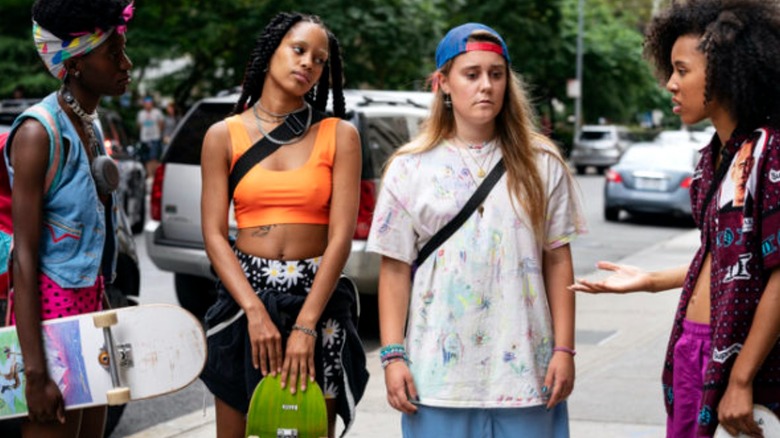 HBO
(Welcome to The Daily Stream, an ongoing series in which the /Film team shares what they've been watching, why it's worth checking out, and where you can stream it.)
The Series: "Betty"
Where You Can Stream It: HBO Max
The Pitch: A group of young women skate through their adolescence — and New York City — in this superb extension of Crystal Moselle's 2018 movie "Skate Kitchen." The title, "Betty," is a slang term used to describe cool skateboarder chicks, but the show actually excels because it makes its found family of girl skaters look enviably awesome without ever once sensationalizing them. "Betty" is a hangout show first and foremost, propelled forward not by an overarching plot but by the spontaneous, sometimes enjoyably aimless feeling of a day on the street with one's friends.
The cast is a true ensemble, though Nina Moran's Kirt stands out as a hilarious stoner tomboy who also happens to be a total ladies' man. "Betty" never asks any of its characters to be just one thing, and each of them can be fiery, vulnerable, confident, or childlike depending on the moment. The two-season series (it was canceled after just 12 episodes) explores some of the same territory as "Skate Kitchen," but it works as a standalone and goes beyond it, too. With a foundation of unparalleled realism, "Betty" grows into a rare and valuable take on friendship, youth, womanhood, identity, queer love, and — as one of the Bettys might say — just vibing.
Why it's essential viewing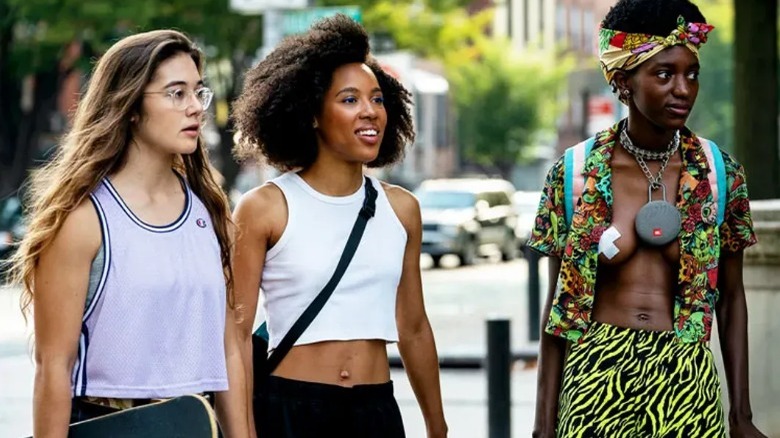 HBO
"Betty" feels more real than most shows because it is: Moselle made "Skate Kitchen" after seeing a real group of girl skaters in New York and being struck by their stories. She reportedly based the script partly on Rachelle Vinberg's life, and several of the real skate crew appear in both the film and "Betty." 
Vinberg plays Camille, an ambitious skater trying to break into a male-led industry. Kabrina Adams is Honeybear, a timid but sweet filmmaker-in-the-making. Ajani Russell plays Indigo, the newest skater of the bunch who comes from more money than the rest of the group. And Dede Lovelace is Janay, who's simultaneously inadvisably strong-willed and a much-needed voice of reason.
While non-professional actors don't always fare well on screen, the results of Moselle's casting here are fantastic across the board. At times, "Betty" is almost documentary-like in its ability to capture the small, resonant moments that make up these characters' lives. Moselle catches dance moves, skate tricks, and kisses alike in the glowing light of a city that never sleeps. Despite its realism, though, the show is never boring: it has a sense of magic and momentum to it, and it glides alongside its always-moving leads with grace.
"Betty" is also joyfully queer and diverse. Each of the Bettys is unabashedly themselves, and that individuality extends far beyond their wild fashion choices (backward caps, bright pasties, bleached eyebrows, and more!). There are plenty of shows out there with queer characters, but very few that are entrenched in a world that doesn't still feel heterosexual by default. "Betty" can count itself among the latter few. Though each character experiences the exploitative effects of being a woman (or perceived as such) in a male-dominated sport, they also cultivate a personal utopia where femininity and straightness are neither the rule nor the expectation. Through skating, "Betty" believes, lies a pure type of freedom. Blissful and bold in every way, "Betty" shouldn't be overlooked.