Jerrod Carmichael Was Careful With How He Handled On The Count Of Three's Heavy Themes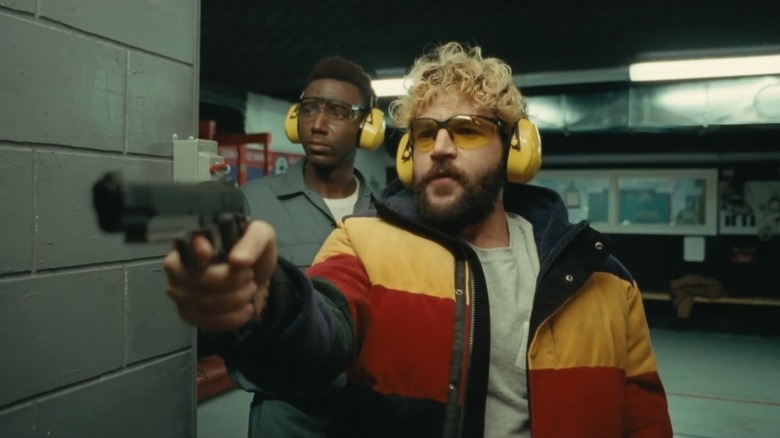 United Artists Releasing
When you think Jerrod Carmichael, you think comedy. The stand-up comic and prolific TV performer is known for "The Carmichael Show," "Comedy Bang! Bang!," the "Neighbors" films, and his recent "Saturday Night Live" appearance and special "Rothaniel." Lately the increasingly prolific performer has taken another novel step forward with the premiere of his directorial debut "On the Count of Three." In the film, Val (Carmichael) tries to commit suicide before being interrupted, and enters a suicide pact with his depressive friend Kevin (Christopher Abbott) as the pair experience a number of complications that just keep getting in their way in a very dark, dark comedy.
The film premiered to critical acclaim at the 2021 Sundance Film Festival (even winning the Waldo Salt Screenwriting Award), earning praise for the charisma of its cast and its ability to somehow successfully walk the tightrope of a bleak, sad plot and stick the rhetorical landing. In a Q&A, Carmichael notes the secret to how he handled the film's extraordinarily heavy subject matter — he was exceedingly careful about it. In fact, the writer-director made sure to both keep continuous touch with his cast while leaning on mental health experts to build a story that was both true and responsible.
Truth over the palatable choice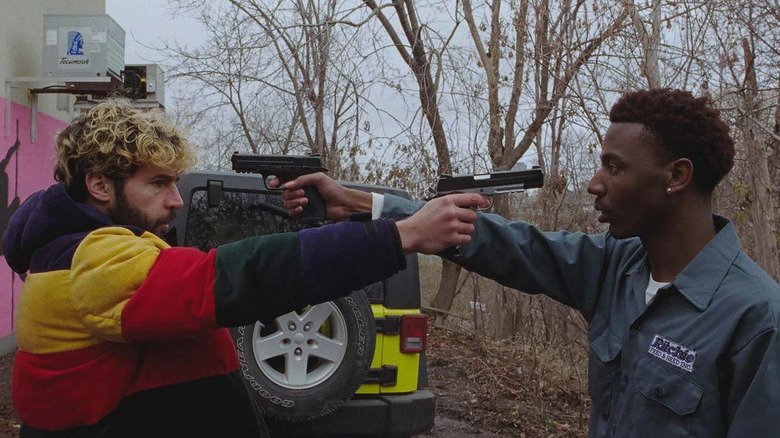 United Artists Releasing
In a Zoom Q&A following the film's premiere, Carmichael made note of the extensive conversations that went into shaping the film and its narrative. He revealed his goal was to create a film that was as true to experience as he could. In the Q&A, he noted: 
There are people we consulted with, and again you want to make sure you play it as true to the experience as you can because that's what the texture of the film is based on. [...] We talked to people, of course, and it's also personal experiences and personal things that you know to be true [... ] and you don't want to change or adapt that based off of what could potentially be the popular or more palatable choice."
His approach to the material was intended to bring as much truth and accuracy to the situation as possible in a process that involved heavy conversations with experts, personal experiences, and even his own cast in order to ground the film. He also noted in the discussion that, despite the film being a comedy and showcasing suicide attempts, he wasn't concerned with "On the Count of Three" being seen as glorifying suicide. 
"I'm really big on the intelligence of the audience and their ability to interpret from an ending like their own emotion and trusting that," Carmichael explained. And regarding the fateful ending, "we played the story out to its logical conclusion."
Altogether, the writer-director's commitment to emotional truth and accuracy in "On the Count of Three" elevated a film that could have easily made missteps. 
You can catch the film now in theaters and on demand.