Jerrod Carmichael Had One Goal In Mind While Making On The Count Of Three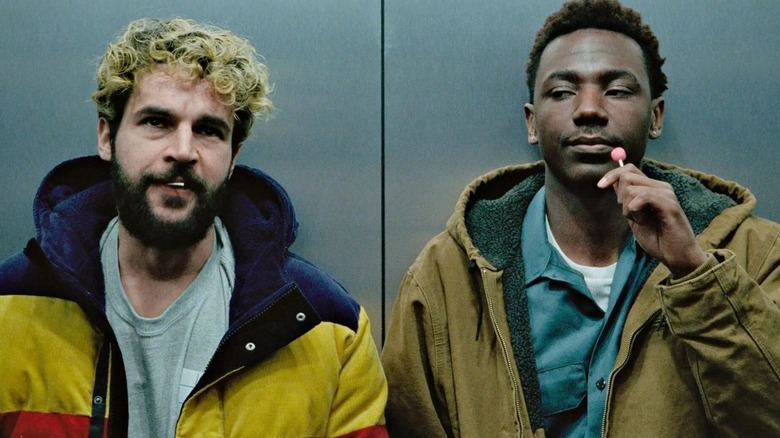 United Artists Releasing
Trigger warning: the following article includes reference to self harm. 
Over a year after making a splash at the Sundance Film Festival, comedian Jerrod Carmichael's feature directorial debut is finally in theaters and on VOD. The highly anticipated indie movie follows an unusual, seemingly bleak plot. In it, two friends, Val (Carmichael) and Kevin (Christopher Abbott), make a suicide pact, but then decide to put off the act for one day that they can spend doing whatever they want. As dark as it sounds, the movie is actually a pitch black comedy co-starring Henry Winkler, Tiffany Haddish, and J.B. Smoove.
Carmichael started his career as a stand-up comedian, but he's never shied away from the more serious parts of life, even on stage. His most recent HBO special, "Rothaniel," sees the comic unpack the legacy of a family dynamic built around secrets, culminating with him coming out as gay on stage. It's a profound and raw hour, but it's also sharply funny when you least expect it. As a filmmaker, Carmichael seems determined to bring a similar tonal complexity to his work.
If you or anyone you know is having suicidal thoughts, please call the National Suicide Prevention Lifeline​ at​ 1-800-273-TALK (8255)​.
'Something that feels true'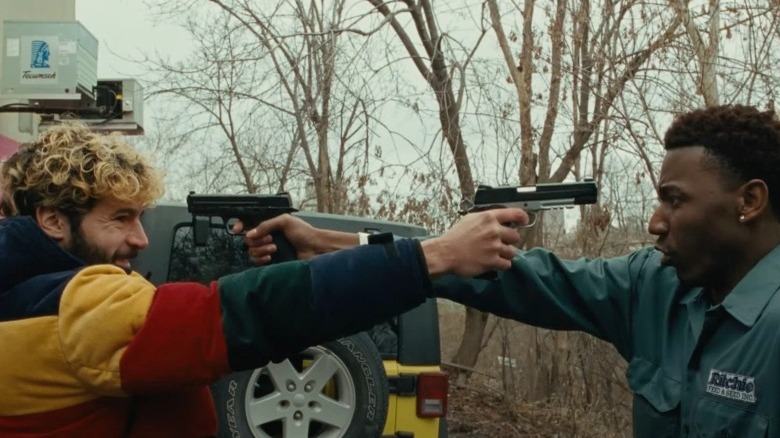 United Artist Releasing
"That balancing act is inherent in everything I do," he told Vulture in an interview for "On The Count of Three" at Sundance 2021. "This movie might surprise someone who just thinks of me as a "comedian," but my whole career has been about that." The filmmaker explains that he doesn't set out to tackle tough topics like suicide and depression, but that "those are the most interesting parts of life to me."
Carmichael shares that his number one hope when crafting "On The Count of Three" was that it be a film that could be called fun as well as bleak. "Let's make something that's not f***ing boring," he said, noting that it's important to find "something that feels true, that can keep people's attention and keep them engaged."
The "On The Count of Three" red band trailer delves straight into some of the dark humor on display in Ari Katcher and Ryan Welch's, script, which won the Waldo Salt Screenwriting Award at Sundance. In it, Val criticises Kevin's suicidal song choice ("Last Resort" by Papa Roach) as way too cheesy and on the nose, and Kevin bristles at Val's last words including the N-word. There's an underlying somberness to the jokes, but as /Film's review by Ethan Anderton points out, the screenwriters "kept the attention squarely on the characters, where every moment of the day "serves their arc in some kind of meaningful way."
Carmichael explains that the tricky tonal balance of "On the Count of Three" comes from keeping the story grounded. "If everything is honest and you play it as real as you can," he says, "the humor will come."
"On the Count of Three" is now in theaters and is also available to rent or purchase digitally.

If you or anyone you know is having suicidal thoughts, please call the National Suicide Prevention Lifeline​ at​ 1-800-273-TALK (8255)​.