Why Stephen King Didn't Care If 1408 Flopped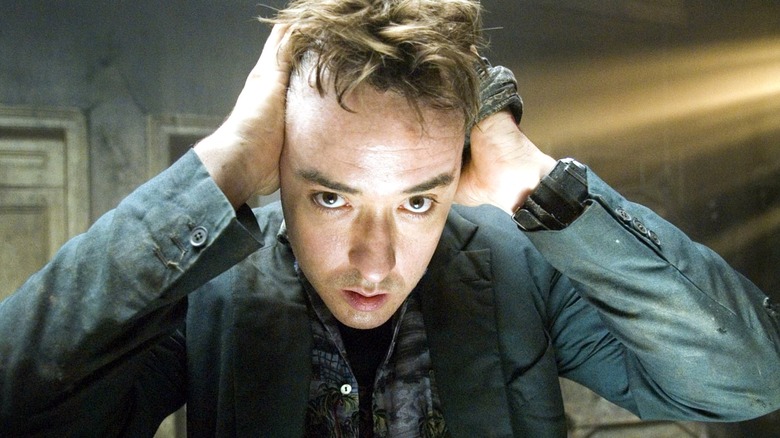 Metro-Goldwyn-Mayer
Any time a writer publishes anything, he puts him or herself out there to be judged. Even with this very article, it is up to you, dear reader, to decide if it's any good or if it sucks. Imagine how thick-skinned Stephen King must be as one of the world's most renowned horror writers. In addition to his literary criticism, he must also deal with critiques of dozens of projects that have been adapted for film and television — most of which he has little control over.
The author has always embraced new technology to find innovative ways to reach his readers. He was on the cusp of digital publishing in 2000 when he released "The Plant," becoming the first major author to self-publish online. The prior year, he released his 11th audiobook "Blood and Smoke" which included two unpublished stories – "1408" and "In the Deathroom." Both would later be published in the short story collection "Everything's Eventual."
In 2007, "1408" was made into a movie starring John Cusack and Samuel L. Jackson. It was King's 32nd project adapted to film, so by the time it was released, one might say King had a devil may care attitude about its success. Fitting for Stephen King.
King watches his movies as a fan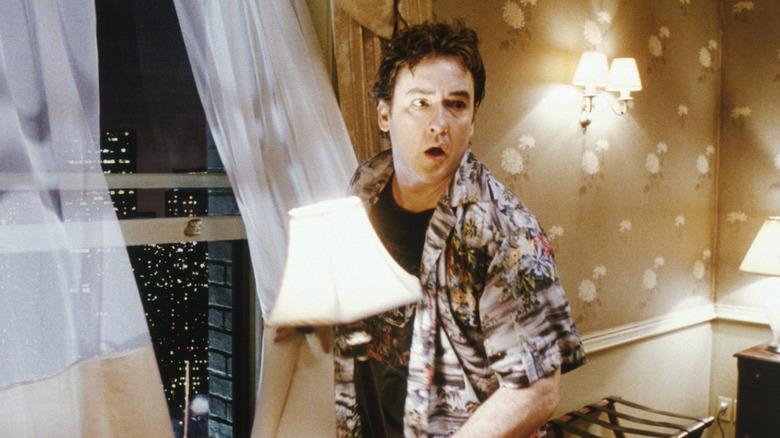 Metro-Goldwyn-Mayer
Stephen King has a unique approach to his film adaptation projects. According to The Guardian, King only charges $1 when granting the rights to a project and must approve of the screenwriter, director, and main cast. His concern is for the creative rather than the ultimate success of his adaptations. In an interview with Lilja's Library, King reinforced this. When asked about the potential for the film adaptation of his short story "1408," King said:
"So maybe it's a success and that's terrific. But suppose it's junk. Then it's gone in two weeks. And that's the end of it. But I'm always just interested. I approach it as a fan and I know that there are writers who, what can I say, they kind of hover over things, the book is their little baby and, in some cases, I can understand that."
King went on to explain that because he has written so many books, he's not concerned with the success of the film adaptations. And for good reason: Every King movie from here on out could flop (and there have been plenty) and it would have no bearing on his status as the preeminent horror writer of our time. Despite his apathy towards "1408," the movie delivered, even with its similarities to another iconic King film adaptation.
'It looks like The Shining only hot instead of cold'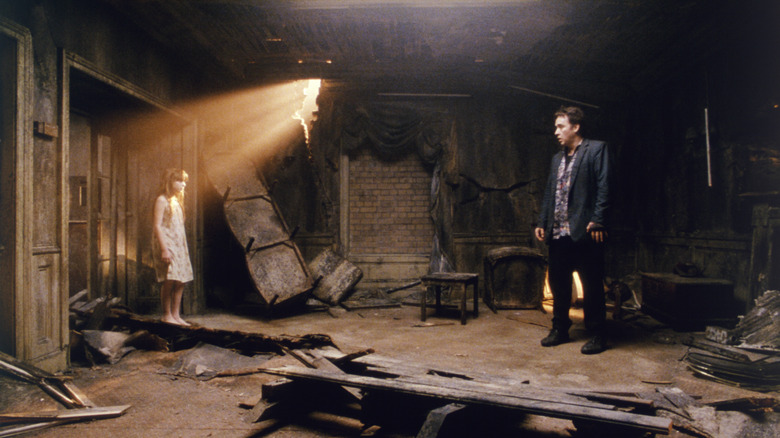 Metro-Goldwyn-Mayer
It is appropriate that "1408" came from a collection of short stories because that is how the film plays out. Author and skeptical paranormal investigator Mike Enslin must survive a series of paranormal scares while attempting to stay the night in a reportedly haunted hotel room. It's easy to compare "1408" to King's other hotel horror flick, "The Shining." Both are psychological thrillers that deal with the loss of oneself. King himself compared the two in saying, "It looks like 'The Shining' only hot instead of cold." Quite literally, as "The Shining" ends in the frigid cold while "1408" goes up in flames.
While "The Shining" takes place in the sprawling expanse of the Overlook Hotel, "1408" almost exclusively lives in one room in New York's Dolphin Hotel. Instead of a descent into madness, Mike Enslin is taken on a personal journey that mirrors the layers of hell in "Inferno" from Dante's "Divine Comedy" poem.
The evil in "1408" has a sense of humor in the beginning: "a ghost that offers turndown service" as Enslin notes in his trusty microcassette recorder. But the cynical author is warned several times that more is coming, through a jarring radio alarm clock via The Carpenter's "We've only just begun." When the real scares begin, Enslin realizes he's trapped in the room and begins moving through different stages of terror as the room preys on his grief stemming from the death of his daughter.
Director Mikael Hafstrom used what The New York Times called "old-fashioned restraint" by using creative camera angles and point-of-view shots to help viewers share the terrified headspace of Enslin. Because King's novels are so dense, it makes sense that his short stories are better digested when adapted to the big screen. "1408" is evidence of that, offering a frightening visual look at the evil that might exist inside our own pysche. King called the movie "terrifying" and though he might not care, "1408" is one of King's most profitable horror films of all time, grossing nearly $133 million at the box office worldwide.