The 15 Best John Cusack Movies Ranked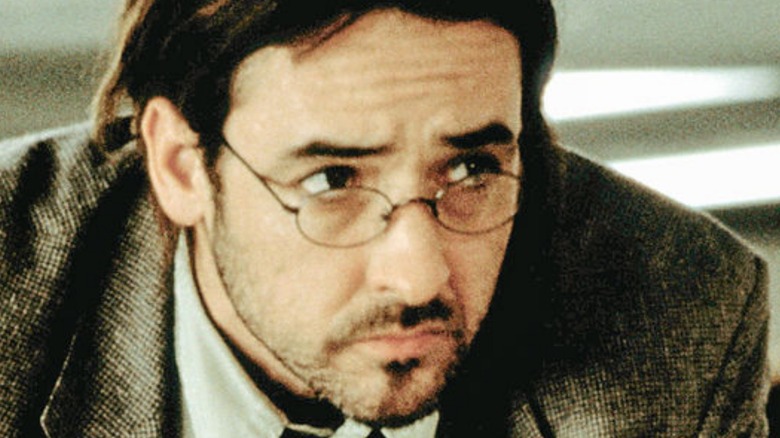 USA Films
John Cusack is a fascinating movie star who has had many ups and downs throughout his multi-decade career. Alongside his sister Joan, Cusack launched his acting pursuits in the '80s and became renowned for his charisma and his emotional authenticity. The nervous, fast-talking energy that many stars try to emulate comes naturally to Cusack. After he delivered a memorable debut performance working alongside John Hughes in "Sixteen Candles," Cusack's talents became highly sought after by leading filmmakers.
Cusack started off as a teen idol thanks to roles in films like "The Sure Thing" and "Better Off Dead." However, where other adolescent actors failed to transition to more serious adult fare, Cusack continued to challenge himself by working alongside well-known auteurs. Cusack also showed a willingness to step into supporting roles, and began co-writing and producing some of his most successful projects. 
Unfortunately, like many of his contemporaries, Cusack's career has declined in more recent years, but that doesn't take away from his talents as an actor, nor the heights he's reached over the past four decades. To prove it, here are the 15 best John Cusack movies, ranked.
15. Serendipity (2001)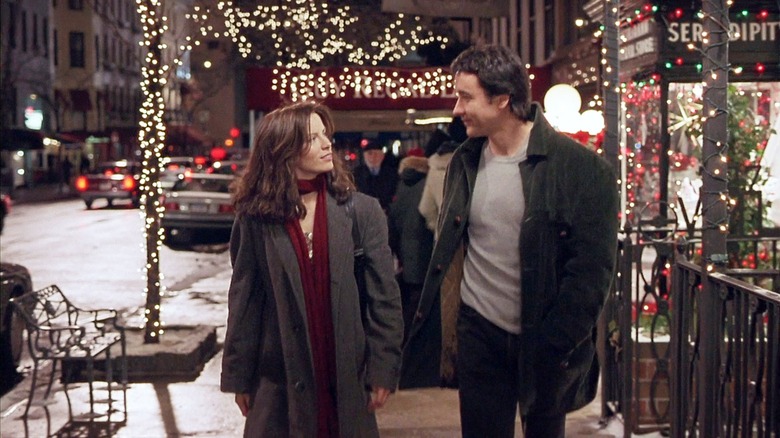 Miramax Films
"Serendipity" is definitely not great cinema, but it's a good showcase for how Cusack (and his co-star Kate Beckinsale) can elevate cheesy material. Set during a frantic Christmas season, the romantic comedy follows strangers Jonathan (Cusack) and Sara (Beckinsale), who meet on a shopping excursion. After an amazing night together spent on the streets of New York City together, they part ways.
Three years later, neither has gotten over the chance encounter. Jonathan is engaged to Halley Buchanan (Bridget Moynahan), and Sara's boyfriend Lars Hammond (John Corbett) is about to propose to her. Neither is happy in their relationships, and they find themselves intertwined in each other's lives once more. 
"Serendipity" has fun with the concept of destiny and the notion of soul mates; Sara figures that, if they are meant to be together, then fate will reunite them at a natural time. Cusack's snarkiness fits the whimsical tone, as he's aware of how corny some of his dialogue is.
14. The Paperboy (2012)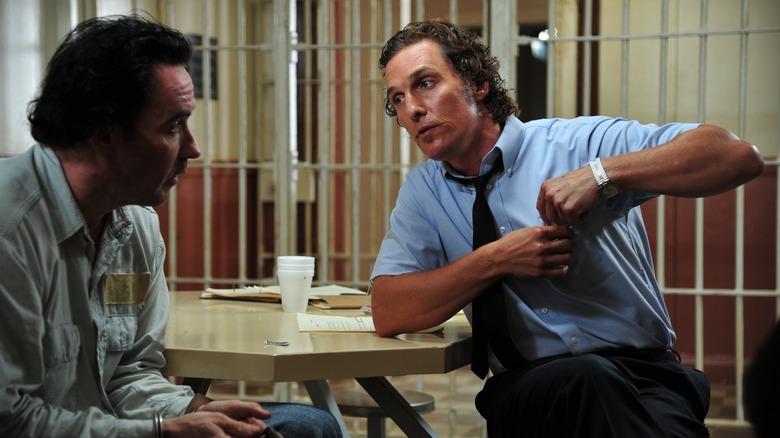 Millenium Films
"The Paperboy" is a dirty, deranged, and borderline tasteless true crime thriller in which many traditionally respectable actors had a blast with the trashy material. Set in the '60s, the film follows the idealistic Miami lawyer Ward Jansen (Matthew McConaughey) as he returns to his hometown and reunites with his brother Jack (Zac Efron). With the assistance of reporter Yardley Acheman (David Oyelowo), the trio investigates a murder case involving serial killer Hillary Van Wetter (Cusack).
Wetter is on death row, and his eccentric girlfriend Charlotte (Nicole Kidman) follows the Jansens throughout the trial. Cusack appears behind prison bars, and chews the scenery with aplomb during each of the interview sequences. Compared to Ward, who seeks to bring honor and justice to the swampy Florida town, Hillary has no sense of guilt. He casually references his various crimes, making Ward's task more challenging. It's an unusually unsavory role, and one of the highlights of Cusack's later filmography.
13. The Ice Harvest (2005)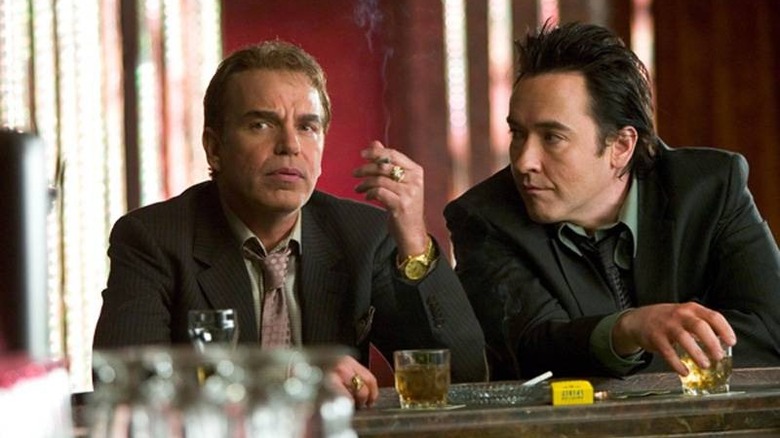 Focus Features
"The Ice Harvest" is the antithesis to the heartwarming comedies that frequently pop up during the holiday season. This cold Christmas-set black comedy thriller revolves around sad, morally flexible characters whose tactless activities force them to spend the winter season alone. Cusack embraced pulp cinema in the early '00s, and brought his wry musings to the twisted narrative.
Cusack's Charlie Arglist is a criminal lawyer for the mafia who has stolen $2 million from his employers. On the run with the help of the creepy Vic Cavanaugh (Billy Bob Thorton), the pair of criminals are forced to stay in a strip club owned by Renata Crest (Connie Nielsen). Renata is aware of Charlie's long-standing affection for her, and tries to convince him to run away with her. Charlie simply wants to be left alone, and it pains him to seek the help of his former friend Pete (Oliver Platt), who is now married to his ex-wife.
"The Ice Harvest" is brittle, but director Harold Ramis' demented sense of humor excels. Cusack's wry exasperation is amusing, but doesn't come at the expense of the dark tone.
12. The Journey of Natty Gan (1985)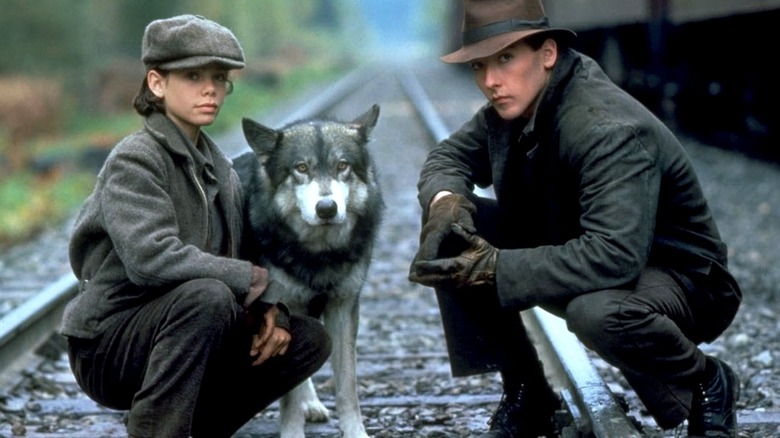 Walt Disney Pictures
Disney released many heartwarming live-action family films throughout the '70s and '80s, and "The Journey of Natty Gann" is among their most uncompromisingly sentimental. The Depression-era adventure is respectful of its historical events, but doesn't have a whole lot of edge. Cusack certainly doesn't add any grittiness to the story, but he challenges its more simplistic depictions of strait-laced heroes and shameless villains.
Set in the mid-'30s, the film follows a teenage girl (Meredith Salenger) who travels from Chicago to the Pacific Northwest in search of her father (Ray Wise), who is forced to find work out of state when he's accused of being a communist. Cusack appears as Harry, another traveling youth who assists Natty and helps her travel by train on her long adventure. They have a sweet, but innocent romance. It was an early heartthrob role for Cusack, who injects a lot of personality into a softhearted story.
11. Never Grow Old (2019)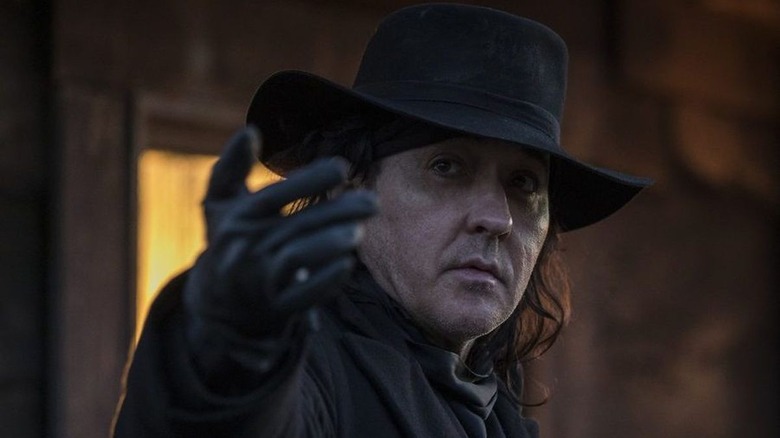 Saban Films
Cusack only recently made his first western with a rare villainous turn in 2019's "Never Grow Old." The revisionist gunslinger story examines the fate of a small, Bible-thumping town where a gang of outlaws led by Cusack's Dutch Albert create havoc with their own brand of justice. Dutch's arrival exacerbates existing tensions in the sheltered Christian community, with the heroic role falling to Irish family man Patrick Tate (Emile Hirsch).
Tate spends a majority of the film completely under Dutch's control. Dutch sees the caring immigrant as an easy target, and recruits him to carry out the remedial tasks like gathering coffins and sweeping away the bodies of his victims. Tate is conflicted on how to best protect his family and not incite Dutch's wrath; Dutch frequently blows away boastful town residents with his expert marksmanship. Cusack has never been scarier, and the final shootout between Tate and Dutch is a rewarding climax.
10. Being John Malkovich (1999)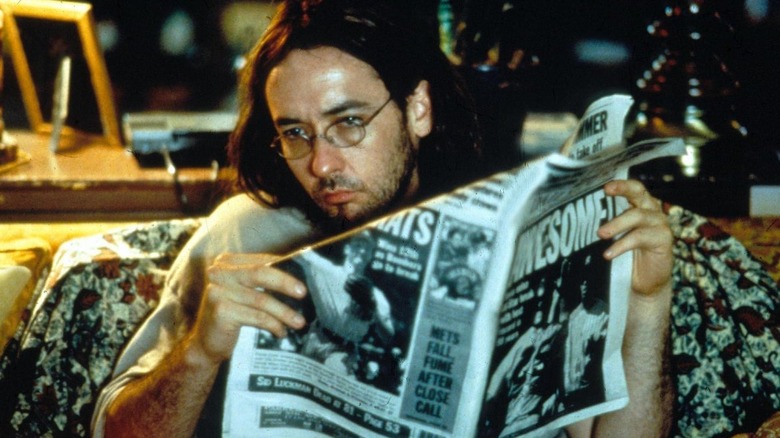 USA Films
Cusack may be known for his confidence, but Spike Jonze cast him as an unassuming weirdo rejected by society in "Being John Malkovich." Craig Schwartz is a dedicated puppeteer, but his love of the craft isn't taken seriously by his fellow New Yorkers. His wife Lotte (Cameron Diaz) overwhelms him with her obsession with animals. Schwartz doesn't see much ahead in his own future, as he works a lowly clerk position at a remedial office job.
Schwartz's life is turned around when he discovers a secret passageway at work that leads him inside the mind of his favorite actor, John Malkovich. Immediately seeing the potential to improve his life, Schwartz convinces his workplace crush Maxine Lund (Catherine Keener) that they can profit off of the strange tunnel. However, the ramifications of living in Malkovich's head create chaos in Schwartz's life; Lotte enters the portal as well and reassesses their marriage as a result.
9. Maps to the Stars (2014)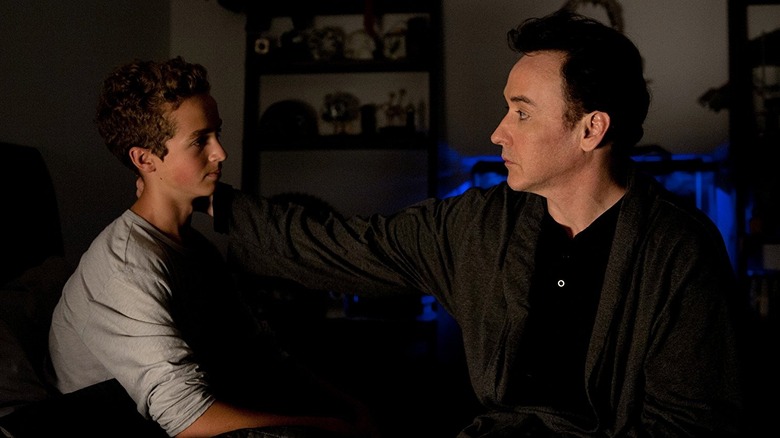 Focus World
Cusack is such a likeable presence that any time that he plays a menacing character it's a novelty. David Cronenberg's Hollywood satire "Maps to the Stars" pulls back the curtain on the realities of a celebrity family by revealing their illicit, abhorrent, and villainous private activities. Cusack co-stars as patriarch Stafford Weiss, a successful television pseudo-psychologist who manages his 13-year-old son Benjie Weiss (Evan Bird). Benjie is the star of a popular sitcom and under an intense media spotlight.
Stafford bases his entire future on Benjie, as he recognizes that his own career is fading and that his family needs to stake its future in the next generation. Cusack makes Stafford's irresponsibility completely reprehensible; Benjie indulges his own addictions and frequently bursts into violent outbreaks, but his father is always there to cover up his crimes. Later, Cronenberg gives more insight into their relationship after a shocking reveal about Benjie's parentage.
8. Identity (2003)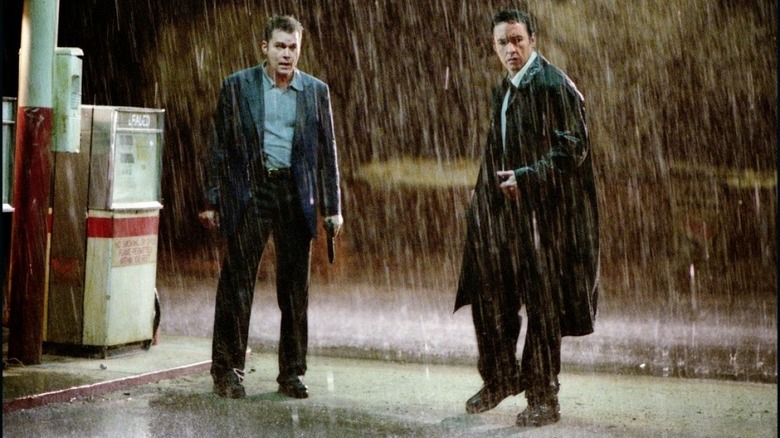 Sony Pictures
"Identity" is a very underrated mystery thriller from the brilliant director James Mangold. The film's shocking twist makes it worthy of reappreciation, and "Identity" holds up very well upon repeated viewings. In a film like this, it's hard for the cast to foreshadow future plot developments without making the reveals obvious. Alongside his co-stars, Cusack does a great job at hinting at what's actually happening without giving away Mangold's hand.
A group of strangers are gathered in a Nevada motel room on a rainy night as the serial killer Malcolm Rivers (Pruitt Taylor Vince) awaits his execution. The group is picked off one by one, and looks to piece the clues together while second-guessing each other's involvement. Cusack's Ed Dakota is under intense skepticism; he takes a leadership role in solving the mystery, but his past as a former cop makes the other characters uneasy. Ed wants to solve the crisis, but he also doesn't want to make any rash decisions that would cause the others to suspect him.
7. The Thin Red Line (1998)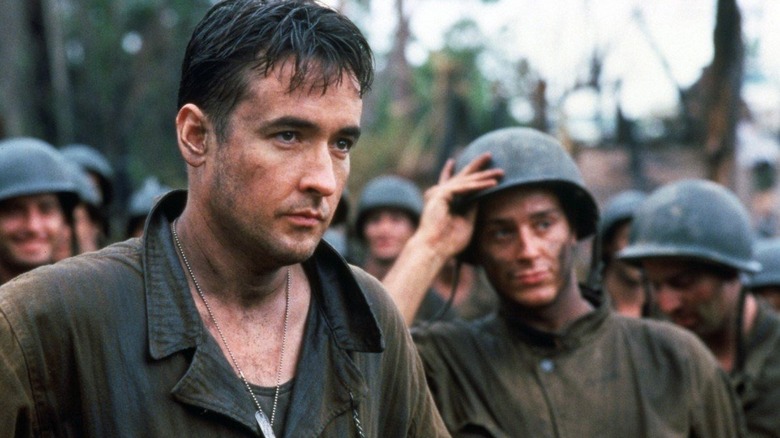 20th Century Fox
Terrence Malick's epic World War II masterpiece "The Thin Red Line" features nearly every great actor of an entire generation: Sean Penn, Jim Caviezel, Nick Nolte, Elias Koteas, Ben Chaplin, Adrien Brody, George Clooney, Woody Harrelson, Jared Leto, John C. Reilly, and John Travolta all co-star. An ensemble this stacked makes it difficult for individual performances to stand out, as they can easily get lost in the chaotic action sequences and Malick's stylistic flourishes. However, Cusack steals his scenes as Captain John Gaff, who is burdened with a seemingly impossible assignment to take down an entire Japanese resistance force.
Cusack authentically captures the pressures of leadership amidst a chaotic conflict where confusion and violence come in equal measure. Gaff remains resilient in the heat of combat, and inspires the men under his command as they enter a heavily guarded bunker. Although it's an arthouse film, "The Thin Red Line" is very respectful of real veterans, and Cusack honors the noble intentions.
6. Con Air (1997)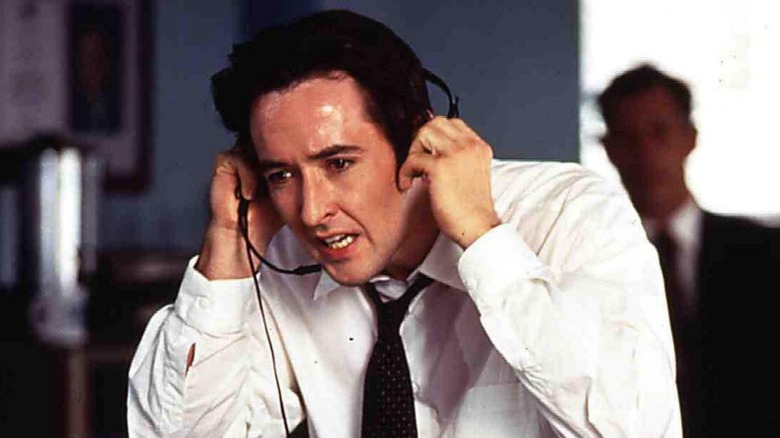 Buena Vista Pictures
Cusack and Nicolas Cage were at the height of their powers in the late '90s. Not only were both actors tackling deep and challenging material, but they were elevating more juvenile fare with committed performances. "Con Air" is one of the craziest, weirdest, and goofiest action movies ever made; Cage and Cusack could've phoned it in and the film would still be wild, but it benefits from their dedication to the absurd material.
Former Army Ranger Cameron Poe (Cage) spends 10 years in jail after killing a man who threatened his pregnant wife. Poe has been unable to watch his daughter grow up, and he's fervently anticipating their reunion as he boards a prison plane that will take him to freedom. The plane's fellow prisoners, led by the vicious Sirus the Virus (John Malkovich), hijack the trip. Poe seeks to get everyone to safety as the US military closes in on the plane's location; the only person on his side is the rogue US Marshal Vince Larkin (Cusack). They communicate only via phone and covert messages as the situation grows more dangerous.
Cusack and Cage don't even need to share the screen to develop an engaging repertoire. Cusack details Larkin's frustrations as the senior military advisors refuse to take his advice, and reject Poe's attempts at heroism.
5. Stand by Me (1986)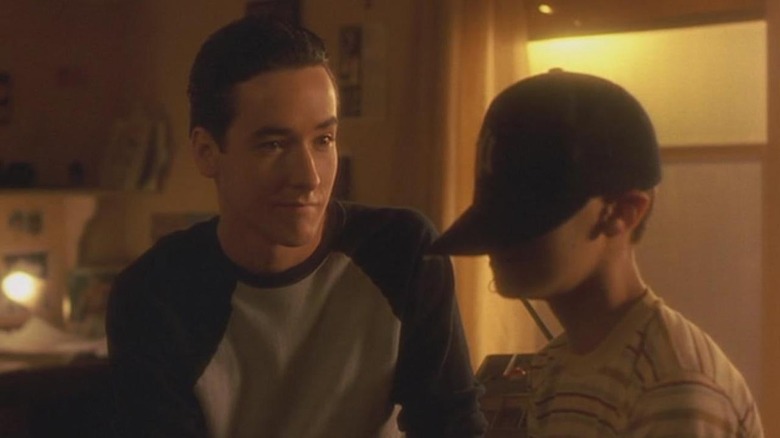 Columbia Pictures
Cusack is such a powerful actor that he can be an integral part of a film even if he only has a few scenes. "Stand by Me" is ultimately the story of lost innocence, told through the eyes of 12-year-old Gordie Lachance (Wil Wheaton) as he recounts a childhood memory. The young Gordie reckons with death for the first time when he and his friends discover a dead body. However, Gordie has also been dealing with the passing of his older brother Denny, played by Cusack.
Gordie idolizes Denny; he keeps every trinket that his caring sibling left behind, and constantly looks to him for inspiration throughout his adventure. Gordie's parents revere Denny a little too much, scolding the grieving young boy for not being the star athlete and perfect student that his brother was. Gordie breaks down when uncovering the missing dead body.
Cusack appears in only a few flashback sequences, but they're vital to explaining the relationship between brothers. Denny is kind to his younger brother and deflects his parents' questions in order to give Gordie a voice. Gordie's maturation wouldn't be as successful if Denny was a loathsome figure, as Gordie needs an example to strive towards as he grows up. Cusack embodies purity in his brother's memory.
4. Love & Mercy (2014)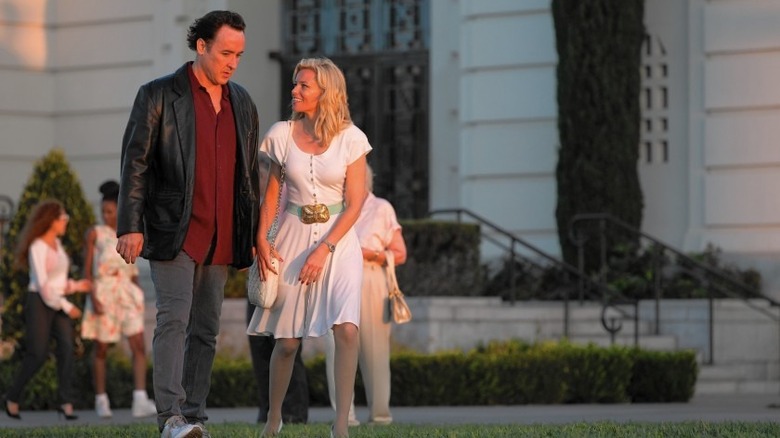 Lionsgate/ Roadside Attractions
Although his recent work has not been impressive overall, Cusack will occasionally show signs that he's the same great actor that he's always been. The 2014 biopic "Love & Mercy" used a creative approach to explore severe emotional trauma through an experimental nonlinear structure. It called on Cusack to play an iconic figure who is haunted by his former success, and struggles to live up to the expectations set by his fame. It's a surprisingly self-aware performance that Cusack only could have delivered at this point in his stardom.
"Love & Mercy" tells the life story of beloved Beach Boys front man Brian Wilson. Early scenes feature a younger Wilson played by Paul Dano as he experiments with music and crafts the iconic album "Pet Sounds" and its standout track, "God Only Knows." The naive Wilson works through a mental breakdown and falls under the influence of the corrupt therapist Dr. Eugene Landy (Paul Giamatti). Cusack appears as an older Wilson two decades later. Landy is now Wilson's legal guardian and controls his entire life; Wilson finds hope when he falls in love with his future wife Melinda Ledbetter (Elizabeth Banks).
Dano and Cusack craft a consistent character across two timelines, and show the descent of Wilson's cognitive state as a result of the malpractice he faces. Although he's a victim of abuse and neglect, Cusack shows the same engaging personality in Wilson's later years.
3. Say Anything... (1989)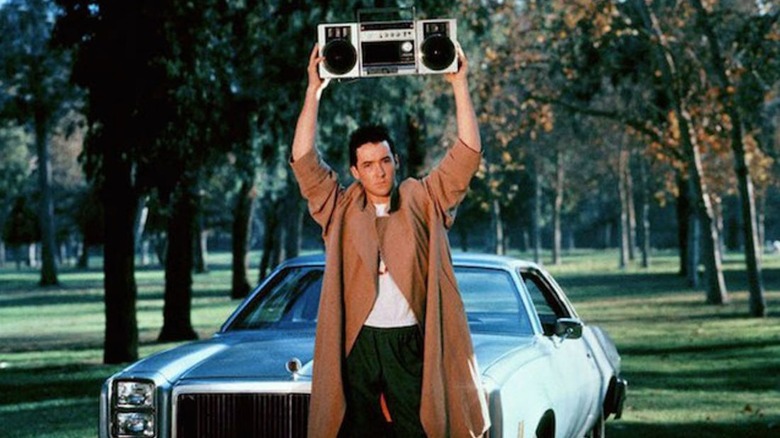 20th Century Fox
"Say Anything..." is the film that made Cusack a household name, and no image is more synonymous with his on-screen personality than the image of Lloyd Dobler standing outside the window blaring "In Your Eyes" on a boombox. In one moment, Cusack and writer-director Cameron Crowe identified a specific form of adolescent yearning that is still touching for older viewers. Teenage rom-coms can often get mean-spirited, highly raunchy, or overly sentimental and self-important, but "Say Anything..." avoided those concerns. Lloyd's inherently good nature makes the film hold up very well.
Dobler is a high school slacker who is hopelessly in love with class valedictorian Diane Court (Ione Skye), who is set to embark on a trip to England to study as soon as they both graduate. Lloyd aims to ask Diane out in the days following her commencement speech, but his efforts are blocked by her restrictive father Jim Court (John Mahoney). Court doesn't have any specific plans for his daughter's future, but he's sure that she has a lot of potential, and he doesn't want to see it wasted on someone like Lloyd.
Cusack and Skye are simply adorable together; both characters are innocent in their worldview, but they prove to have more insight than the cynical adults that surround them.
2. Grosse Pointe Blank (1997)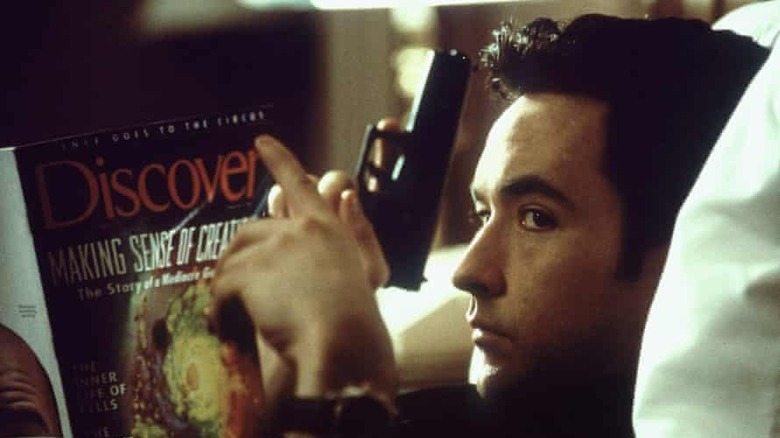 Buena Vista Pictures
"Grosse Pointe Blank" put Cusack in another romantic comedy, but incorporated elements of black humor and action that were new to his filmography. The nervous energy that he'd become known for perfectly fit a troubled character who is suffering from severe emotional distress without sacrificing his quirky sense of humor. The film itself parodies '80s nostalgia with its premise, so getting someone like Cusack, who had been so integral to '80s film culture, was a huge benefit for the satire.
Martin Q. Blank (Cusack) is a professional assassin who returns to his hometown of Grosse Pointe for his 10-year high school reunion. Despite his violently chaotic lifestyle, Blank is very emotional and attempts to unload all of his problems on his rival hitman, Grocer (Dan Aykroyd). Grocer is annoyed by Blank's issues, as well as his refusal to join a new assassins' union. Blank prefers flying solo, so Grocer shares his knowledge of Blank's whereabouts to the ruthless Russian assassin Felix La Poubelle (Benny Urquidez).
During his homecoming trip, Blank reunites with his teenage crush Debi Newberry (Minnie Driver). Blank's attempts to explain the strange circumstances that occur as a result of his job are hilarious, and Debi is both charmed and irritated by his unpredictability. Cusack and Driver make even the darkest jokes work, particularly as Debi learns how Blank's inherent nature affected key moments during their youth.
1. High Fidelity (2000)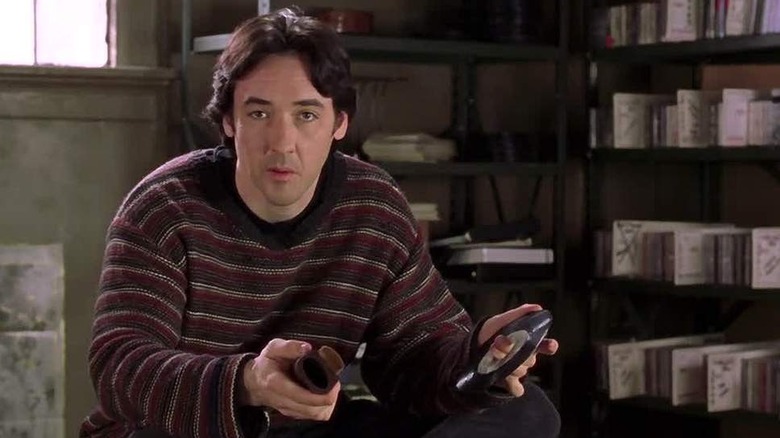 Buena Vista Pictures
"High Fidelity" is one of the most perfect romantic comedies ever made, as it completely acknowledges and accepts that its protagonist is a flawed person whose idiosyncrasies can grow tiresome. Cusack was integral to the film's success. He co-wrote the script alongside D. V. DeVincentis, Steve Pink, and Scott Rosenberg, adapting a novel by Nick Hornby. Hornby himself was shocked at not only how faithful the adaptation was, but by how perfectly Cusack embodied the lead role.
Cusack's Rob Gordon is a music aficionado who would be unbearably pretentious if he wasn't so openly vulnerable. Gordon is obsessed with making lists, and his younger days are recounted via flashback as he counts down his list of the top five women who broke his heart. Among them is his current girlfriend Laura (Iben Hjejle), who Gordon tries to win back throughout the story. Gordon's witty remarks are hilarious, and he has great chemistry with his co-workers Dick (Todd Louiso) and Barry (Jack Black) at the record shop Championship Vinyl.
It's amusing, as Gordon doesn't actually seem to learn any important lessons from the stories he shares, remaining just as egocentric as he's always been. Cusack had frequently appeared in rom-coms when "High Fidelity" was made, so when the film debuted in 2000, he was working with his established persona. Cusack plays against type as a slightly unlikeable character, but also inherently makes Gordon more endearing.