The Reason Arnold Schwarzenegger Walked Away From The Expendables Franchise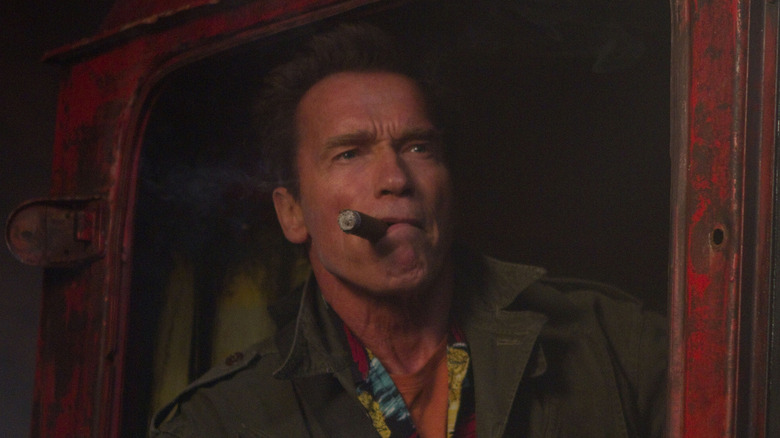 Lionsgate
When "The Expendables" first started ramping up its marketing campaign, I remember people being excited to see which '80s action stars were going to be a part of the project. There was a significant amount of hype surrounding the news that Arnold Schwarzenegger ("Predator") would be in the film, marking his first screen appearance since "Terminator 3: Rise of the Machines," alongside "Rocky" star Sylvester Stallone "Die Hard" detective Bruce Willis. (I'm not counting the poorly aged CG rendering in the "Terminator: Salvation" finale.)
We pretty much knew it was going to be a quick little scene, given that Schwarzenegger was still the Governor of California at the time, and that's exactly what it was: an amusing, if not groan-worthy little cameo that was essentially a harbinger of what was to come with this series' overly self-referential nature. But once his term was over, it seemed like the "Total Recall" star was ready to get back to making movies again.
By the time "The Expendables 2" came out, Schwarzenegger was finally joining in on the action, even if he wasn't a primary member of the mercenary team. You get the predictable onslaught of references, along with the "Terminator" star ripping off a car door, and it's good fun for what it is. Once we got to "The Expendables 3," it was clear that Schwarzenegger's Trench would have a place in this series, it just wouldn't feature a substantial role — despite being one of the biggest names in the cast. So why isn't Schwarzenegger down to keep the fun going?
You only like me for my one-liners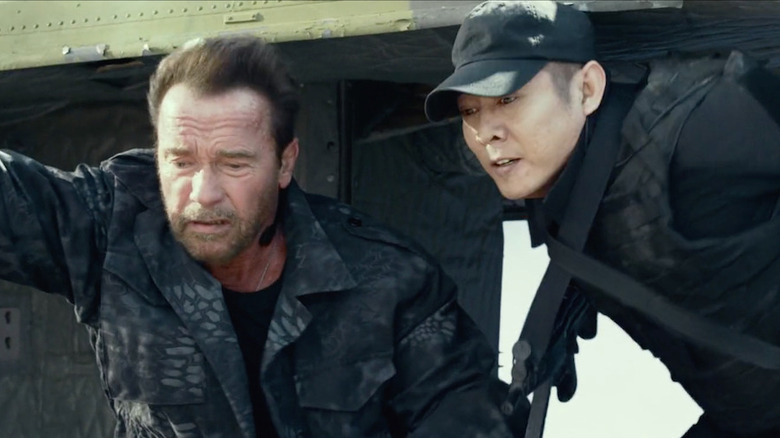 Lionsgate
According to Vanity Fair, Schwarzenegger initially showed no interest to returning to do another "Expendables" movie when it appeared that Stallone was going to leave the project:
"There is no Expendables without Sly...I would never do the movie without him, no."
We now know that Stallone has no plans to exit the franchise, but even with that update, Schwarzenegger told Entertainment Weekly that he ultimately has no interest due to how "The Expendables 3" handled his character:
"You know, I think the first and second one were terrific...But, the third one, I thought my part was not written well. It was also not playing well in the movie, as far as I was concerned. Maybe other people believed differently. But I didn't believe that I had any value in the movie. I love the franchise, by the way. I think it's a spectacular franchise, The Expendables. I think that Sly has good ideas, what he wants to do with it, and I think if they write a really good script [in] which my part is very well-developed, I would do it. If not, then I won't do it."
Given the star-studded ensemble, I see his point about being left in the dust. When you have that many names vying for attention, some members of the cast are bound to get less screen time dedicated to their characters. Unlike some of the other members of the cast, Schwarzenegger's Trench is about 90 percent steeped in the hallmarks of his action oeuvre. At least Stallone's Barney Ross resembles something of a character. At a certain point, the "Terminator" actor would run out of repeating his greatest hits before having to draw inspiration from "The 6th Day" or "Collateral Damage." I don't see a lot of opportunity for growth if he returned for the upcoming "Expendables 4," or "Expend4bles" as we should be calling it.
All things considered, I'm glad that Schwarzenegger left the series on good terms with Stallone. Given a queer-coded moment in the final scene, I'd personally be down for a Schwarzenegger and Jet Li spin-off where they lay out a bunch of henchmen "Commando" style, followed by the pair sipping cocktails on the beach. It'll never happen, but one can dream.