Totally Killer: Prime Video And Blumhouse Team For Comedy-Slasher With A Stellar Cast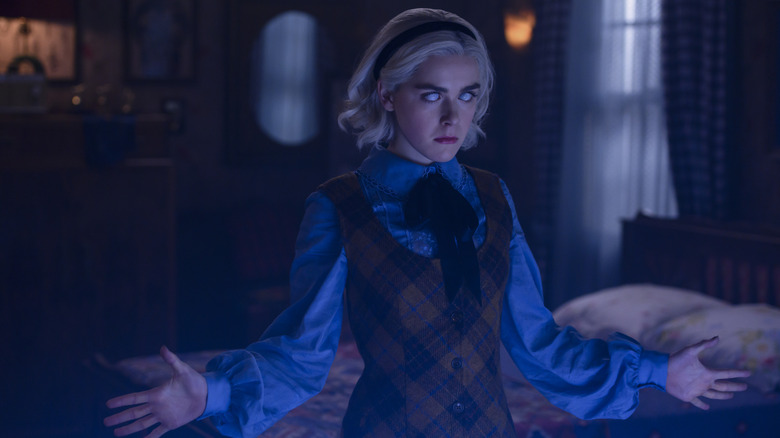 Netflix
Amazon Studios and Blumhouse have teamed for a new slasher comedy, "Totally Killer." Nahnatchka Khan ("Always Be My Maybe") is set to direct the film, with Jen D'Angelo penning the screenplay, which is based on an original script by David Matalon and Sasha Perl-Raver. Filming is already underway as of today in Vancouver, Canada, so they are wasting no time in getting this one off the ground. And they've got an A-list cast in tow. 
The cast is led by Kiernan Shipka ("Chilling Adventures of Sabrina"), Olivia Holt ("Cruel Summer"), Julie Bowen ("Life of the Party"), and Randall Park ("Fresh off the Boat"). The ensemble also includes Lochlyn Munro, Charlie Gillespie, Stephi Chin-Salvo, Anna Diaz, Jeremy Monn-Djasgnar, Troy Leigh-Anne Johnson, Ella Choi, Kelcey Mawema, Liana Liberato, Nathaniel Appiah, and Jonathan Potts. So, what exactly is "Totally Killer" going to be about? We're glad you asked! The synopsis read as follows:
The film follows Jamie (Shipka) whose mom, Pam (Bowen) is terrorized by the resurgence of the Sweet Sixteen Killer—a masked maniac that slaughtered a group of teenage girls in the '80s. With the help of her friend Amelia (Kelcey Mawema), she travels back in time to 1987 and teams up with the teen version of her mom (Holt) to try and stop the killer.
Nahnatchka had this to say in a statement:
"The idea of a horror-comedy time travel movie is, I'm gonna be honest, something I never thought of in my life. So when I was approached by the amazing creatives at Blumhouse and Amazon about Totally Killer, it was just so unique and exciting I had to be involved. And then add this incredible cast on top of that? Everybody get readyyyyyyy."
The continuation of a fruitful partnership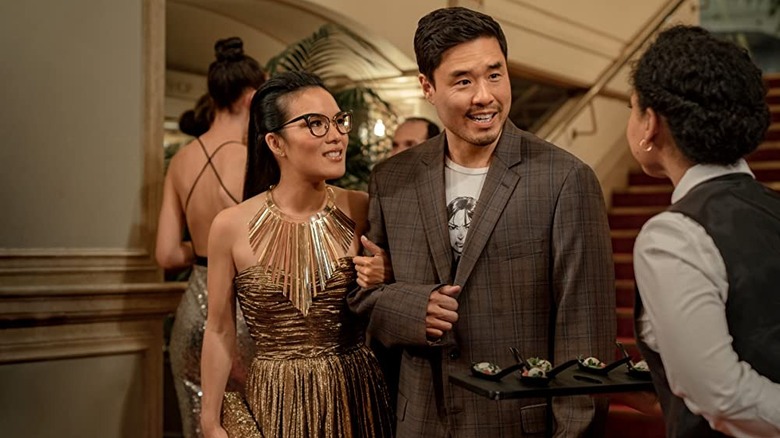 Netflix
This continues a partnership the two companies have had with one another since 2019. It has been fruitful thus far. Prime Video and Blumhouse recently acquired the rights for to the Sundance Grand Jury Prize winner "Nanny" from first-time feature writer/director Nikyatu Jusu. Outside of that, their "Welcome to the Blumhouse" series has seen eight films released on Prime Video over the past two years including the likes of "Bingo Hell," "Black as Night," "Madres," "The Manor," "Black Box," "Evil Eye," "Nocturne," and "The Lie." For my money, some of these have been quite good, in particular, "The Lie" hit me like a ton of bricks. Chris McCumber, president of Blumhouse Television, had this to say:
"We thought this genre mash-up of slasher/comedy with a twist of time travel was just so fun, and Nahnatchka Khan is perfect to direct."
Blumhouse head Jason Blum is producing alongside Adam Hendricks and Greg Gilreath. On board as executive producers are Nahnatchka Khan, Chloe Yellin, Chris McCumber, Jeremy Gold, and Brian Parker. Julie Rapaport, head of movies at Amazon Studios, had this to add:
"With Nahnatchka's vision and the exciting cast led by Kiernan Shipka and Olivia Holt, we are confident Totally Killer will resonate with our audience around the world. We could not be more thrilled to watch this story come to life and to continue our longstanding collaboration with the incredible team at Blumhouse."
"Totally Killer" does not yet have a release date set.