Sony Gets U.S. Rights For Robert Zemeckis, Eric Roth, And Tom Hanks' Here, With Robin Wright Joining The Unofficial Forrest Gump Reunion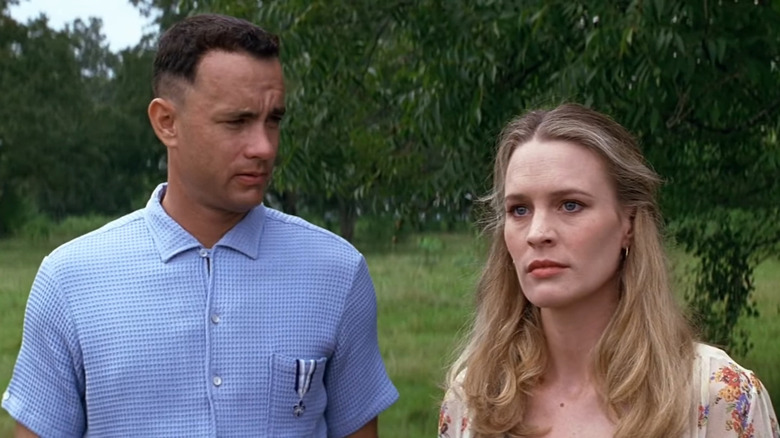 Paramount Pictures
Before you get your hopes up, a sequel to the acclaimed 1994 film "Forrest Gump" is not happening. At one point, one was written, and apparently, it was absolutely bonkers. Instead, director Robert Zemeckis, writer Eric Roth, and star Tom Hanks have all joined forces again for a new project: a comic book movie.
Again, not to get your hopes up, but we're not talking about Marvel or DC. This trio is coming together to adapt the 2014 graphic novel "Here" by Richard McGuire, which expanded the story of the comic creator's 6-page comic strip of the same name from 1989. It focuses on a room in New England and the different things that happen there over the years such as love, loss, hope, and struggle over the course of generations.
Known as a groundbreaking experiment in comic book storytelling, "Here" can sometimes depict multiple points in time in one panel, and the years covered in the book range from 500,957,406,073 BCE to the year 2033 CE. But considering that Zemeckis, Roth, and Hanks have experience telling a decade-spanning journey through a character's life, they seem like a pretty good collection of people to take a stab at bringing this graphic novel that spans centuries to life. And it looks like they won't be the only "Forrest Gump" alum getting in on the fun.
From that day on, we was always together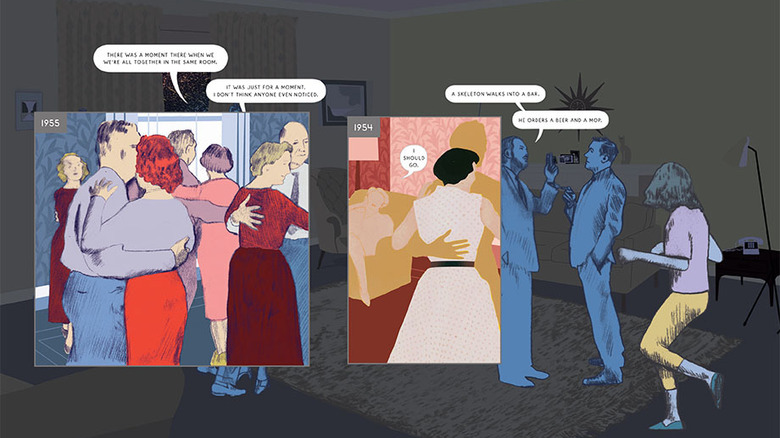 Pantheon Books
According to Deadline, "House of Cards" and "Wonder Woman" star Robin Wright (who played Forrest's beloved Jenny) has joined the cast of "Here" alongside her former "Forrest Gump" collaborators. It's currently unclear who Wright will play, nor has it been revealed who Hanks will play. Considering this marks the fourth addition from the six-time Oscar-winning classic to join the project, one has to wonder whether Gary Sinise, Sally Field, Mykelti Williamson, or Haley Joel Osment could be among the next round of casting announcements for the film that is anticipated to begin production this fall.
Despite the mystery surrounding "Here" and just how the team plans on handling the material, there's already a huge buzz around the film ahead of the upcoming Cannes market due to the huge names involved. Even before the event begins, Sony Pictures has preemptively won the domestic distribution rights to the project produced by Bill Block at Miramax, Zemeckis and Jack Rapke's ImageMovers, and Hanks' Playtone. Meanwhile, Miramax has retained international distribution rights. Sony Pictures Motion Group chairman and CEO Tom Rothman marked the occasion by sharing his excitement to be part of the team.
"I had the privilege to observe close at hand, Bob [Zemeckis] and Tom break the typical storytelling mode with 'Castaway,' to audiences' immense delight. With 'Here,' Eric and Bob have written another, perhaps even more remarkable, exquisitely emotional, and entirely unique story. At Sony, we believe in originality and in supporting great artists pushing the boundaries and so we are grateful to Bill Block and all the filmmakers for letting us join this grand journey."
At the moment, "Here" has not received an official release date, but the report says that Rothman hopes it will hit theaters in time to be a part of the 2023 award season.