The Best New Blu-Ray Releases: Licorice Pizza, Turning Red, And More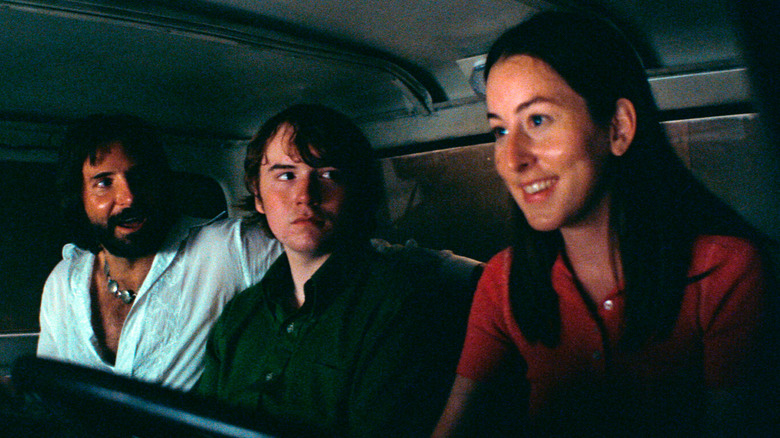 United Artists
Calling all Blu-ray fans: here's a post about Blu-rays! As always, I have gathered up some of the hottest new home media releases, all in the name of advising you on what to seek out. Missed these titles in the theater? Want to just watch them again? I can help! And while streaming becomes more and more prevalent these days, we must always remember to cherish our physical media, darn it! This latest Blu-ray round-up brings you the latest from Paul Thomas Anderson, a wonderful new Pixar title, an underrated drama from last year, a doomed werewolf movie, and two new entries in The Criterion Collection. Keep spinning those discs, folks. 
Licorice Pizza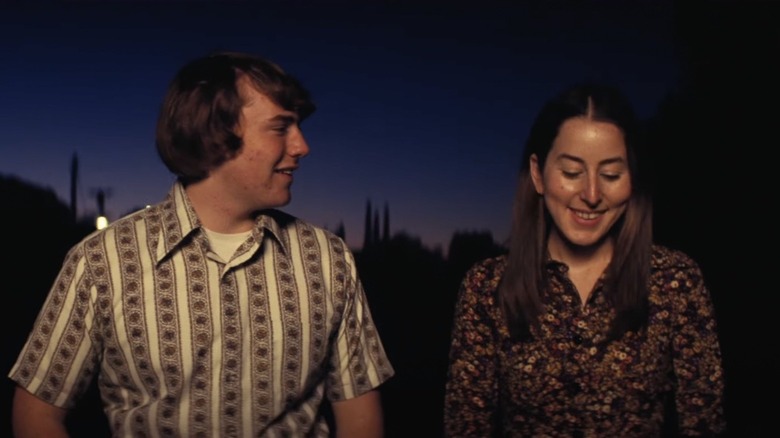 United Artists
Paul Thomas Anderson's "Licorice Pizza" is a hang-out movie. That is, it's a shapeless slice of life tale that drifts through several events. Some may not have patience for this. Others, like me, may think the film is a near-masterpiece. Anderson has yet to miss, and "Licorice Pizza" is a shaggy, charming, funny, melancholy tale. Is it problematic at times? It sure is, and I won't make excuses for some of Anderson's choices here (there's a running "gag" involving a character who does a racist Asian voice that lands with a thud each time). That said, I find the hand-wringing over the film's central relationship — between teen con man Gary Valentine (Cooper Hoffman) and 20-something Alana Kane (Alana Haim) to be a lot of hot air. While it's clear these two are drawn to each other, their relationship remains almost entirely chased. It's sweet, and clumsy, and intentionally awkward. Hoffman, son of Philip Seymour Hoffman, is damn good here. But the film really belongs to Haim, who is so charismatic, so funny, so likable that it's kind of bonkers that this is her first serious acting role. And then there's Bradley Cooper, who shows up for one scene (as Hollywood producer Jon Peters) and steals the show. Is this Anderson's best movie? No, but it's yet another entry in his incredible filmography, and I can't wait to see what he does next. Now, if only we could've gotten a 4K release for this title. 
Special Features:
Camera Tests – Pre-production camera tests and unused takes
The Handman Scene – A deleted scene from the film
Fat Bernie's Commercial – An in-universe commercial for Fat Bernie's as shot by Gary Valentine
Behind the Scenes – A glimpse behind the scenes of Licorice Pizza through a collection on-set photos and videos
Turning Red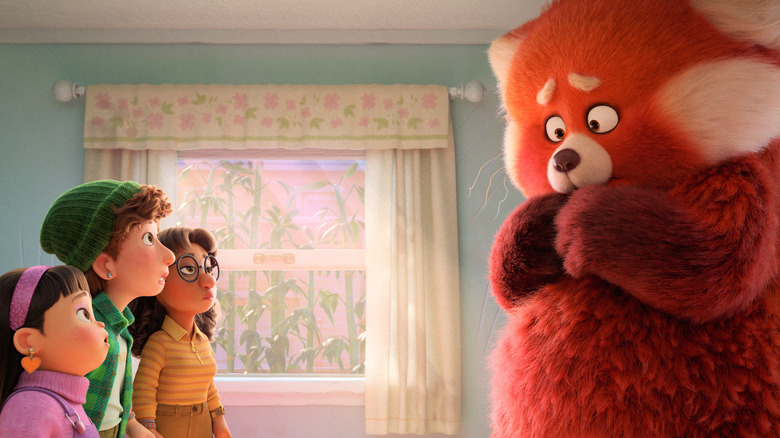 Disney/Pixar
"Turning Red" is one of the best original Pixar movies in quite some time (I thought "Soul" was fun but missed the mark, "Luca" was kind of forgettable, and the less said about "Onward" the better). It's funny, it's sweet, it's a great encapsulation of the idea that being a tween going through puberty is a nightmare. 13-year-old Meilin "Mei" Lee (voiced with great enthusiasm and mortification by Rosalie Chiang) has a great collection of friends and wants nothing more than to attend a concert for her favorite boy band, 4Town. Unfortunately, Mei has a problem: she suddenly finds herself turning into a giant red panda. Throw in the fact that her mother (Sandra Oh) keeps embarrassing her (in public!), and it's fair to say that Mei is going through some stuff. Full of madcap energy, a shifting style of animation, and a genuinely sweet story, "Turning Red" is proof that the folks at Pixar still have it. 
Special Features:
Audio Commentary – View the film with audio commentary by director Domee Shi, producer Lindsey Collins, and director of photography Mahyar Abousaeedi.
Featurettes

Life of a Shot – Domee Shi and members of the crew describe the many-layered process and artistry involved in creating the hilarious Red Peony scene – from observing red pandas in a zoo to creating a storyboard to finalizing the animation and background lighting.
Build Your Own Boy Band – Step backstage to learn how 4*TOWN came to animated life. From creating each band member's persona to writing and producing the songs to fine-tuning the details of their stadium performance, the filmmakers reveal how they designed the ultimate boy band.
Ani-Mei-Tion – Because Mei's heightened emotionality is central to the story, it was important that her look and movement reflect that energy. Learn how Domee Shi led the animation team to incorporate hints of expressive anime to create Mei's lovable, dynamic character.

Deleted Scenes

Deleted Scenes Introduction – Director Domee Shi introduces scenes not included in the final version of Turning Red.
Intro Meilin – In this alternate opening, Ming and young Mei have their portrait taken in a studio...but Ming has her own specific vision for the photo.
Taming The Panda – Under her mother's guidance, Mei learns techniques to control her ability to magically turn into a red panda...to varying degrees of success.
The Debate – Mei runs for class president against frenemy Tyler, and the speeches get a little out of hand.
Fei And Christina Hang – Mei (formerly Fei) shares a banana split while having a heart-to-heart with Aunt Christina.
4*TOWN Dilemma – Mei scores tickets to her dream concert, but her strict mother won't let her out of the house. What will she do?
Roping In Leo – Pleading with Leo for help with getting out of trouble, Mei learns a couple of his closely guarded secrets.

Easter Egg – Robutton Deleted Scene – An alternate ending in which Mei, finding herself sitting next to her 4*TOWN dream-idol Robaire on a flight to California, has some feelings.
The Humans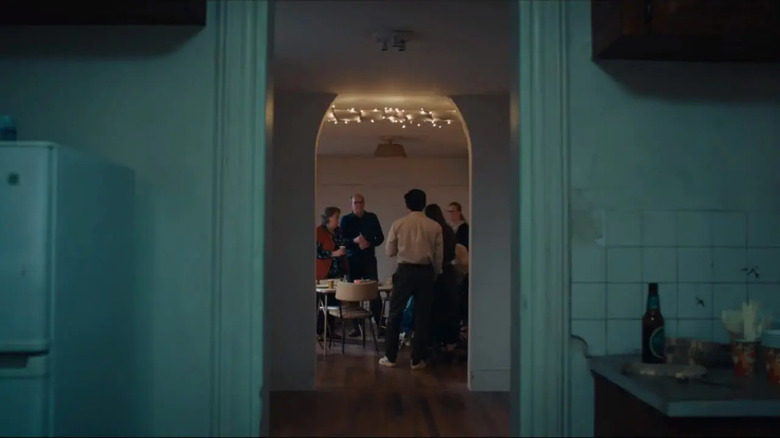 A24
"The Humans" came from the folks at A24, but it sadly didn't have as much of a flashy release as some of their other movies. Which is a shame, because it was one of my favorite movies of last year. While "The Humans" is, on the surface, a family drama, it unfolds like a horror film. Stephen Karam, adapting his own play, keeps the camera at a strange distance — lurking, turning us into eavesdroppers and voyeurs. The story follows a family (Richard Jenkins, Jayne Houdyshell, Amy Schumer, Beanie Feldstein, Steven Yeun, and June Squibb) who get together for Thanksgiving. Little by little, their insecurities, resentments, and fears come out, creating an atmosphere of dread that's impossible to shake off. This sort of scenario — people sitting around in a room and simply talking — could've backfired and made the film feel stagey. But Karam's direction, which turns the apartment the film is set in into a kind of nightmare, keeps "The Humans" incredibly engaging and unnerving. 
Special Features:
Audio Commentary with Writer-Director Stephen Karam
Our Ruffled Spirits: Making The Humans
Outtakes
Cursed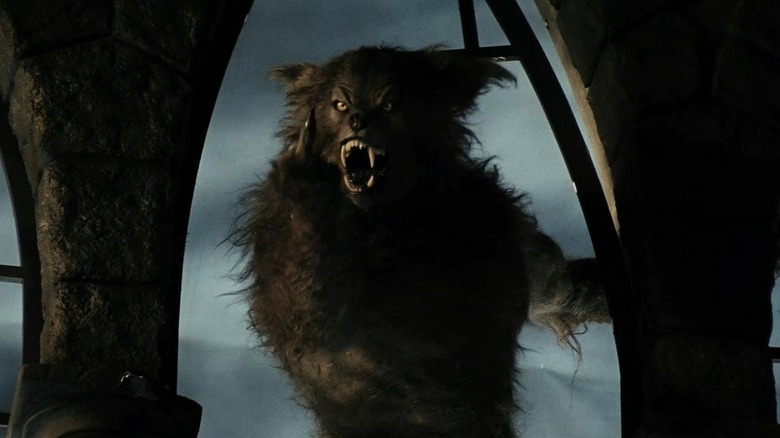 Miramax
A werewolf movie from the team that brought you "Scream"? What could go wrong?! Apparently everything. "Cursed" reunited director Wes Craven with writer Kevin Williamson to tell a tale of werewolves in Hollywood. Sounds great, right? Sadly, studio interference (in the form of the Weinsteins) hampered "Cursed" every step of the way. Great practical make-up effects were replaced with truly dreadful CGI, and the story is a jumbled mess. A director's cut does exist, but that can't quite make up for all the tinkering. Still, "Cursed" has its charms. I mean, it's a movie where Judy Greer turns into a werewolf, and that's the type of idea I can get behind. Christina Ricci stars here, and she seems a little lost with this material. It doesn't help matters that her character works for the long-forgotten Craig Kilborn late-night show, making "Cursed" woefully dated. 
Special Features:
DISC ONE (THEATRICAL CUT – BLU-RAY):
NEW 4K Scan Of The Original Camera Negative
NEW A Sheep In Wolf's Clothing – An Interview With Actor Derek Mears
NEW A Movie That Lives Up To Its Title – An Interview With Editor Patrick Lussier
Behind The Fangs: The Making Of CURSED
The CURSED Effects
Becoming A Werewolf
Creature Editing 101
Theatrical Trailer
DISC TWO (UNRATED CUT – BLU-RAY):
NEW 4K Scan Of The Original Camera Negative
Select Scenes With Audio Commentary By Special Effects Artist Greg Nicotero And Actor Derek Mears
Walker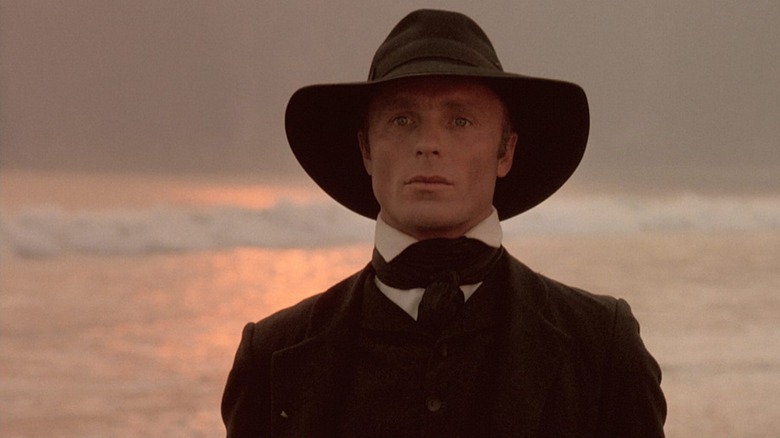 Universal Pictures
"Walker" is the film that pretty much killed any chance of Alex Cox ("Repo Men") having a major Hollywood career. That's not entirely surprising, because watching "Walker," the one thought I had over and over again was that I was shocked a Hollywood studio released this movie. Not because it's bad — it's great, in fact! — but because it's so chaotic, and unique, and brutal. Based on the true story of William Walker, "Walker" stars Ed Harris as the title character, an American who ends up becoming the president of Nicaragua through a series of unlikely, and insane, events. Blistering funny (in a bleak way), "Walker" is a condemnation of Manifest Destiny and imperialism, blanketed with a punk rock vibe. Even though the film is set in the late 1800s, Cox throws in tons of deliberate anachronisms to make the entire film all the more surreal. 
Special Features:
Restored high-definition digital transfer, approved by director Alex Cox, with uncompressed monaural soundtrack on the Blu-ray
Audio commentary by Cox and screenwriter Rudy Wurlitzer
Dispatches from Nicaragua, a documentary about the filming of Walker
On Moviemaking and the Revolution, reminiscences from an extra on the film
Walker 2008 and On the Origins of "Walker" (2016), two short films by Cox (Blu-ray only)
Behind-the-scenes photos
Trailer (Blu-ray only)
English subtitles for the deaf and hard of hearing
PLUS: Essays by film critic Graham Fuller, actor and author Linda Sandoval, and Wurlitzer
Double Indemnity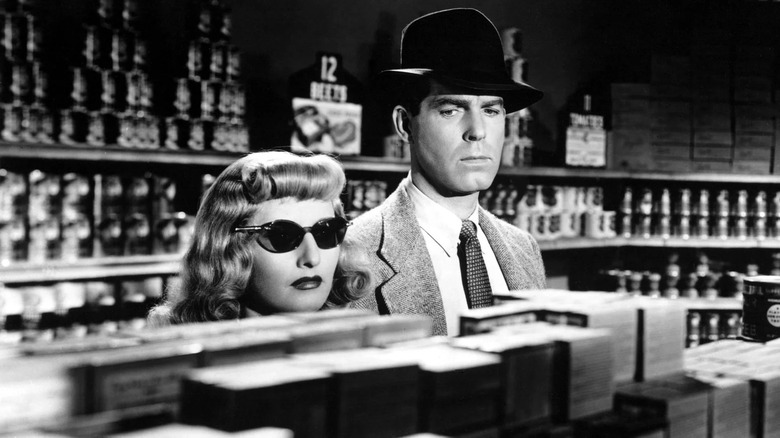 Paramount Pictures
One of the best film noirs of all time, Billy Wilder's "Double Indemnity" is your classic tale of a beautiful dame luring a lunkheaded sap into certain danger. Fred MacMurray is a sleazy insurance salesman who falls for an icy blonde (Barbara Stanwyck, great but wearing an unfortunate wig) and gets roped into killing her rich husband. And then everything works out perfectly and they live happily ever after. Oh, no, my mistake. Actually, everything goes wrong and MacMurray's character finds himself in hot water, all because he couldn't resist turning into a Tex Avery cartoon after spotting an anklet shimmering on one of Stanwyck's gams. 
Special Features:
New 4K digital restoration, with uncompressed monaural soundtrack
In the 4K UHD edition: One 4K UHD disc of the film presented in Dolby Vision HDR and two Blu-rays with the film and special features
Audio commentary featuring film critic Richard Schickel
New interview with film scholar Noah Isenberg, editor of Billy Wilder on Assignment
New conversation between film historians Eddie Muller and Imogen Sara Smith
Billy, How Did You Do It?, a 1992 film by Volker Schlöndorff and Gisela Grischow featuring interviews with director Billy Wilder
Shadows of Suspense, a 2006 documentary on the making of Double Indemnity
Radio adaptations from 1945 and 1950
Trailer
English subtitles for the deaf and hard of hearing
PLUS: An essay by critic Angelica Jade Bastién