Putting Naomi Watts In King Kong's Hands Took Some Serious VFX Trickery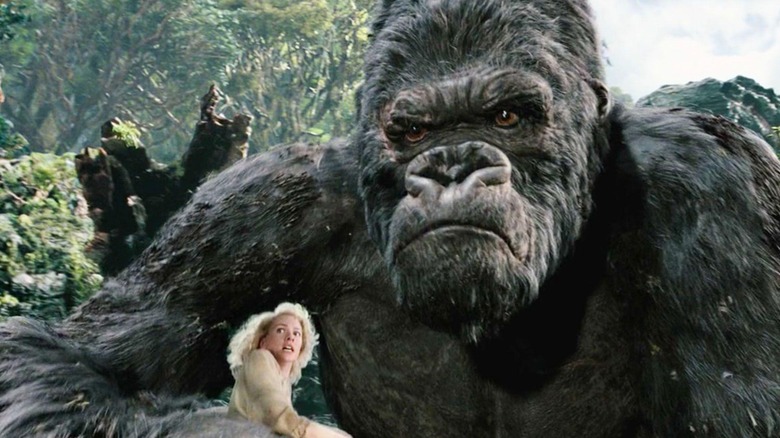 Universal Pictures
Following the success of the three "Lord of the Rings" movies, director Peter Jackson was granted the power in Hollywood to make whatever film he wanted. Jackson immediately cashed in his chips on a remake of "King Kong" that would expand one of his favorite movies into a massive technological marvel. In the spirit of Merian C. Cooper's and Ernest B. Schoedsack's 1933 original, Jackson employed the most advanced special effects of the era to envision the enormous gorilla, bringing Kong to a level of realism not previously seen. Additionally, Jackson was determined to make his "King Kong" feel as big to adults as the 1933 film felt to him as a kid, leading to a running time of 188 minutes. 
Following the original, "King Kong" is about an American film crew (led by Jack Black) who are in the midst of making a partially scripted adventure/documentary film, a genre far more common in the '20s and '30s (films like 1929's "Chang," made by Cooper and Schoedsack, and 1930's "Trader Horn" were nominated for Best Picture). Their ambitions take them, along with a young actress named Ann Darrow (Naomi Watts), to Skull Island, home of dinosaurs and the mysterious King Kong, a 25-foot ape that rules over the island's creatures. 
Andy Serkis provided Kong's movements and facial expressions via motion capture, and the Kong computer model was one of the most detailed Jackson had ever worked on. The creation of Kong, however, was only half of the assignment. He also had to interact with Ann, as she would become the film's damsel in distress, then, later, the only being who reaches out to Kong in compassion and understanding; Jackson's film infamously contains a scene wherein Ann and Kong go ice skating in New York. In order to put the 5-foot-5 Watts next to a 25-foot ape, it required a lot of digital trickery. In a live reaction video put out by the Corridor Crew, VFX artist Robyn Luckham (an animator for DNEG who had worked on "Star Wars" movies, "Dinotopia," and "Lord of the Rings") explained how Ann was composited. 
What's a 'card'?
In the 1933 original, Kong was realized using a wide variety of techniques. Wider, full-body shots of Kong were achieved using stop-motion animation, close-ups of Kong's face were a practical, outside model, and Kong's hands were also practically constructed. When Kong was holding Ann (Fay Wray), she too was animated in stop motion for the wide shots, with Wray appearing on camera in close-up. 
Peter Jackson similarly used multiple techniques for Kong, employing extensive green screens to photograph Watts in live action and then composite her image into the frame. Watts would ride around on beast- and Kong-shaped green models, with the thrashing of her body and hair dictating the CGI effects movement inserted later. As Robyn Luckham explains in the above video, shooting something on a green screen means they've been put on a "card." A "card," in VFX parlance, is a flat image one can composite into another shot, but that cannot be "rotated" once photographed. This dictates that the shot receiving the composited image cannot change angles, as perspective on the new footage would not change. 
In a scene near the end of "King Kong," when the beast is carrying Ann in his fist, climbing up the side of the Empire State Building, there is a shot of Ann — Watts in live-action — being jostled about, Kong's whole hand visible, and the exterior of the building seen behind her. Luckham points out that her hair is not moving. The footage of Watts had been shot earlier, and the camera angle needed to match. As such, the shot was flat and featured little rotational camera movement. Luckham points out what a challenge that was.
That was really her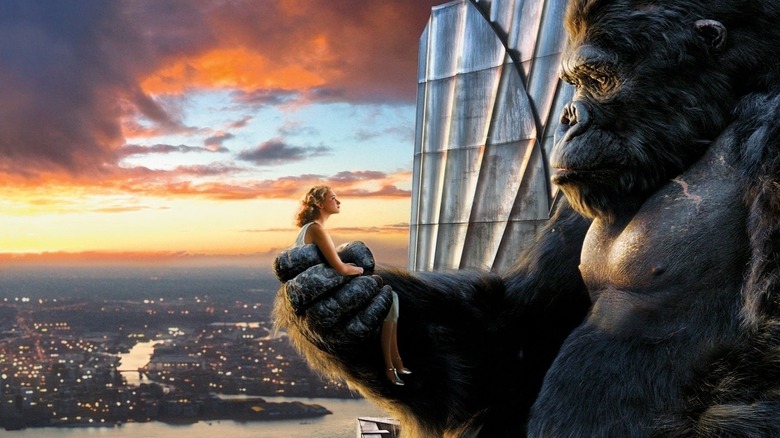 Universal Pictures
In the Corridor Crew video, Robyn Luckham is asked why the production didn't use a CGI model for the actress in the shot. As it turns out, there was a 3D computer model made for Watts in multiple shots, notably during the scenes when Kong is holding Ann and fighting a dinosaur at the same time. Jackson and his crew, however, would cut between a CGI model and a "card" for Ann alternately, so when Watts' face was on the screen, it was actually her. 
To address the question, Luckham pointed out that seeing Ann's face as Kong climbed the building was a moment when her emotional state was driving the scene. As such, it was important that audiences see her face. Because Kong was so carefully animated around the movements of Andy Serkis, the ape emerged from the 2005 version as more sympathetic than ever. Although an animal, there was a great deal of emotional intelligence in Serkis' performance, and having Ann on camera to give actual human reactions to Kong lent Jackson's gigantic production a great deal of heart. 
The most common complaints about Jackson's "King Kong" pertain to its length. This version runs close to twice the length of the original, but adds little to the actual story; it merely expands on every moment that already existed. Despite this, "King Kong" ultimately ended up on several top 10 lists that year (including on Roger Ebert's) and won Academy Awards for special effects, sound mixing, and sound editing. While some of the effects might remain slightly clunky to the trained eye of a VFX artist, overall the film still looks great to this day. They clearly did a fine job.