Remembering John R. Cherry, Co-Creator Of Ernest P. Worrell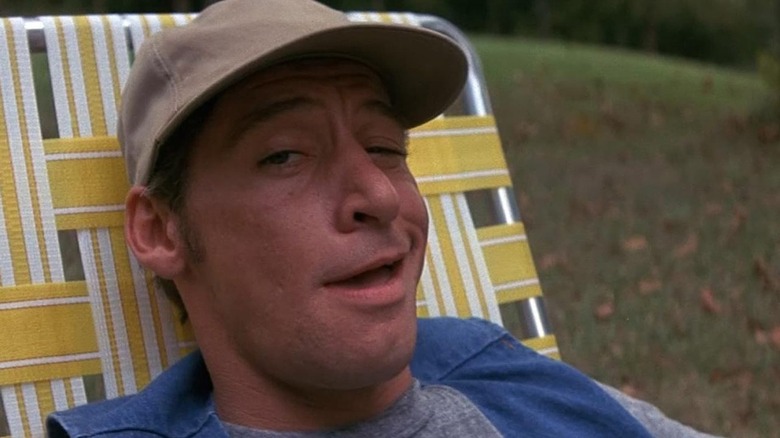 Buena Vista Pictures
We may receive a commission on purchases made from links.
On May 8, 2022, John R. Cherry III passed away at the age of 73 due to Parkinson's disease. Cherry is perhaps best known as the creator of Ernest P. Worrell, a bumbling, none-too-bright-but-good-hearted blue-collar hero played by the late Jim Varney in TV shows, commercials, and 11 feature films — 10 of which Cherry directed. According to a 1993 interview in the Los Angeles Times, Ernest — first invented in 1980 — was inspired by one of Cherry's dad's co-workers, a confident man who thought he knew everything, but actually knew nothing. Cherry found his muse in Varney, an aspiring standup comedian at the time, to personify the overconfident bumpkin, and history was made. 
Ernest, for the better part of a decade, was a ubiquitous pop culture presence that re-defined the stock "funny redneck" character type for a new generation. Ernest's laidback demeanor, resourceful I-can-fix-it attitude, and relentless positivity — not to mention virtuosic physical comedy provided by Varney — deeply entrenched Ernest in the popular imagination, and he spread like wildfire, often inciting enjoyment from kids and annoyed ire from critics: The highest Rotten Tomatoes approval rating for an Ernest movie is a modest 62% for 1987's "Ernest Goes to Camp." 
While many cited Ernest — a comedic "dumb" character — as a sign of culture's degradation ('80s kids may recall seeing numerous take-downs in MAD Magazine at the time), a look back over the entirety of the Ernest canon finds a good deal of kindness. Ernest is not a cruel or spiteful character, and often responds to the world with kindness and understanding. Varney's shtick was his ability to play multiple characters, and most Ernest films allowed him to ply his craft to the utmost of his abilities. Did this involve a lot of insufferable mugging? Yes. Was it sometimes funny? Yeah, it was sometimes. 
Ernest the ad man
Ernest's legacy to this day is that of a film character, but Ernest finds his origins in the world of advertising. 
Ernest was a unique creation in that he was constructed — deliberately by Cherry — to be an all-purpose, one-size-fits-all advertising mascot. Rather than create a mascot for an individual product — say, Toucan Sam from Froot Loops  Ernest was a mascot that could be hired out to whatever product or business might need a charismatic pitchman with an extant presence in the TV landscape. This is novel and brilliant from an advertising perspective as it blended the language of ads and the artistic freedom of a creator. The purity of the character was always going to be in control of Cherry's ad firm Carden & Cherry, regardless of the corporation that hired him. Throughout the 1980s, Ernest ads played all over the country. 
The ads all worked in the same way: Ernest would address the camera directly, talking up the power of Sprite, Mello Yello, or the Cerritos Auto Square, his rubbery face and enthused demeanor sometimes offset by a punchline involving mayhem in the background. Ernest, however, was not addressing the audience, but a long-suffering, silent, off-camera character named Vern. Vern is a character about which we know frighteningly little. Given the camera movements, the mysterious Vern was often seen trying to escape Ernest's presence, but Vern's relationship to Ernest was never spoken or codified. Was Vern a friend? A distant relative? A regular customer? Vern was the silent sufferer in all of us. 
By 1983, Ernest had become popular enough in his own right that he could appear in a straight-to-video, ad-free showcase wherein Cherry was allowed to explore the many other facets of Ernest, and Varney could explore the impersonations he was honing as a standup comedian. The video in question, "Knowhutimean? Hey Vern, It's My Family Album," is more or less a sketch comedy special, but it technically counts as the first feature film for Ernest.
Movement to film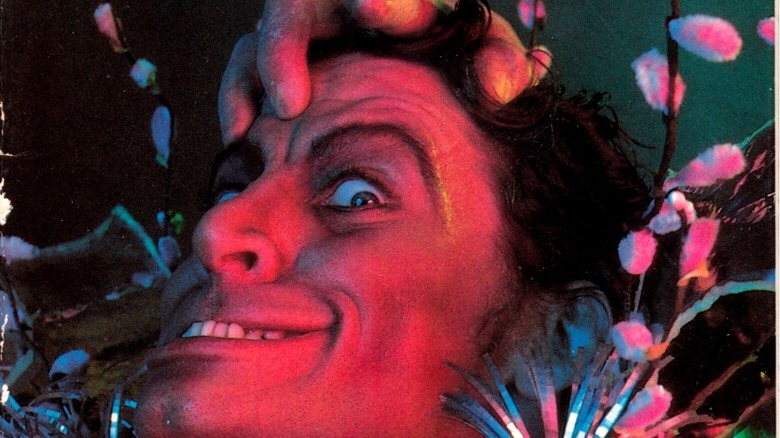 Carden & Cherry Advertising Agency
Following "Knowhutimean," Cherry and Varney became more ambitious and created a showcase for Varney in 1986's completely bizarre "Dr. Otto and the Riddle of the Gloom Beam," a surreal sci-fi movie about the title villain (Varney) unleashing his Gloom Beam on his archenemy, the ultra-clean Lance Sterling, All American Boy (Myke R. Mueller). Varney plays several roles throughout, the central conceit of the film being that Dr. Otto can transform himself into new personae. "Dr. Otto" only features Ernest in a small cameo, and none of the film had anything do to with advertising or selling Ernest as a potential ambassador. It was just a burst of creativity from a director who wanted to explore a lot of genres and strange comedy bits, and a comedian who was eager to play. "Dr. Otto" plays less like Monty Python, and more like Bob Rafelson's "Head" starring The Monkees. That is: It's less about broad comedy and more approaching a deconstructionist genre exercise. 
"Dr. Otto" remains an oddity to this day, although is it no longer as difficult to find as it once was. As of this writing, "Dr. Otto" is available on Roku, Tubi, Vudu, Pluto, Filmrise, and Freevee. 
In 1987, Ernest made his biggest splash with "Ernest Goes to Camp," an enormous hit film released by a major studio — it's a Disney flick — that made over $23 million on a $3 million budget. Perhaps understanding that little kids responded well to Ernest, "Camp" was family-friendly, silly, and featured a lot of humor in the "yucky food" mold. "Camp" would also include the antics from actors Gailard Sartain and Daniel Butler, who would appear in several other Ernest films. The story involved an evil land developer (John Vernon) and his attempts to take over a kids' summer camp where Ernest works as a handyman and counselor. 
Ernest sequels and late-stage capitalism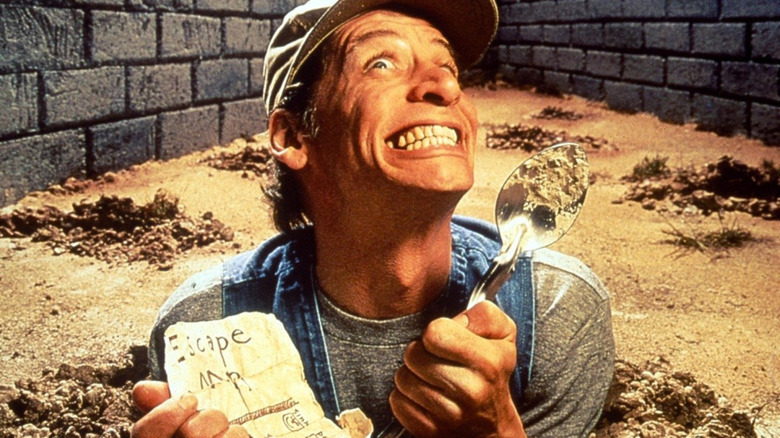 Buena Vista Pictures
A recurring theme throughout the Ernest films is that the lovable boob was always seen in different occupations. Not wealthy, never settling into a career, and often living in various locations (his house changes from film to film), Ernest is a laboring schlub who has learned to leap from vocation to vocation, depending on the dark caprices of capitalism. The fantasy of Ernest is that he can remain blissfully determined to continue working even when the job market alters around him, eager to make ends meet in a system clearly geared against him. No anarchist, Ernest does not buck the system itself, preferring to operate nimbly in it. If Ernest ever loses a job, he always seems to have opportunities lined up. Ernest was an early example of what would be called hustle culture or the gig economy a generation later. Ernest is either a positive and aspirational figure for a working person or a victim of a work environment that requires constant work, depending on your perspective. 
That Cherry invented Ernest to be, well, earnest about his taste in soda or car lots, shows that good humor can still exist even in the grossest ad environs. 
Following "Camp," Cherry made "Earnest Saves Christmas" in 1988, a film wherein Varney plays a last-minute replacement for Santa Claus (Douglas Seale) when Santa's heir apparent refuses to take up the mantle. While not well-liked at the time, its holiday theme ensured that Ernest would be seen every December, and it has emerged as a minor holiday classic. The best Ernest film is handily 1990's "Ernest Goes to Jail," possessing a better story than many of its counterparts, and featuring Varney in a dual role as the title character and ' surprisingly ably — as the film's villain. Also released theatrically were "Ernest Scared Stupid" in 1991 and "Ernest Rides Again" in 1993. By then, the bloom was off the rose for Ernest, and the character moved to the straight-to-video market.
The straight-to-video era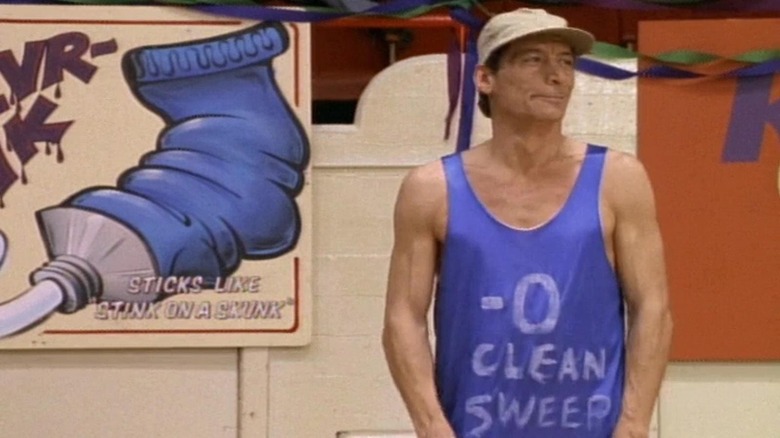 Pacific Motion Pictures
From 1994 to 1998, Ernest appeared in four additional straight-to-video films including "Ernest Goes to School" (the only film in the series not directed by Cherry, instead made by Coke Sams), "Slam Dunk Ernest," "Ernest Goes to Africa," and "Ernest in the Army." While none of these is very good — "Africa" is particularly painful to sit through — one can see Cherry and Varney continuing to have fun, even if they have little left to explore about Ernest as a character. There are standout moments here and there, and Canadian comedienne Linda Kash stands out in multiple flicks, but for the most part, the straight-to-video Ernest movies are cheap fluff for a less discerning audience. 
But that didn't stop Cherry and Varney — and Sams, who pitched a lot, from big plans. "Spaced-Out Ernest," "Ernest the Bellhop," "Ernest in Paradies" and "Ernest and the Voodoo Curse" were ideas that were being kicked around for years. There were solid plans to make an additional film called "Ernest the Pirate," but in 1998 Varney was diagnosed with lung cancer. He quit smoking and underwent chemotherapy, but still succumbed to the disease in 2000. He was 50. His final film role was in "Atlantis: The Lost Empire." 
In 2012, Cherry announced on FirstShowing that Ernest was to be rebooted with a younger actor brought in to play Ernest's son. That project never came to fruition, however, and further plans for Cherry's creation have not been talked about since. Cherry's death marks the end of an era.
Whether or not you loved Ernest or hated him — and yes, he made bad jokes, mugged, and was frequently unfunny — Cherry undeniably created a solid and fascinating footnote in cinema history, and Ernest — when looked at in the right light — is just as solid a contribution to the comedy character firmament as Chaplin's Tramp, the hardscrabble Marx Bros., or Bugs Bunny. Varney was always committed to the part and Cherry always keen to retain the character's innocence and purity. A note for those who would attempt to rework Ernest for a modern audience: Remember that he is, at the end of the day, a nice guy.