Jackie Chan Had To Master More Than Kung Fu For The Tuxedo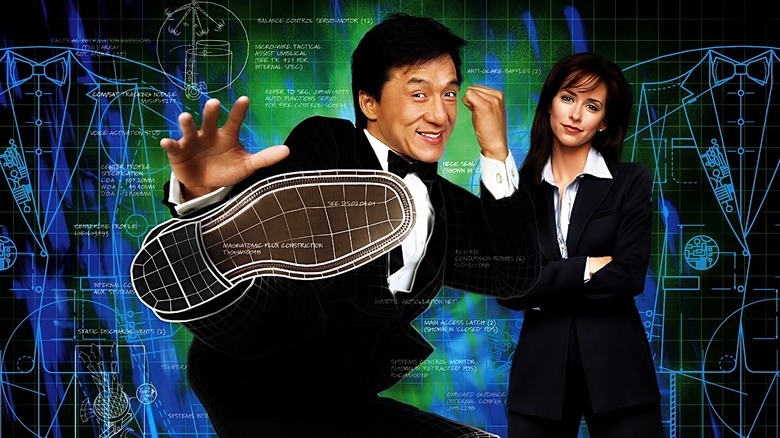 DreamWorks
Jackie Chan's first credited role came in the 1962 film "Big and Little Wong Tin Bar," in which he played "Child." He was seven or eight years old. He worked as a stunt performer for the betetr part of a decade before landing his first gig as an action director on Hdeng Tsu's 1973 film "Police Woman." From then on, Chan grew to be one of Hong Kong's mot impressive action stars, featured in multiple fight films every year. Chan wasn't just a skilled martial artist either. When it came time for him to play the lead, he was keen to show off that he was the one actually doing the fighting and the stunts himself. Chan arranged with his directors to film in such a way that his face was clearly visible during dangerous leaps and flips. 
While Chan appeared in Hollywood productions from time to time — he was in "Enter the Dragon," for instance, as well as "Cannonball Run II" — it wouldn't be until 1995's "Rumble in the Bronx," a film that received a widespread release in the United States, that Chan was first recognized by a mainstream American audience. Following that, Chan imports would make their way to the big screen in the U.S. more and more. "Supercop" was released in the U.S. in 1996 (although it was a slightly reworked version of 1992's sequel "Police Story 3"), and in 1998, he starred in the first "Rush Hour" film with Chris Tucker, one of the biggest hits of its year. 
Somewhere mixed in the middle of Chan's American efforts was Kevin Donovan's 2002 action comedy "The Tuxedo," in which Chan starred alongside Jennifer Love Hewitt. The plot of "The Tuxedo" is delightfully absurd: Chan plays James Tong, the working class chauffeur of a secret government agent played by Jason Isaacs. When his boss dies, James unwittingly inherits a top-secret project he was working on: a high-tech suit of armor made to look like a tuxedo. The tux can manipulate the limbs of its wearer, turning anyone who puts it on into an unstoppable super-spy action hero. In an additional wrinkle, the suit can also force its wearer to dance, leading to a moment where Chan had to dance like James Brown. 
The hardest working man in show business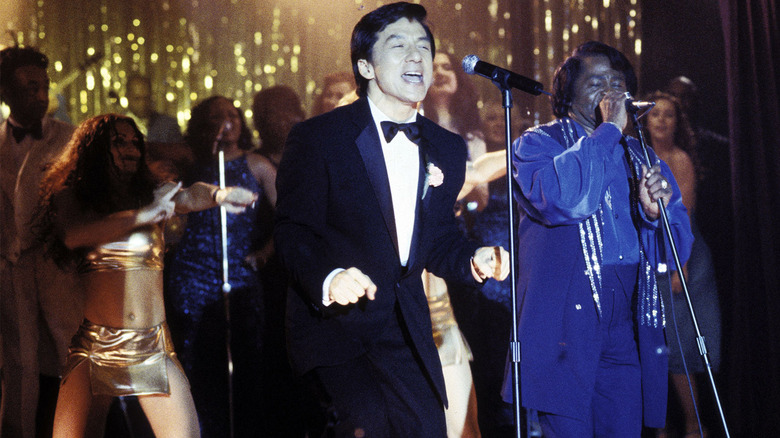 DreamWorks
The plot of "The Tuxedo" is pretty indecipherable otherwise. There is a supervillain who wants to poison the world's water supply or something, and a super wasp will come into play somehow. Chan will be mistaken for an actual spy, and he will have to use his magical tux to fake his way through a mission with Jennifer Love Hewitt. Regardless, the machinations of said plot eventually leads Chan's character to a James Brown show, where the Godfather of Soul appears as himself. The suit forces Chan to recreate Brown's famed shuffling dance moves, which presented Chan with a unique challenge. 
In an interview with Crosswalk, Chan discussed what parts were easy and which parts of playing the hardest working man in showbiz were so difficult. Singing lyrics was particularly difficult. Chan recalled:
"[Doing the] Split[s] it kind of easy. Singing for me, it not difficult. I have my own album in Asia but different kind of song. I sing like country song. I like this kind of song. When I listen to American song, I like, 'You are always on my mind, you are always on my mind,' I like this kind of song. Never like a James Brown; What's that? When I listen to rap song, I only use the beat for me to train, what are they saying? I don't know. So I never listen towards of song, I only listen to music for my training."
Of course Jackie Chan was a fan of Brown's — who isn't, really? — but learning all the English words to his song and dancing simultaneously was something he had to do for the first time. And he had to do it more than once:
"Of course! Yes I did! Because when I see ... I was a big fan of his, the way he dances. Then after, I know I have to do that kind of movement, and it makes me scared. I was in the islands and the teacher send me the video. And I look at and I know I have to do his dancing. Dancing. Okay. I like dancing, but I have to sing and remember every lyric! Every day I'm getting tired. We work on it for three months! I practice! At the end of the month, the producer came and said, 'Jackie don't feel bad, but we don't like that song.' So I learn another song, and we get along fine, and I do it in movie. It turned out pretty good."
From Supercop to super spy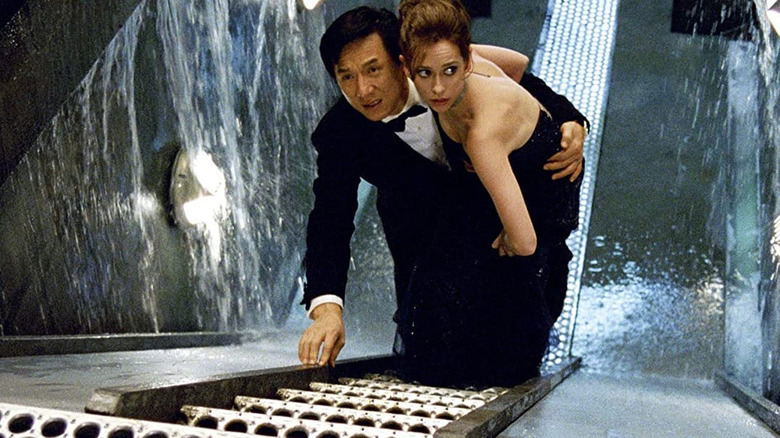 DreamWorks
Playing a spy was a mild departure for Chan who usually plays, well, super cops. When asked if he likes the James Bond shtick, he was enthused: 
"Yes I do! When I was younger, I always dreamed of being in James Bond movie. I loved watching and dreamed about being him when I was younger. I wanted to be like him. I dreamt about saving the world, saving people, so I wanted to be like him and do those things. So in this movie, I get to be James Tong, and it was fun to dress in a tuxedo and be cool and have all the toys that make a spy cool. I had agood time making this movie because of that."
And what was Chan's favorite Bond? He doesn't know him by name, but Chan said:
"Who the older one with the gray beard? ... Yeah that's right! Sean Connery! He's the best Bond for me, and the only true Bond as far as I'm concerned."
"The Tuxedo" was not widely beloved when it was released, and it currently only holds a 22% approval rating on Rotten Tomatoes. Despite this, it was a hit, and Chan would go on to make several more high-profile American action films besides, including the "Shanghai Noon" sequel "Shanghai Knights," "The Medallion" (incidentally, "The Tuxedo" was filmed entirely during a break on "The Medallion"), as well as a few dozen more notable Chinese productions. 
Jackie Chan's next film will be an appearance in Sammo Hung's 2023 film "Seven Little Fortunes."