Westworld Season 4 Teaser: You're Going To Reap Just What You Sow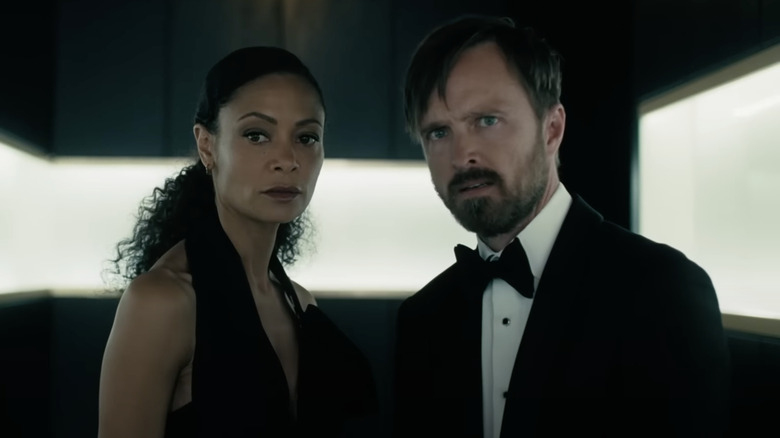 HBO
If you're still watching HBO's "Westworld," get ready to reap what you sow, as the network has just dropped a teaser for season 4, which is due to arrive this summer.
Season 3 of "Westworld" premiered in March of 2020, and cards on the table, though I watched it, I would need to go back and do a serious refresher on it, because so much has happened since then in the real world and on the show (which also moved out of the titular theme park and into a fictional, futuristic real world in season 3). The third season saw Aaron Paul of "Breaking Bad" fame join the cast, and I do recall coming away with the impression that certain characters, like Evan Rachel Wood's protagonist, Dolores Abernathy, might not be coming back in season 4.
It would appear that was a faulty impression, as the gang's all here in the teaser trailer for "Westworld" season 4, including Wood, Paul, Jeffrey Wright, Ed Harris, Tessa Thompson, Luke Hemsworth, Talulah Riley, and Thandiwe Newton. Newton started going by her real name in 2021, after years of being billed as "Thandie" based on a misspelling in the credits of her first movie. 
Check out the teaser for "Westworld" season 4 below.
Westworld season 4 teaser
The teaser shows Newton's self-aware host, Maeve Millay, walking down a desert road, and then we see Paul's human character, Caleb Nichols, sitting on top of a skyscraper. We see a shot of the city skyline, with One World Trade Center standing tall over Lower Manhattan, so it would appear that at least some of season 4 will be set in New York City. I won't try and do a full breakdown of the teaser here, but suffice it to say, there is blood and bullets and burning trees and ballroom dancing in the street. There's also a young host who has insects flying out of her face as it splits open.
Reviews for "Westworld" season 3 were slightly down from previous seasons; it currently holds a 73% critic rating and 64% audience score on Rotten Tomatoes, perhaps in part due to the show's convoluted nature. Personally, I grew impatient with it last season and made up my mind that it should have maybe ended as a limited series after the first season, and I was done with it regardless. You might say it didn't "look like anything to me," to paraphrase a host, but your mileage may vary.
Are you excited about "Westworld" season 4? If so, it premieres on HBO and HBO Max on June 26, 2022.