Where You've Seen Obi-Wan Kenobi's Grand Inquisitor Before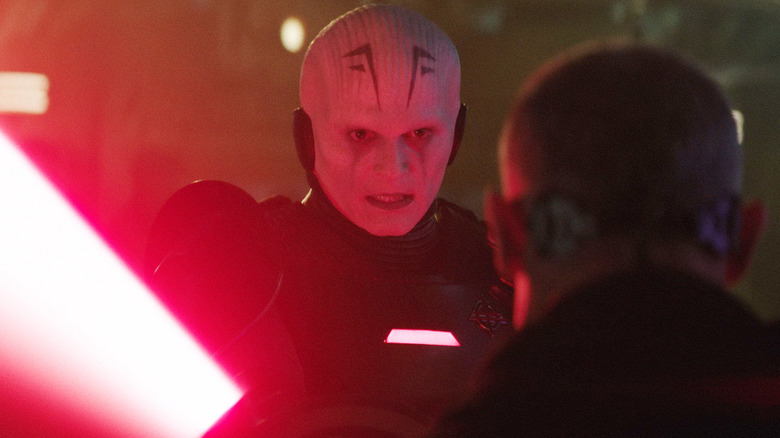 Disney+/Lucasfilm
"Don't cross the streams" might be sound advice in the "Ghostbusters" universe, but it no longer applies to the "Star Wars" series on Disney+. Thanks to "The Mandalorian" and "The Book of Boba Fett," characters who were once exclusive to the animated TV shows "Star Wars: The Clone Wars" and "Star Wars Rebels" have begun to make their way over into live-action. That trend will continue with "Obi-Wan Kenobi," a series that picks up with everyone's favorite bearded Jedi 10 years after the rise of the Galactic Empire in "Revenge of the Sith."
But before Obi-Wan faces off with his former padwan-turned agent of evil on the series (you know, that guy called Darth Velcro or something?), he will have to battle a different threat in the form of the Inquisitors. A group of Dark Side force users recruited by the Empire to hunt down any Jedi who survived Order 66, these nefarious Imperials were introduced in "Star Wars Rebels," and have since appeared in multiple comic books and novels. They're led by the Grand Inquisitor, a fellow who's easy to recognize thanks to his ashen white complexion and red facial markings.
Although he may look like a human (albeit, a bald, rather pale one), the Grand Inquisitor is actually a member of the Pau'an species from the planet Utapau seen in "Revenge of the Sith." He was voiced on "Star Wars Rebels" by Jason Isaacs, himself no strange to villain roles after playing Lucius Malfoy in the "Harry Potter" movies and portraying Captain Hook in 2003's live-action "Peter Pan" film. In "Obi-Wan Kenobi," however, the character will be brought to life by Rupert Friend, an actor who's accustomed to playing hairless killers who prefer to dress in (mostly) black.
From Homeland to Hitman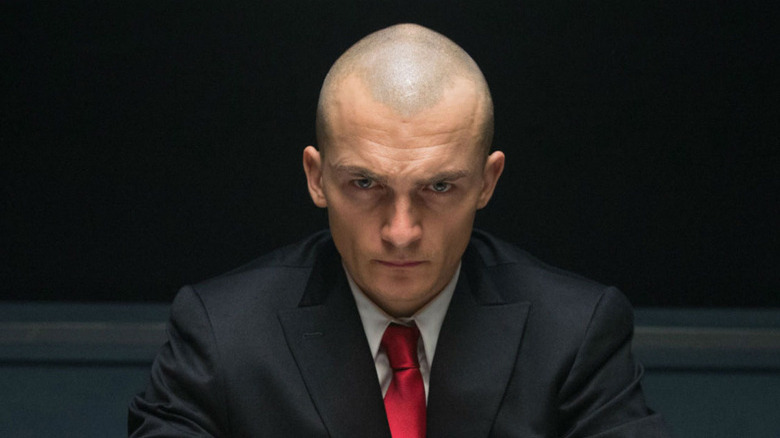 20th Century Studios
Rupert Friend made his film acting debut in 2004's "The Libertine" as Billy Downs, the youngest member of the "Merry Gang" led by Johnny Depp's debaucherous poet John Wilmot. A year after, he would go on to play one of Jane Austen's most notorious cads, Mr. Wickham, in Joe Wright's critically-acclaimed 2005 movie adaptation of "Pride & Prejudice." Friend is also known for starring on the Showtime series "Homeland" as Peter Quinn, a black ops officer and stealth assassin who struggles with his feelings for Claire Danes' CIA agent Carrie Mathison.
Indeed, whether they're a really bad boyfriend or expert hitman, Friend tends to specialize in playing characters with an edge. In fact, he portrayed one of the more infamous assassins in pop culture, Agent 47, in the 2015 movie adaptation of the "Hitman" video games, "Hitman: Agent 47," and followed that up by playing the son of Joseph Stalin himself, Vasily Stalin, in Armando Iannucci's acclaimed 2017 satire "The Death of Stalin." That film also stars Jason Isaacs as the Soviet General Georgy Zhukov, bringing both versions of the Grand Inquisitor together for the same project.
Friend has continued to keep things on the darker side with his roles since then. Besides co-starring in Paul Feig's 2018 comedy-thriller "A Simple Favor," the actor headlined the 2021 horror film "Separation" and had a small part in Wes Anderson's dramedy "The French Dispatch." He's since played another rake (the bad kind) in "Anatomy of a Scandal," the 2022 miniseries in which he portrays a British Member of Parliament who has an affair that goes public and leads to him being put on trial after he's accused of sexual assault.
How the Grand Inquisitor differs in animation vs. live-action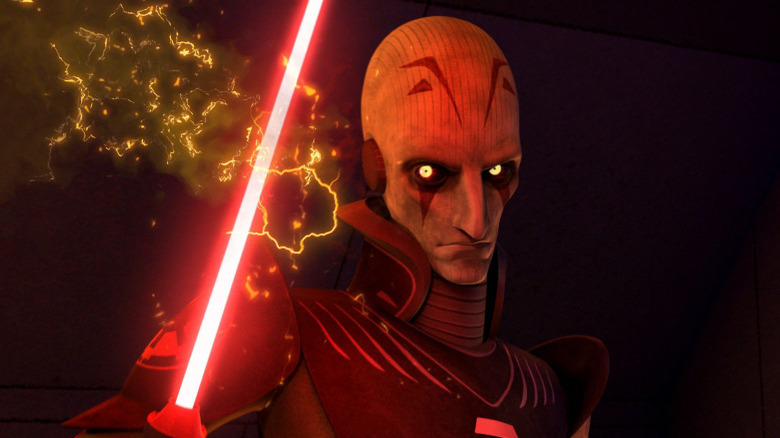 Disney/Lucasfilm
"Obi-Wan Kenobi" isn't the first live-action "Star Wars" series to recast a character who was introduced in an animated project. "The Mandalorian" did as much when it had Rosario Dawson play Ahsoka Tano, a role initially voiced by Ashley Eckstein in the animated film "Star Wars: The Clone Wars" and the subsequent "Clone Wars" TV show. As different as the two obviously look (it's the head-tails and orange skin that give it away, right?), Eckstein does seem to have provided some inspiration for Ahsoka's expressions and mannerisms in animation.
With the Grand Inquisitor on "Star Wars Rebels," the character was seemingly modeled after Jason Isaacs, so far as his nose shape and facial structure goes. This is partly why Rupert Friend had to undergo such an extensive makeup process for "Obi-Wan Kenobi," making him look far less like his usual self, the character's alien features aside. Friend also lowered his voice and made it growlier and more menacing for the role, so as to better emulate the way Isaacs voiced the animated iteration of the villain.
Will Friend win the hearts of fans the way Isaacs did as the scheming, pointy-toothed, lightsaber-spinning Grand Inquisitor before him? We shall have to wait and see when "Obi-Wan Kenobi" premieres on Disney+ on May 27, 2022.