God's Favorite Idiot Trailer: Ben Falcone Has Been Touched By An Angel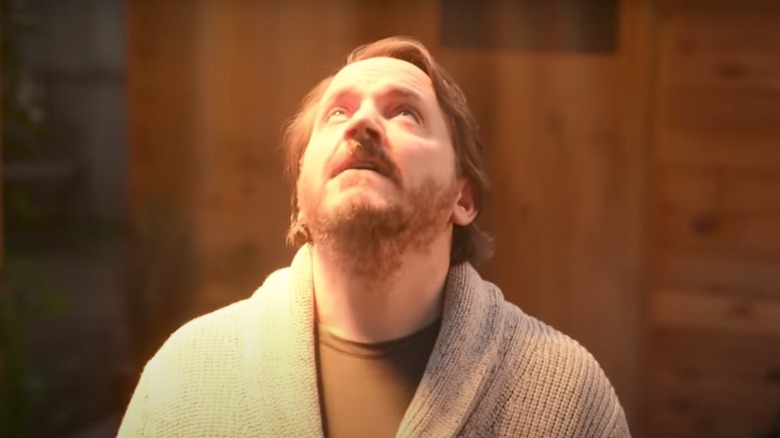 Netflix
Were you looking for a series about a guy who is chosen by god to help the world and also has a cat named Skittles who is "a real snack machine"? Who isn't, I guess? Netflix has released the trailer for their upcoming series "God's Favorite Idiot," and it is a thing that is happening on the ailing streaming service. I love both Melissa McCarthy and her husband, Ben Falcone (who plays the angel-touched guy with a cat), but ooh, I don't know about this one. 
In the trailer, Falcone plays a man named Clark Thompson who begins to glow, and he's told by an angel that he's been touched by god. Melissa McCarthy plays his co-worker and love interest Amily Luck, a woman who reports the glowing to her co-workers, but makes sure to let them know that, while she did cocaine several times last week and accidentally roofied herself last night, this has nothing to do with what she saw. Protests begin outside his house, the four horsemen (and there is a joke about them being "horse people," because we cannot let that joke go by, despite the fact that I've heard it for my entire lifespan) show up, and Leslie Bibb is Satan. I will admit that this casting makes me laugh, and that alone might make me watch. 
Getting that heavenly glow
Here is the synopsis for "God's Favorite Idiot":
Mid level Tech support employee Clark Thompson finds love with co-worker Amily Luck at exactly the same time he becomes the unwitting messenger of God. Also, there's roller skating, a lake of fire and an impending apocalypse.
I mean, a lake of fire is cool. I won't judge until I watch more than I already have, but the thing about this improv-feeling comedy style is that it either works really well and has you rolling on the floor, or it bombs completely. If you look at something like the TBS series "Miracle Workers," starring Daniel Radcliffe, you can see a version that absolutely slays, but there are countless others that do not. 
It's a weird premise and sounds sort of like an "SNL" sketch, but hey, maybe it will be hysterical. I'm someone who really liked the Netflix series "Space Force," so this might be right up my alley. I'm just not loving the trailer. The series is directed and executive produced by Michael McDonald, who worked with McCarthy and Falcone in "Nobodies." Executive producers also include Steve Mallory, Falcone, and McCarthy. It also stars Kevin Dunn, Yanic Truesdale, Usman Ally, Ana Scotney, Chris Sandiford, and Steve Mallory.
"God's Favorite Idiot" will premiere on Netflix on June 15, 2022.