That One Cameo In Doctor Strange In The Multiverse Of Madness Is A Reminder That A Certain Marvel Group Deserved Better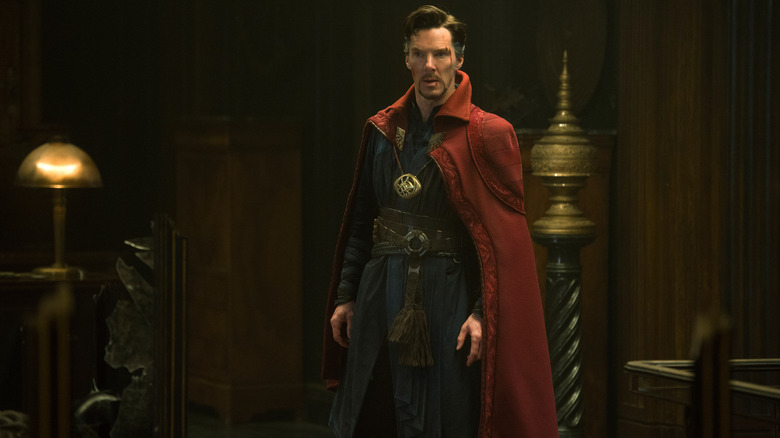 Disney
This post contains spoilers for "Doctor Strange in the Multiverse of Madness."
Prior to the release of Sam Raimi's "Doctor Strange in the Multiverse of Madness" — and this is a common sport among fans of the MCU — speculation ran hot as to what Marvel characters might appear in it. The contractual minutiae and legal dealings of the Disney Corporation are well known to Avengers stans, and many know that certain Marvel characters that once belonged to Fox (The X-Men, the Fantastic Four) were bought up in the enormous Disney/Fox buyout of 2019. Additionally, thanks to "Spider-Man: No Way Home" (and, to a lesser extent, "Morbius"), it has been established that even Sony-owned Marvel characters can crossover with the MCU. As such, Marvel-obsessed cineastes knew going into "Madness" that just about any character was fair game. Heck, thanks to the rules of the Multiverse, audiences also knew that any version of any character was game, meaning that a dead character could easily have been recast or resurrected with a flick of the wrist. 
With a toybox full of literally hundreds of characters to play with, people were eager to see who would turn up. In a notable scene in the middle of the film, fans were given what they wanted. In a reference to Marvel's own version of The Illuminati, several parallel faces made appearances. Some were known to old-school Marvel fans, others were for fans of more recent films and TV shows in the franchise. 
One particular made reference to — and, in a way, attempted to redeem — a little-discussed Marvel TV show that bombed back in 2017. 
SPOILERS! The character in question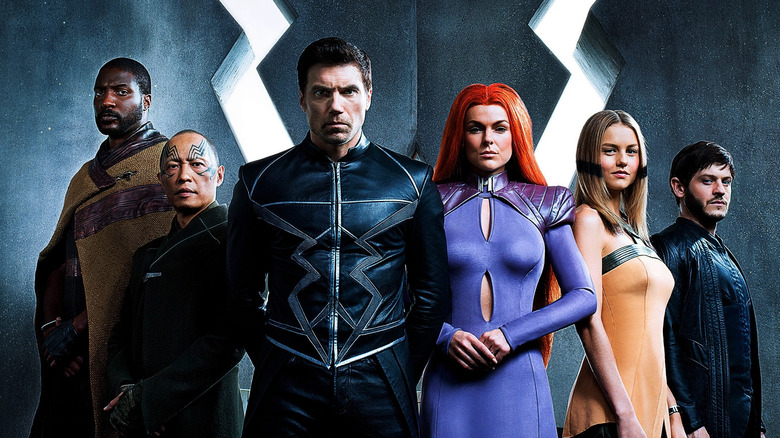 ABC
In "Multiverse of Madness," Chiwetel Ejiofor returns as Mordo, but this is an alternate universe version of Mordo who belongs to a secret organization of randomly assorted superheroes called The Illuminati. The group has a long and textured history in their comic book form, but in the movie, they appear largely as a fun excuse to throw in some fan-favorite cameos. Mordo introduces them one by one, starting with the character of Black Bolt (Anson Mount), who previously appeared on the largely forgotten 2017 TV series "Inhumans." 
"Inhumans" was announced as a Marvel project as long ago as 2011, and was originally intended to be a feature film, but was eventually reworked into a TV series. The premise of "Inhumans" is odd, even by Marvel standards: On the surface of the Moon, a secret city lives underneath a cloaked bubble, far away from the prying eyes of humans. For generations, the citizens of the city have been engaged in a bizarre caste-building ritual wherein potential superheroes enter a magical booth and emerge with their powers. Those with powers are part of the upper crust, while those without are more or less consigned to be slaves. The main characters of "Inhumans" were the superpowered royal family who face a slave uprising, and who, thanks to a teleporting car-sized bulldog, are able to flee to the surface of the Earth to regroup. They had never been to Earth, so much of the series is devoted to their assimilation. 
The Inhumans first appeared in comic book form in 1965, and were first mentioned in the MCU in a 2014 episode of "Agents of S.H.I.E.L.D." The characters, while never having the same popularity as an Incredible Hulk or a Spider-Man, still had a devoted cadre of fans, and, after many years of MCU success, many of them were eager to see Black Bolt and his retinue appear in film form. When "Inhumans" finally aired, the show was met with disappointed sighs over the weird premise, the clumsy staging, and its inability to make silly superhero stuff look dynamic and fun; Medusa (Serinda Swan) had living, weaponized hair, and "Inhumans," unable to make that look threatening, opted to shave the character's head. 
"Inhumans" was canceled after only eight episodes, never to be heard from again. Like "Helstrom" after it, "Inhumans" is an MCU project that was destined to never be talked about again. That us, until Sam Raimi stepped in and included the character in his film.
Justice for Black Bolt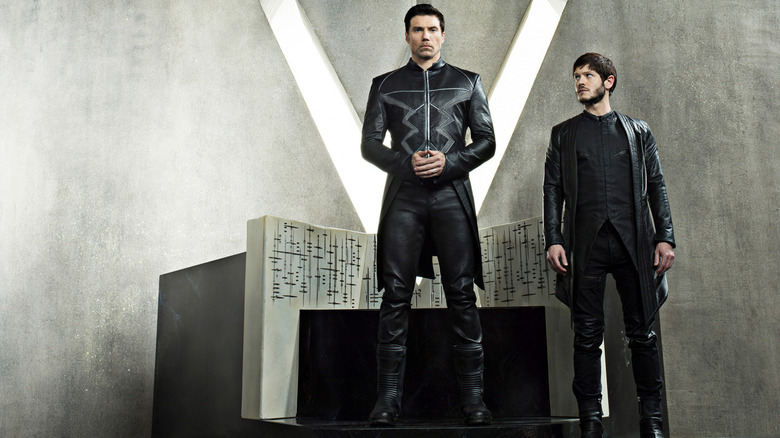 ABC
"Inhumans" is, overall, a strange and confusing show. It's badly plotted, not all the characters are interesting, and the premise is not presented well. The weirdest part is that it clearly wants the audience to feel more sympathy for a class of aristocratic superbeings than it does for the villainous slaves who are tempted to dismantle the crown. 
Anson Mount played Black Bolt, the king of the Inhumans, a man who communicated with sign language (Mount, understanding that his character was not human, wanted to develop his own signs to be distinctly different from ASL). Black Bolt's voice was so powerful that if he said a single word, it could sonically obliterate any being standing in his path. Part of Black Bolt's tragic backstory is that he once asked his parents "Why" he had been granted with such a powerful gift, and accidentally vaporized them. Mount, a handsome and charismatic actor, was able to bring a stern pathos to a character whose prime function is to be inscrutable. 
Black Bolt, and Anson Mount, had much more potential than the bad "Inhumans" TV series allowed. Indeed, at the end of "Inhumans," the central characters did see the destruction of their Moon city, forcing them to hide out on Earth. Their integration into human society would go a long way — dramatically, not commercially — to explain why so many superpowered characters started appearing with such rapid frequency after the appearance of Iron Man in 2008. The Inhumans, led by Black Bolt, could have been a liaison between ordinary humanity and the ever-growing class of superheroes living in castles. Once royal, but now humbled, Black Bolt could be the powerful in-between, reminding superbeings that there are real people out there to be protected, and that stopping monsters from taking over the galaxy often eschews the actual victims. 
The fate of Black Bolt isn't so rosy in "Multiverse," but his appearance is a reminder that the character had more potential than either of his appearance has given him credit for. Perhaps, like "Star Trek: Strange New Worlds," Anson Mount can bring back a franchise's supporting character (there are no rules in the Multiverse) and give him another shot.