Doctor Strange In The Multiverse Of Madness Features Another Sam Raimi Trademark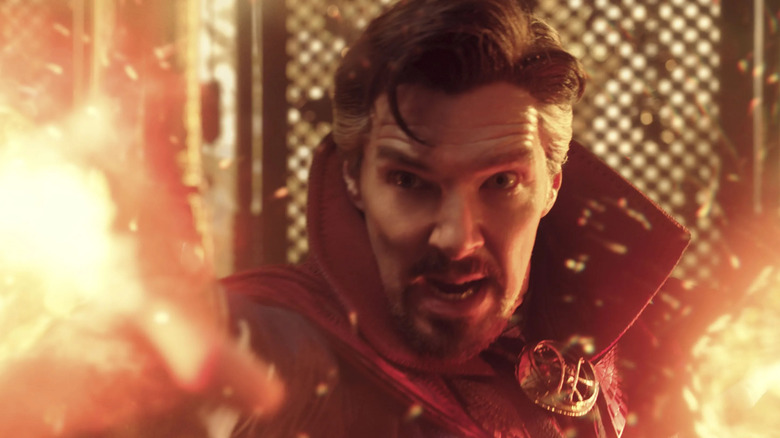 Disney
Sam Raimi's latest film, "Doctor Strange in the Multiverse of Madness," is in theaters now, giving fans of the famously frenetic director reason to celebrate. Raimi hasn't made a feature film since "Oz the Great and Powerful" in 2013, and in the nine years since then, he has only directed a few episodes of "Ash vs. Evil Dead" and a notable chapter in Quibi's "Fifty States of Fright." While Raimi has directed films in many genres — western, crime drama, noir, sports, superhero — it's his early horror work that many are still drawn to, and Raimi obsessives have happily catalogued the director's idiosyncrasies. Raimi is fond of tilted cameras, snap zooms, shrieking skeletons, masterful comedic pacing, Bruce Campbell, and tons of creative gore. 
Raimi also has a very particular trademark in his films: No matter the genre, timeframe, or context, Raimi has always managed to work his yellow 1973 Oldsmobile Delta 88 into the drama somewhere. 
The Oldsmobile is Ash's car in all three of the "Evil Dead" movies, as well as the TV show. It was impressively transformed into a massive, whirligig death machine in 1992's "Army of Darkness." It's parked outside a building in "Crimewave" (1987). It's involved in a car chase sequence in 1990's "Darkman." It can be seen parked in the snow in "A Simple Plan" (1998). It was Uncle Ben's car in "Spider-Man" (and again in a flashback in "Spider-Man 3"). It's parked in an alley in "Drag Me to Hell" (2009). According to Bruce Campbell, the Olds was stripped down to its chassis and covered with a wagon in order to fit it into "The Quick and the Dead." Raimi even said that part of the car's engine block and part of its cam shaft make an appearance in "Oz the Great and Powerful." The only film Raimi's Delta 88 did not appear in was his 1999 baseball drama "For the Love of the Game." Evidently its scenes were cut. 
Thankfully, the Olds returns for 2022's "Doctor Strange in the Multiverse of Madness." 
In the 'Mobile of Madness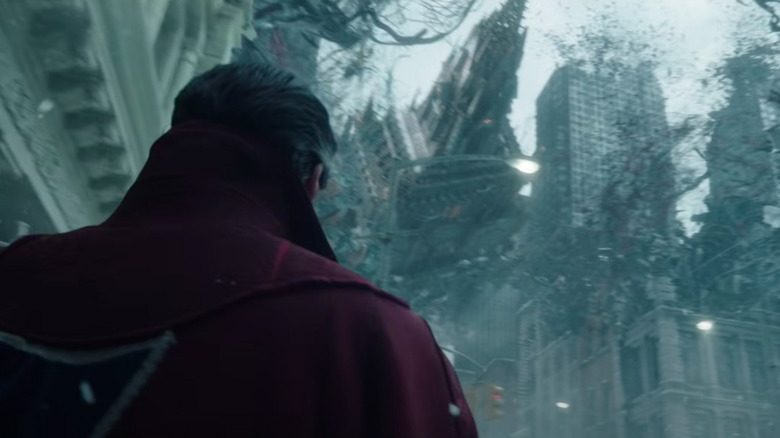 Disney
As the title would lead one to believe, "Doctor Strange in the Multiverse of Madness" is about a man named Stephen Strange (Benedict Cumberbatch) tripping not-so-merrily into parallel universes wherein he meets parallel versions of himself, and — in the fashion of the 1995 sci-fi show "Sliders" — visit worlds where the rules of reality are a little bit different. For example, in one dimension, red traffic lights mean go and green means stop (also a gimmick from "Sliders"). The skipping from dimension-to-dimension will also reveal a new kind of cataclysm: Occasionally entire dimensions can "collide," causing reality itself to warp and dissipate. At one point in the movie, Doctor Strange and a companion who shall remain nameless find themselves wandering the streets of a ruined dimension, seemingly abandoned of people, with hazy skies and mysterious spots on the ground where gravity no longer holds. 
Although bright, the sky doesn't seem to have a sun in it. Large chunks of broken buildings float up into the heavens. And, most strikingly, ordinary objects hang freely in front of our heroes. Cars are suspended in midair. And, yes, wouldn't you know it, there is Sam Raimi's 1973 Oldsmobile, hovering in the middle of a street.
The good doctor does not comment on the Olds. Although given the nature of the Multiverse, as well as the connection between the title character and the events of "Spider-Man: No Way Home," one could easily postulate that the Olds in "Multiverse" is the same one from Raimi's "Spider-Man." The director himself has always been teasing a kind-of multiverse of his own with his car, and having it as a central symbol of multidimensional shenanigans is wholly appropriate. 
Why THIS car?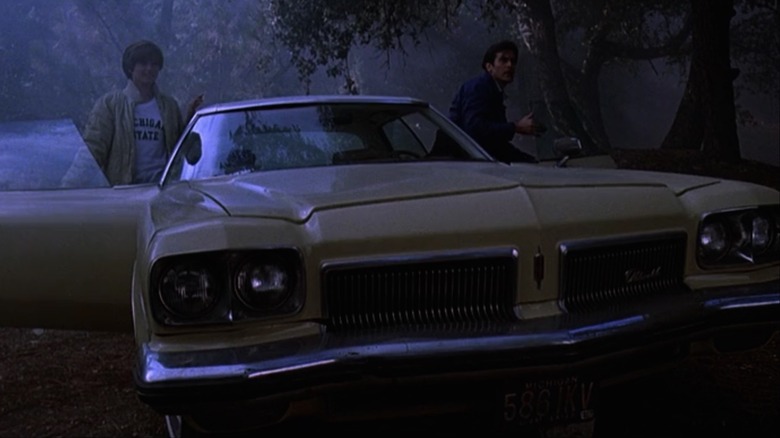 New Line Cinema
The Oldsmobile isn't just a cute gag for Raimi, however. The car has personal significance as well. Bruce Campbell and Sam Raimi were friends back in high school, and in an IGN interview, Campbell said Sam's mom used to drive them around in the 1973 Delta 88. Campbell recalls a time when he and Sam and a few others were dropped off to watch "A Clockwork Orange" together, with Mrs. Raimi not knowing what it was. The film, one might recall, was given an X-rating in the 1970s. 
Campbell likes to make up stories. He famously perpetuated whoppers about "Evil Dead 2: Dead By Dawn," partly to expand the myth of the film's low-budget making, but also because both he — and Raimi, to a lesser extent — have a very "don't-really-give-a-s**t" attitude about publicity, putting on a game face for press events and interviews, but never adopting a precious attitude. Also, it must be acknowledged that Raimi and Campbell often stage themselves as rivals, with Raimi constantly pushing the boundaries of what Campbell is willing to tolerate, leading to playful public appearances wherein Campbell admits to abusing the Olds out of spite. 
All this is a way of saying that what Campbell has said about the Oldsmobile must be taken with a grain of salt. According to Campbell, not only was the Delta 88 Raimi's first car, but he has implied that Raimi had his first sexual encounter in it. Whether or not that's true, the car is still very dear to Raimi, and he will seemingly endeavor to including in all of his films moving forward. Even if he's making a gigantic-budget, studio mandated franchise picture, Raimi will find a way to include his two favorite workhorses: The Classic and Campbell.