Taika Waititi Felt Understandably Awkward While Directing Jojo Rabbit In Costume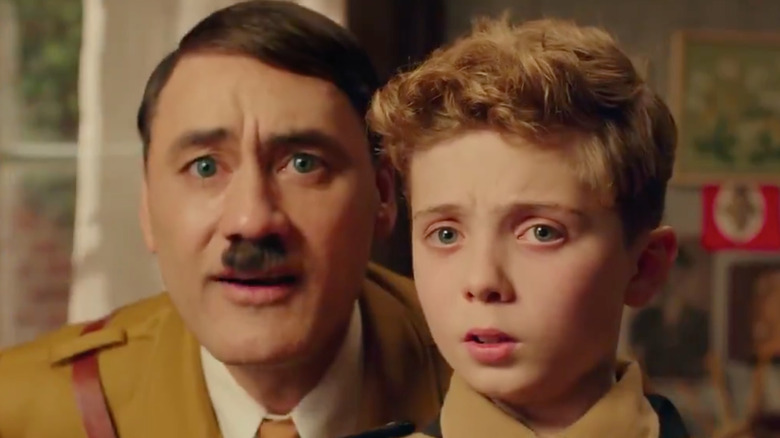 Fox Searchlight
Directing a film is a hard job to begin with, and adding in playing a role while directing makes it that much more difficult. Layer in acting in a scene with a child, and asking him to switch back and forth between taking direction and acting with you, and it's a Herculean task. What if, on top of all that, you're playing the role of Hitler?
Taika Waititi took all this on while acting in, and directing, from a script he adapted, the 2019 film "Jojo Rabbit," the story of Johannes "Jojo" Betzler (Roman Griffin Davis), a young German boy who is a member of the Deutsches Jungvolk, the Hitler Youth program for very young children. He is shy and quiet, and he doesn't want to kill a rabbit when he's told to, earning him his nickname. His imaginary friend is Hitler (Waititi), but a child-friendly version that spouts all the propaganda Jojo is hearing from the group (and represents his missing father).
His mother, Rosie (Scarlett Johansson), is secretly anti-Nazi, and to Jojo's surprise, she's hiding a young Jewish girl (Thomasin McKenzie) her their home. He has to overcome everything he's been told and shut the imaginary voice in his head up to become a better person. 
Playing three roles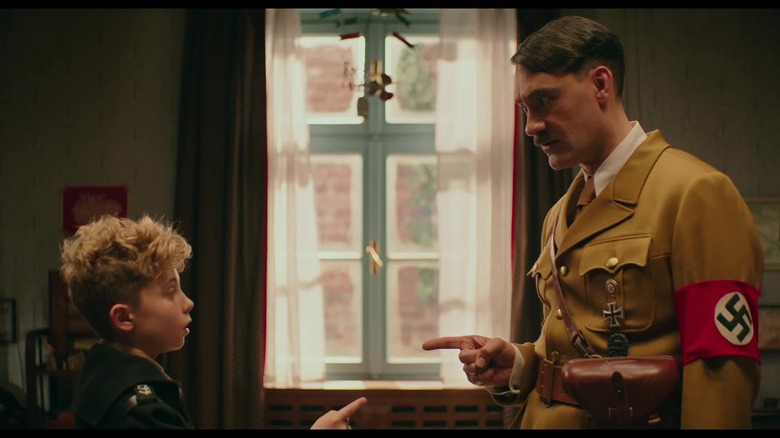 Fox Searchlight
It's a difficult premise to begin with, but taking on directing and acting in a Hitler costume is a whole lot to take on. Taika Waititi spoke to The Hollywood Reporter about the process of making the film, which is based on a book with a very different feel, and discussed what it was like. He said working with child actors means you make some accommodations like shooting sequentially, something most films don't do. He explained this meant he was often doing three things at a time with the direction, the acting, and script revisions. 
Scarlett Johansson spoke to the site about what Waititi was dealing with, saying:
"When you're working with a director who's also acting with you, it's hard because sometimes they are looking at you as a director and sometimes they are looking at you as a fellow actor. But then you've also got the Hitler garb, which was very strange."
It affected everyone in the production, including Thomasin McKenzie, who talked about getting used to seeing their director in a Hitler costume. She explained, "Just looking at Taika, you go, 'OK, you are really funny and there is obviously a lot going on in your head.'" 
Removing the moustache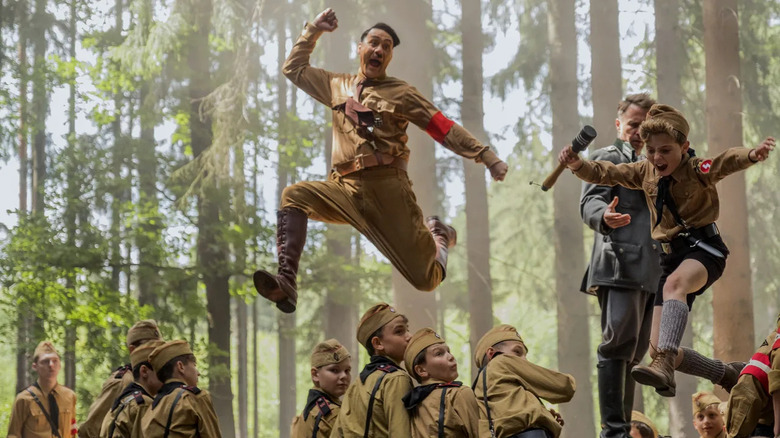 Fox Searchlight
It's interesting to note that the studio would only make the film if Taika Waititi played the role of Hitler. Remember, this is not a historical Hitler, but rather the version of him Jojo has in his head, an imaginary friend, a fantasy fueled by the propaganda, and symbol of missing his father. It seems appropriate to feel weird when playing a character like this, and sort of against Waititi's nature. Waititi told The Guardian:
"It just felt uncomfortable. The clothes were uncomfortable, the glue-on mustache was uncomfortable, and I had to have my hair dyed and straightened, which just made me feel weird all day long. I like to be everyone's friend as a director, to have a nice familial feel on set, and I'm trying to encourage sharing of ideas and a cool, creative space ... but I'm dressed like Hitler. It just changes things, really."
How could it not? He even told the site he would take the mustache off and wear a hat when he wasn't in the scene. He'd also take the jacket off because, "you don't want to be walking around with a f****** swastika on your arm trying to direct kids."
I'm not sure how this film managed to get made. Everything about it makes you think it shouldn't have been, but it's a fascinating look at a monstrous time in history through the eyes of a child. 
"Jojo Rabbit" won the Academy Award for Best Adapted Screenplay and was nominated for Best Picture.