Meryl Streep's Julie & Julia Character Isn't Quite Who She Seems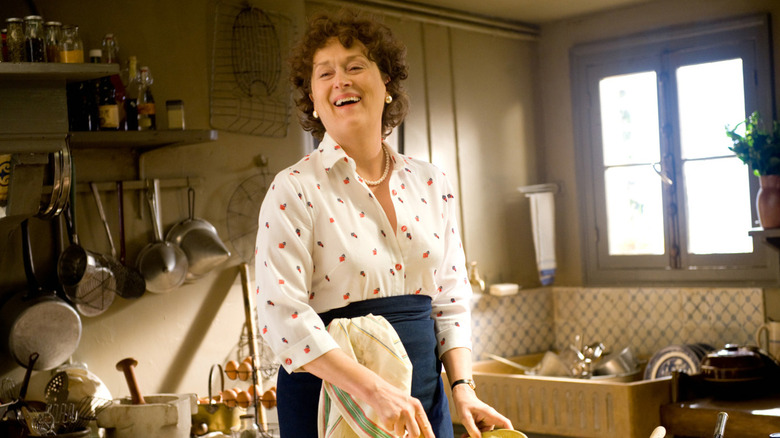 Columbia Pictures
Julia Child has been a source of wonder and joy ever since she rose to fame in the 1960s, becoming the first celebrity chef with her personality-forward cooking show, 'The French Chef." Just like that, she was invited into people's homes through their screens, changing the way people cooked in their own kitchens by introducing Americans to French cuisine. Between the show and her beloved cookbooks, cooking under Julia's guidance became the norm, and naturally, it wasn't long before she also became a source for parody. The most famous example was on "Saturday Night Live," where Dan Akroyd became "The French Chef," complete with an over-the-top high pitched voice and a hilariously absurd cooking demonstration that involved gallons of fake blood ("First you must stop the bleeding!")
Jokes aside, there's always been a lot of reverence for Julia Child, so even beyond her own show, the cooking icon made her way to screen in lots of different ways — documentaries, TV series, and of course, a biopic starring none other than Meryl Streep. Biopic performances are complicated enough as is, since there's a fine line between acting and impersonation, especially when the subject is such a well-known screen presence. It would be easy to think of Julia Child and slip into a mere imitation, but this is Meryl Streep we're talking about! Of course, her performance went above and beyond.
Not your average biopic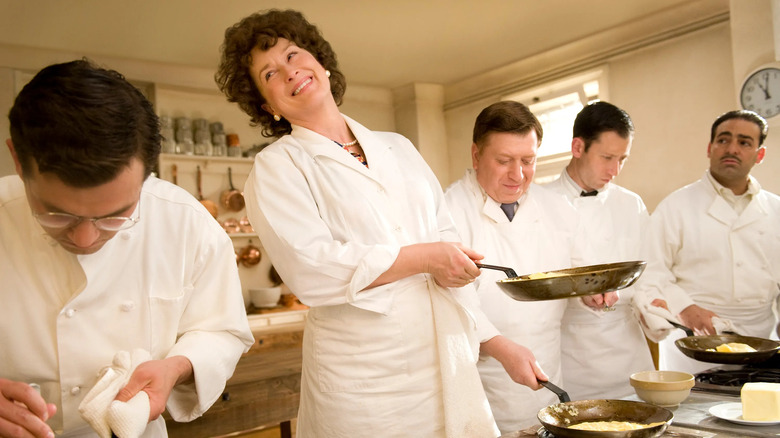 Columbia Pictures
Hopefully, you've had the pleasure of being swept up in the lives of Julia Child and Julie Powell, two cooking powerhouses who found their passion as adults. A film from Nora Ephron with a score from Alexandre Desplat, "Julie & Julia" has all the necessary ingredients for scrumptious comfort food. Along with three-time Academy Award winner Meryl Streep, it stars Amy Adams, Stanley Tucci, and Chris Messina, each serving up their very best. The film traces the life and struggles of the two women, each discovering their calling at different points in time — Julia, the soon-to-be acclaimed chef circa 1949, and Julie, a blogger in 2002.
The screenplay combines Child's autobiography "My Life in France" with Powell's memoir, "Julie & Julia: My Year of Cooking Dangerously". The connection between the two? Powell set out on a year-long project to cook every recipe in Child's famous first cookbook, "Mastering the Art of French Cooking." We see Julia's rise to fame alongside Julie following in her footsteps, which culminates in a sweet and occasionally tumultuous retelling of their culinary journeys. Taking on the role of Julia Child, Meryl Streep took special care to avoid becoming a caricature of the famed TV chef. Part of this was possible because of how Powell's perspective changed the story. In an interview with Emannuel Levy, Streep explained
"My out is that I'm not really 'doing' Julia Child, I'm Julie Powell's idea of who she was. So while I felt a responsibility to her memory and the legacy of the great work she did, and to the essence of her character, I didn't feel I was replicating her."
A masterclass performance from Meryl Streep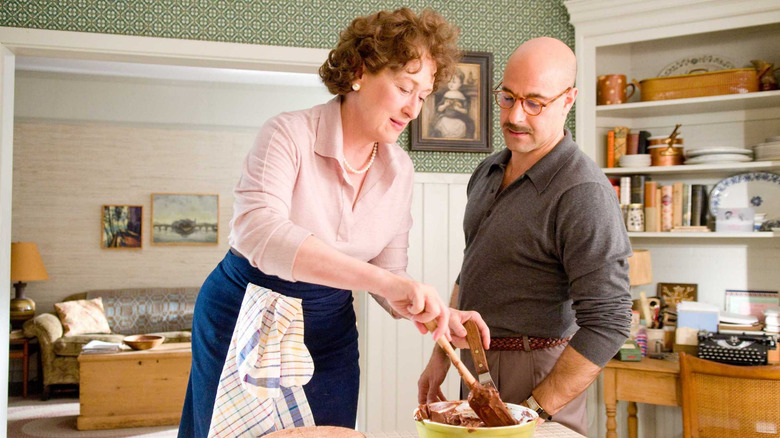 Columbia Pictures
In "Julie & Julia," Meryl Streep presents Julia Child from the perspective of one of her great admirers, who happens to be on a parallel journey of self-discovery. This also means she's far removed from the celebrity chef persona she'll soon become famous for. The film begins before all of that, flashing back to a Julia who recently arrived in France, searching for new purpose. Streep imbues her with the familiar mannerisms and personality of TV's Julia Child, with the warmth and humanity of a person discovering their passion. In the same interview "Julie & Julia" producer Laurence Mark attests that Streep's performance is the glue holding the film together:
"Meryl Streep made it possible to make this movie. She has an uncanny ability to suggest Julia Child and to imbue the character with the spirit of Julia Child, but it's not any sort of impersonation. It's a beautiful, beautiful portrayal."
Streep's performance is crucial to the overall feel of the film, which strikes a warm and wholesome chord, embellishing its world with love for the craft of cooking. A lot like watching an episode of "The French Chef," Meryl Streeps' take on Julia Child hits an inspirational chord, likely sending viewers to their own kitchens to whip up something in her honor.