The 20 Most Influential Female Directors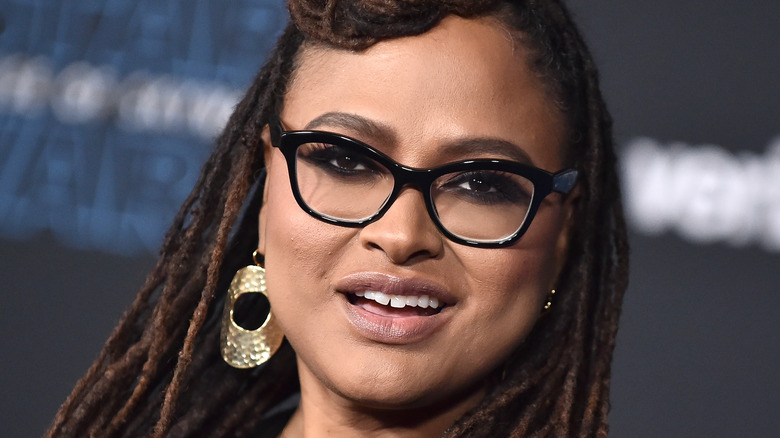 Shutterstock
The narrative surrounding women in film is always changing — even whether or not it is valuable to label someone a "female director" is up for debate. Makes sense! The term "female director" does not mean any one thing. Some women influenced cinema by developing technology. Others defined, or re-defined, a genre. Many made history by being the first woman to reach a milestone (no filmmaker needs to be the first at anything in order to be considered influential or culturally significant, but each and every one of those "firsts" does influence the industry).
And yet, while women have been a guiding force behind the camera since the artform began, they often don't end up on lists of auteurs or blockbuster superstars. Let's change that. These are the 20 female filmmakers who have had the biggest impact on movie-making. Their films are not restricted by subject matter, budget, or audience. They are not inherently feminist. They are definitely not meant to be judged against each other. They're just really good films from game-changing directors. Sometimes, the only way to recognize someone's contributions is to do so loudly, and to do it often.
Alice Guy-Blaché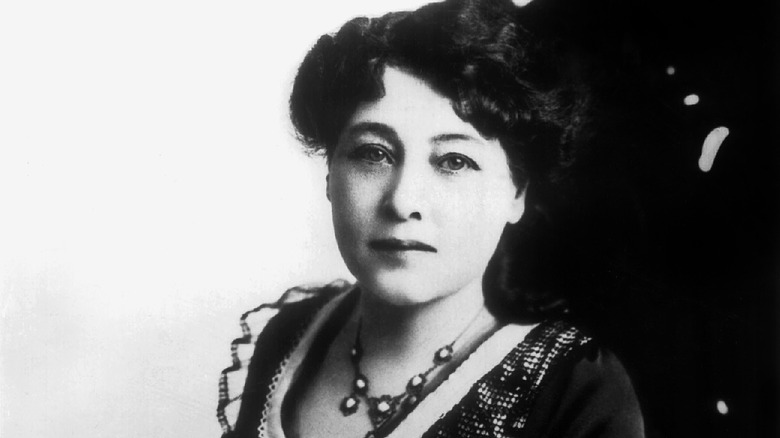 Donaldson Collection/Getty Images
Not only is Alice Guy-Blaché the first female director, she is one of, if not the, first person to use film to tell a narrative story. Guy-Blaché made her first film, "La Fée aux choux" (which translates to "The Cabbage Fairy"), in 1896. There is some dispute about whether her film or the Lumiere brothers' "L'Arroseur arrosé" came first, but Guy was a pioneer nonetheless. She started as a secretary for an inventor named Léon Gaumont and, after directing and acting in a few films, was promoted to head of film production at his company. According to The New York Times, she produced about 1,000 films. She was the first woman to create and run a film studio. And if those aren't enough reasons to justify a splashy Alice Guy-Blaché biopic, she also fell in love with and married one of her cameramen, Herbert Blaché, 
Other female pioneers from the Golden Age include Lois Weber, the first American woman to run a studio and one of Hollywood's first auteurs, the prolific writer and occasional director Frances Marion, and Dorothy Arzner, who was the only woman directing films in Hollywood for the entirety of the '30s.
Agnés Varda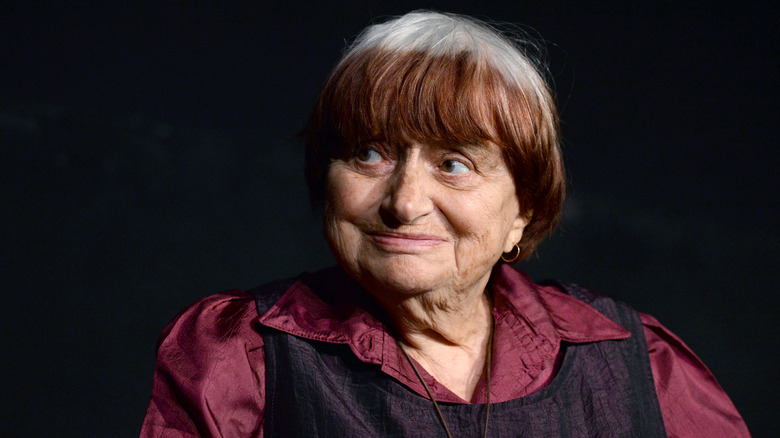 Michael Kovac/Getty Images
Skipping ahead several decades, Agnés Varda's films "Le Bonheur," "Cléo from 5 to 7" and "Vagabond" often show up on lists of essential films from female directors, and for good reason. Varda's work manages to employ realism while experimenting with both form and genre. It also has strong social messages. Because of Varda's background in photography, she established a distinct visual style and often uses still images in her storytelling. She was the first woman to receive an honorary Palme d'Or at the Cannes Film Festival, and to this day, she is the only woman to receive an honorary Oscar for directing. At the Telluride Film Festival in 2019, a few months after Varda passed away, Martin Scorcese called her a "God of Cinema."
If you like her work, you might be interested in French filmmakers like Claire Denis — who also makes both narrative and documentary films — and Varda's contemporary Ida Lupino, the first woman to direct a film noir.
Nora Ephron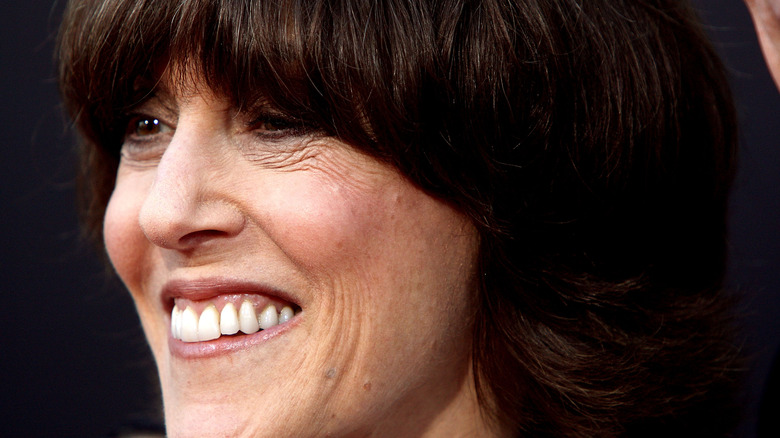 Frazer Harrison/Getty Images
While Ephron is better known in some circles as a writer and journalist, her contributions as a director are undeniable. Her distinct voice has influenced writers and directors for decades. 
Before directing, Ephron worked at Newsweek, and was one of a group of women who sued the magazine for sexual discrimination. She then became a reporter at The New York Post. She was a columnist for Esquire, and made a name for herself writing humorous, personal essays at multiple outlets. Then, she was offered a screenwriting job, and eventually started directing her own films, including classics like "This Is My Life," "Sleepless In Seattle," "You've Got Mail," and "Julia & Julia."
Today, there is a prize at the Tribeca Film Festival named after Ephron that honors female filmmakers with "a distinctive voice." In 2018, the Nora Ephron Prize was awarded to Nia DaCosta, who directed "Candyman" and the "Captain Marvel" sequel "The Marvels."
Penny Marshall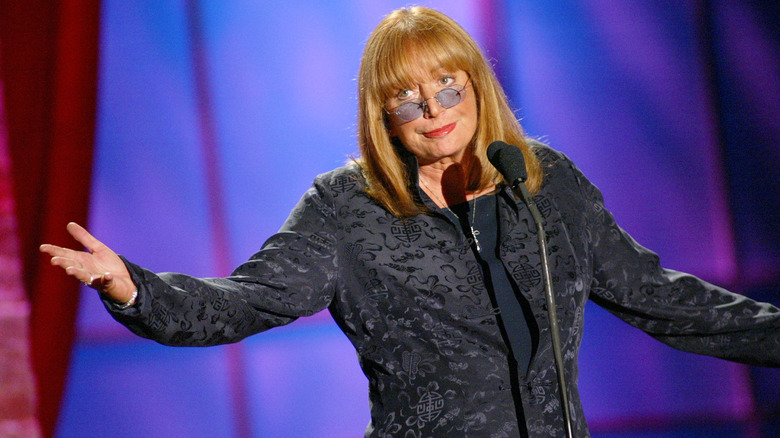 Kevin Winter/Getty Images
Penny Marshall originally started as an actress, known best for playing the first half of "Laverne and Shirley," but her biggest contributions to cinema might've come in terms of box office receipts and classic movie moments. Marshall's "Big" grossed over $100 million domestically, the first film from a female director to do so. "A League Of Their Own" has been inducted into the Library of Congress' National Film Registry, and also crossed $100 million at the box office. While her films are often regarded as "feel good," a phrase which sometimes holds a negative or frivolous connotation, they stuck with audiences. No montage of major moments in Hollywood is complete without Tom Hanks playing "Heart and Soul" in "Big" or shouting, "There's no crying in baseball!"
Marshall broke ground as a woman who achieved such great success as a double threat, or multi-hyphenate, which is becoming more and more common. Today, many actresses-turned-directors make critically acclaimed and crowd-pleasing films, including Elizabeth Banks and Emerald Fennell.
Nancy Meyers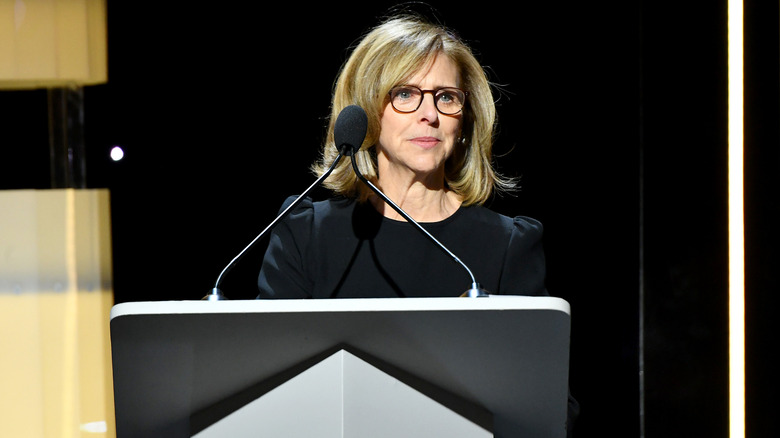 Amy Sussman/Getty Images
After Ephron, the biggest name in romantic comedies is Nancy Meyers. Best known for giving roles to actresses considered "old" — by Hollywood's standards — and for distinctive production design (including some enviable kitchens), Meyers' true legacy is the longevity of her career. The mid-budget comedy, a dying breed in theatrically-released films, owes everything to Meyers.
"Private Benjamin," Meyers' first screenplay, was initially rejected by several studios, with its ending considered controversial. However, it ended up as a commercial success, and Meyers has never really stopped making hits since. "I've always been blessed with confidence," Meyers told The Independent in 2010.  
We would be remiss to champion Ephron, Marshall, and Meyers without also mentioning their contemporary, "Clueless" and "Fast Times At Ridgemont High" director Amy Heckerling. While all four of those women were directing successful comedies in the '80s and '90s, they and their films could not be more different.
Jane Campion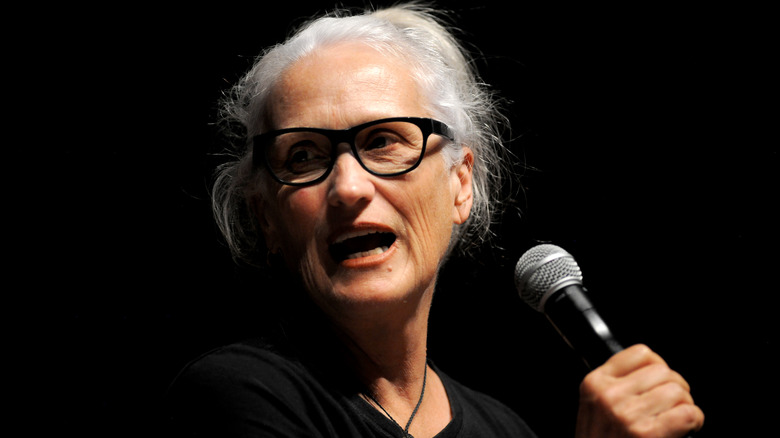 Roberto Serra - Iguana Press/Getty Images
Jane Campion's female protagonists are complex. They are outsiders. They are not what you're used to seeing in film. Over the years, critics have described her heroines in terms as innocuous as "quirky," as respectful as "resilient," and as damning as "lunatic." Her films cover multiple genres: "Bright Star" and the Palm D'Or-winning "The Piano" blend romance and dramedy; "In The Cut" and the miniseries "Top Of The Lake" are crime thrillers. 
As a New Zealander, Campion's films are shot on her home soil and feature gorgeous locations. Campion won an Academy Award for screenwriting (again, for "The Piano"), although that same year she became the second woman ever to be nominated for Best Director. She deserves more, but at least her influence as a filmmaker is everywhere. Campion has paved the way for female protagonists to be messier, more challenging, and even — dare we say it — unlikable.
If her work interests you, you may enjoy the films of Andrea Arnold, who has a very different approach to storytelling but offers similarly rich and complex characters. You may also like British auteur Joanna Hogg.
Lucrecia Martel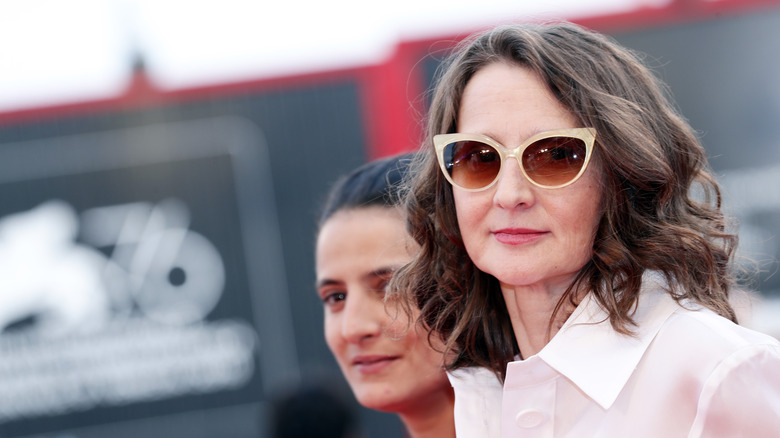 Vittorio Zunino Celotto/Getty Images
Lucrecia Martel is largely considered one of the best working directors in world cinema, and she has a singular voice as an artist and a filmmaker. Many books have been written on the way she has captured social issues, indigenous cultures, female identity, sexuality, colonialism, and nationalism and oppression in both narrative and documentary films. 
Martel is a self-taught filmmaker who made animated shorts before directing her first feature, and she has served on the Cannes jury, presided over the Venice Film Festival jury in 2019, and been awarded at international festivals like Sundance, the Berlin International Film Festival, and the Havana Film Festival. "La Ciénaga" regularly tops lists of the best Latin American movies, while the BBC named "The Headless Woman" one of the 100 best movies of the 21st century. Some other female directors in the art cinema world that you should know include Chantal Akerman, Lina Wurtmuller, and Céline Sciamma.
Kathryn Bigelow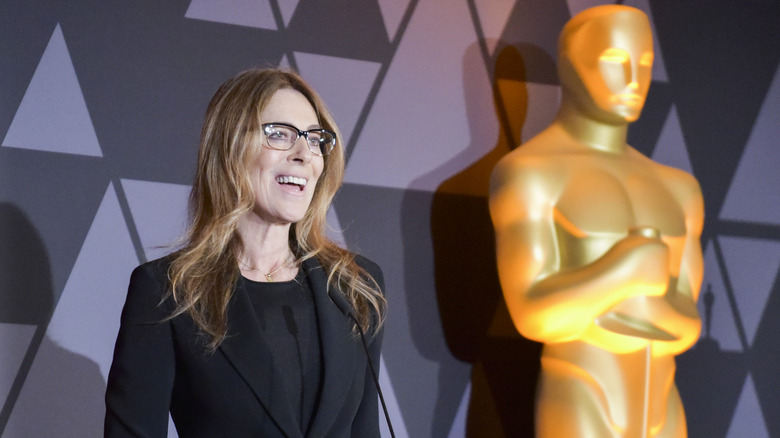 Rodin Eckenroth/Getty Images
Until 2021, Katherine Bigelow was the only woman to be awarded Best Director at the Oscars, and was additionally the first woman to direct a Best Picture winner. While that statistic is depressing, it should not overshadow Bigelow's contributions to film. TIME Magazine voted her one of the most influential people of the year in 2010 for the way she examined the Iraq War in "The Hurt Locker." With films like "The Hurt Locker" as well as "Point Break" and "Zero Dark Thirty" on her resume, Bigelow has made a name for herself deconstructing masculinity and violence as well as American society's obsession with both.
But don't dismiss her as a simple action director. "'Action' is a label for video store owners. I guess if I had to single out a theme for what I've been up to, I'd say it's some sort of journey to explore film's potential to be kinetic," Bigelow tells the Director's Guild of America Quarterly Magazine. "This probably started unconsciously, but it's there in one way or another in all my movies. I'm always trying to squeeze the most energy out of the frame."
Mira Nair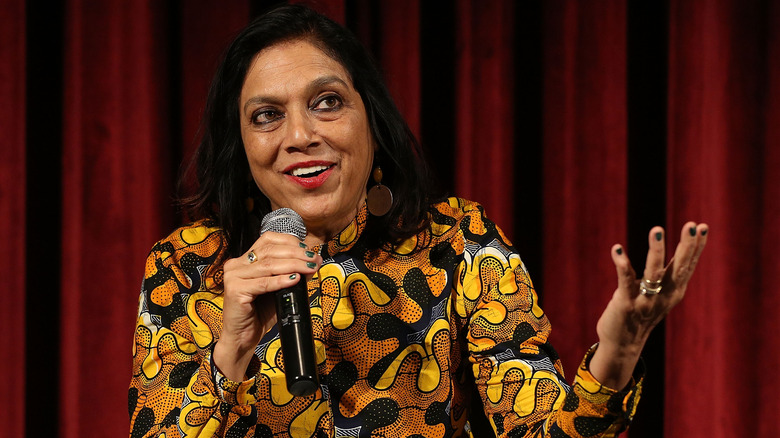 Robin Marchant/Getty Images
Mira Nair started making documentaries when she was 20 years old, and her first narrative feature, "Salaam Bombay!," was nominated for the Best Foreign Language Film at the Academy Awards. She used the profits from that first hit to create a trust for children in India. She also founded the Maisha Film Lab, a workshop in Uganda. One of the lab's graduates happens to be Academy Award-winner Lupita Nyong'o, who later starred in Nair's "Queen of Katwe." 
Nair's 1991 film "Mississippi Masala" pushed boundaries simply by portraying an interracial romance (and no white protagonist). Her directorial style is marked by realism and rich color palettes. She is influential as an artist, but also as a leader and activist; Nair uses her success to hold the door open behind her, making sure that anyone who wants to can tell their own story. If you enjoy Nair's "Vanity Fair" or "Monsoon Wedding," you might also be interested in Amma Asante's "Belle."
Julie Dash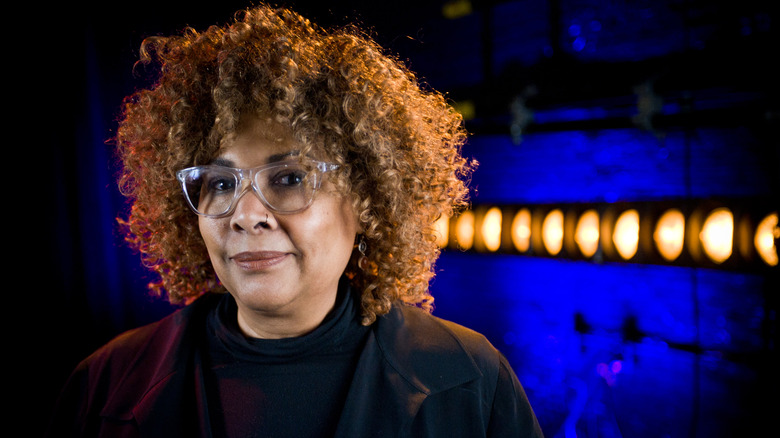 Timothy Hiatt/Getty Images
In 1991, "Daughters of the Dust" became the first feature directed by an African American woman to get a wide theatrical release in the United States. Dash was part of the "L.A. Rebellion," a group of Black film school graduates who made alternative films. "Daughters of the Dust" also happens to be a masterpiece; like "A League Of Their Own," "The Matrix," and "The Hurt Locker," its listed in the National Film Registry for its cultural and aesthetic significance. The film tells the story of a family that lives off the coast of South Carolina, and that considers moving to the mainland, debating what could be lost along the way.
"Daughters of Dust" also happens to be Dash's only feature film. She didn't disappear or anything; since the '90s, Dash has been working steadily, directing television movies, music videos, and museum commissions. Her ability to "shape shift" in order to enjoy a long and varied career inspired Ava DuVernay to do the same, according to The New York Times. And if you haven't seen "Daughters of the Dust," you may have seen another masterpiece that is heavily influenced by Dash's film: Beyoncé's "Lemonade." 
Another period film about Black womanhood from the '90s that is an absolute must-see is Kasi Lemmons' "Eve's Bayou."
The Wachowski sisters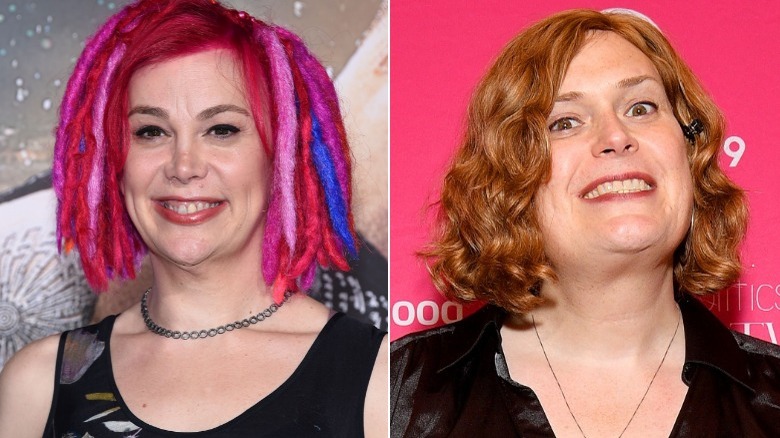 Shutterstock/Getty Images/Dia Dipasupil
1999 is often lauded as the best year in film, and key figures in that assessment are Lilly and Lana Wachowski. Action and science fiction films have been influenced by "The Matrix" in countless ways since '99, from the use of the bullet-time camera to the way "The Matrix" brought Eastern-style fight choreography to Western film. It shot a jolt of electricity though Hollywood action sequences; Vulture editor Adam Sternbergh even credits "The Matrix" and the Wachowskis with making superheroes cool in a way that has now become the norm. It's not just "The Matrix," though. The Wachowski sisters have continued to get weird and tell wildly thought-provoking, incredibly original science fiction stories in films like "Cloud Atlas" and "Jupiter Ascending." 
After both Lilly and Lana came out as trans women, fans began rewatching their movies from a different perspective, and Lilly herself has confirmed that "The Matrix" is intentionally a trans allegory. "This is a cool thing because it's an excellent reminder that art is never static," Lilly said in a speech at the 2016 GLAAD Awards. The directors were already undeniable influences on Hollywood, and there is always more to discover.
Cheryl Dunye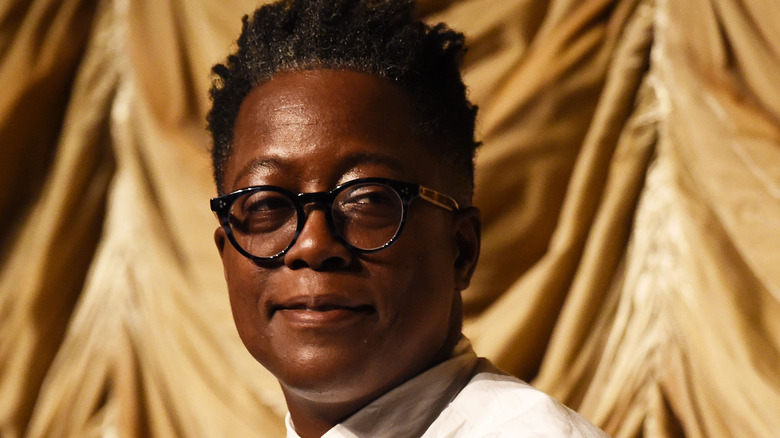 Amanda Edwards/Getty Images
Over 20 years after it was named Best Feature Film at the Berlin International Film Festival, Cheryl Dunye's "The Watermelon Woman" had a cultural and critical resurgence in 2020 as a recommendation for those who sought to decolonize their media diet. It is key to the New Queer Cinema movement of the '90s, as the first film about Black lesbians to be directed by an out Black lesbian herself. The film blends documentary elements into the narrative, one of Dunye's signature techniques. 
In fact, many of Dunye's films are experimental documentaries; on more than one occasion, Dunye steps in front of the camera to play a fictionalized version of herself. She also was instrumental in making queer cinema a more intersectional space. According to IndieWire, in conducting research for "The Watermelon Woman," Dunye studied queer film history and found no mention of race. Today, we have films like Dee Rees' "Pariah" and Wanuri Kahiu's "Rafiki," among so many others, thanks to the road that Dunye paved.
Gina Prince-Bythewood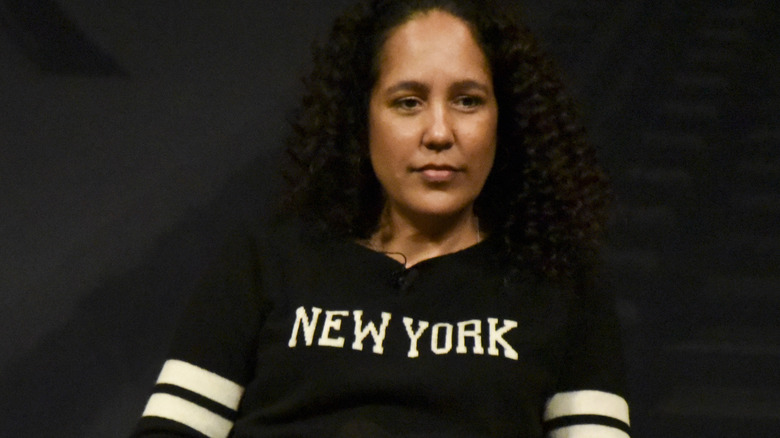 Rodin Eckenroth/Getty Images
"Love & Basketball," which Gina Prince-Bythewood also wrote, won the Independent Spirit Award for Screenwriting as well as a Humanitas Prize, which honors writers "whose work inspired more compassion, peace, love and dignity in the human family." Like Nancy Meyers' first screenplay, "Love and Basketball" faced a lot of initial rejection. Prince-Bythewood has since won a handful of NAACP Image awards for her feature films "The Secret Life Of Bees," "The Old Guard," and the series "Shots Fired." With her Netflix film "The Old Guard," she became the first Black woman to direct a big-budget comic book movie (also, sequel now, please). Prince-Bythewood was recently named as the co-chair of the DGA's African American Steering Committee, whose purpose is to "address the specific needs of the African-American members of the Directors Guild" and to "establish a productive line of communication between African-American members and the creative community."
The director told Deadline in 2020 that "I want my legacy to be that I gave visibility to Black women in every genre. On that front, she is certainly succeeding. Prince-Bythewood floats from romance to action, drama and sports with ease. Director and writer (and Prince-Bythewood's one-time assistant) Lena Waithe compared Prince-Bythewood to an athlete: "Hyper-focused."
Patty Jenkins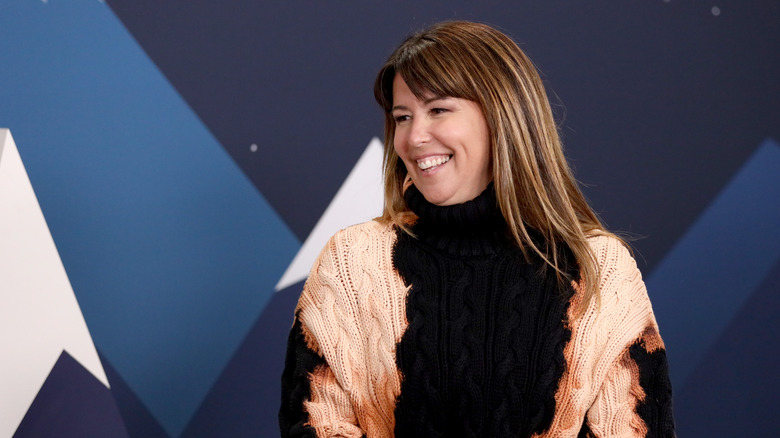 Rich Polk/Getty Images
Patty Jenkins was showered with accolades for her debut feature "Monster," which was awarded by the AFI and the Independent Spirit Awards, and won Charlize Theron an Oscar for Best Actress. She won a Director's Guild Award for directing the pilot of AMC's "The Killing" in 2011. 
But it was Jenkins' second film that made real history. With "Wonder Woman," Jenkins became the first female director of a Hollywood superhero film. For once, this glass ceiling seems to have stayed broken; "Wonder Woman" will not be an isolated incident. Warner Brothers, Marvel Studios, and other major blockbuster makers have been hiring female directors — including women of color — to helm big film and television projects based on major IPs ever since, thanks largely to Jenkins and the success of "Wonder Woman." It doesn't stop there, either; Jenkins is currently set to direct "Rogue Squadron," which will make her the first woman to direct a Star Wars feature film.
It feels like cheating to recommend this, but if you like "Wonder Woman" and Jenkins' work and haven't seen Cathy Yan's movies, including her DCEU film, "Birds of Prey," get on it!
Ava DuVernay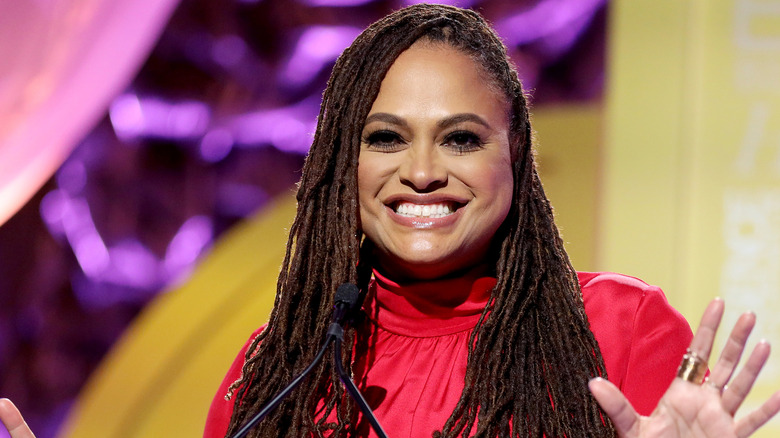 Rich Polk/Getty Images
In 2021, one of the most famous female filmmakers is Ava DuVernay. DuVernay is known for both her narrative films and her documentaries, and is the most recent recipient of the prestigious Dorothy and Lillian Gish Prize for contributions to American art. "Selma" made DuVernay the first Black woman to be nominated for a Golden Globe for Best Director and the first Black woman to direct a Best Picture nominee. "13th" was again nominated for an Academy Award, and won the BAFTA for Best Documentary. She's also the first woman of color to direct a live-action film with a budget of over $100 million, thanks to 2018's "A Wrinkle In Time." Finally, DuVernay also founded Array Now, a "grassroots distribution, arts and advocacy collective focused on films by people of color and women." As with Nair, DuVernay makes sure that every door she opens stays that way for those behind her.
If you want more, fans of DuVernay's documentaries should also watch ​​Jennie Livingston's "Paris is Burning."
Sofia Coppola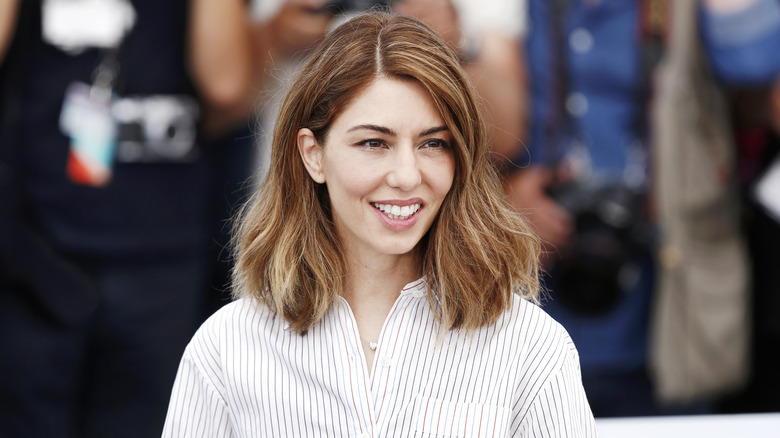 Shutterstock
Coppola is the first woman to receive the Golden Lion at the Venice Film Festival, and is one of the more recognizable female directors in independent film. Her last name certainly didn't hurt, but Coppola proved her worth with a directorial style that is very different from her father's. You know what you're getting from a Sofia Coppola film: a soft, "girly" style of filmmaking that's unapologetic and not afraid to go dark. Coppola won the Academy Award for screenwriting in 2003 for "Lost in Translation" which she also directed. This is an oddly common practice for the Academy: women are far more likely to be recognized for writing than directing, even if they do both.
If you like Coppola's films you're probably already a fan of Greta Gerwig, so check out the late great Lynn Shelton for more independent films from female voices, particularly in the mumblecore subgenre. Speaking of which, if you like Coppola's "The Virgin Suicides" and "The Beguiled," check out Amy Seimetz's excellent film "Sun Don't Shine."
Karyn Kusama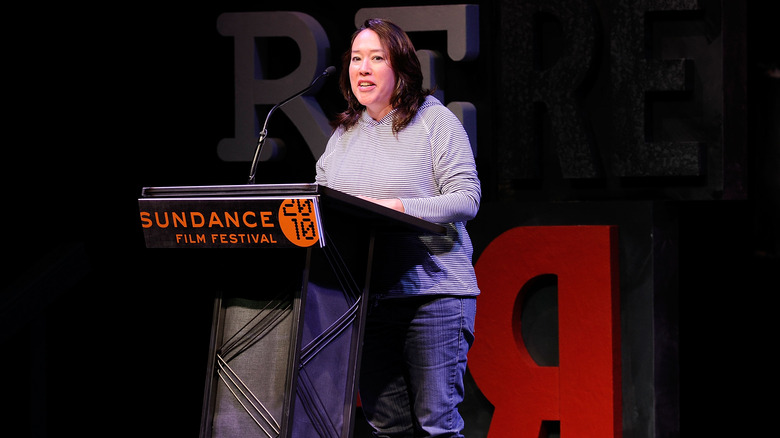 Jemal Countess/Getty Images
While "Jennifer's Body" received a poor critical reception at the time of its release, it has been since reevaluated and deemed a feminist hidden gem. The #MeToo movement, and the subsequent recognition and rejection of '00s-era sexism, has helped in that regard, and at long last "Jennifer's Body" seems to be taking its rightful place in pop culture – savvy viewers even spotted homages to the film in Olivia Rodrigo's "Good 4 U" music video.
By the time "Jennifer's Body" came out, screenwriter Diablo Cody was already a household name thanks to "Juno," and Karyn Kusama had already made waves with "Girlfight," which was nominated for an Independent Spirit Award. The initial critical and commercial failure of "Jennifer's Body" is largely due to marketing: the studio attempted to sell the film to teenage boys based on Megan Fox' status as a sex symbol, but the film is incredibly, hilariously, not "for" boys in the slightest.
Even though they preceded her, if you like Kusama's work, watch Tamra Davis' "Crossroads" and Mary Harron's "American Psycho."
Patricia Cardoso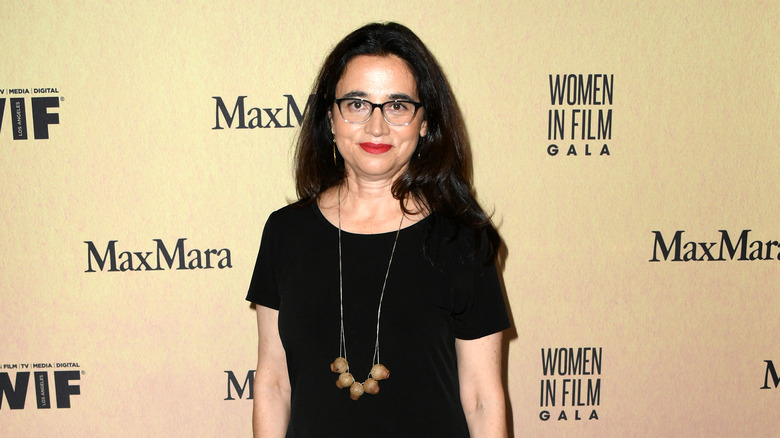 Jon Kopaloff/Getty Images
Patricia Cardoso's "Real Women Have Curves," easily one of the best films of the '00s, was recognized by the Library of Congress, the National Board of Review, the National Film Preservation Board, and the Independent Spirit Awards, and won the audience award at Sundance. It is a seminal classic and influential piece of cinema as an independent film, a Latin American film, and a coming-of-age story that challenges Euro-centric and fatphobic beauty standards. It also launched the career of "Ugly Betty" and "Sisterhood Of The Traveling Pants" star America Ferrara. 
Cardoso was the first Latina woman to win the coveted Sundance Audience Award, and was also the first Latina woman to receive a Student Academy Award, which she won her 1994 film "The Water Carrier of Cucunuba." Unlike some of her contemporaries, Cardoso does not come from a background in painting or photography. Before studying film at UCLA, she was an anthropology student in Colombia.
Chloe Zhao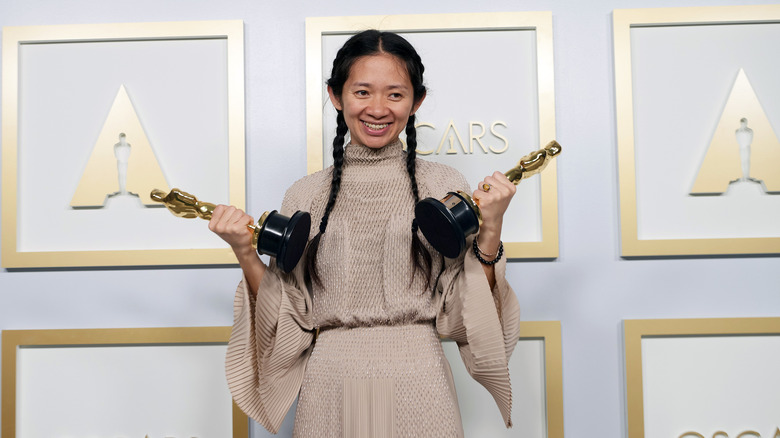 Handout/Getty Images
With her Academy Award win for "Nomadland," Zhao re-shattered the glass ceiling that had started to reform in the 13 years since Bigelow took home the trophy for Best Director. Hopefully it won't take another 13 years for it to happen again, especially as Zhao is the first and only woman of color to win the award. Before being recognized by the Academy, Zhao's films "Songs My Brothers Taught Me" and "The Rider" earned nominations at the Independent Spirit Awards. "The Rider" also won the Art Cinema award at Cannes. 
After touring festivals with short films and racking up awards and recognition on the circuit, her feature films solidified her as an auteur right out of the gate. Zhao had already booked and begun pre-production on Marvel's "The Eternals" when she shot "Nomadland." Her reign has only just begun.
If you like Zhao's natural and minimalist aesthetic, you absolutely must check out Kelly Reichart's "Certain Woman," "Wendy and Lucy," and "First Cow."
Isabel Sandoval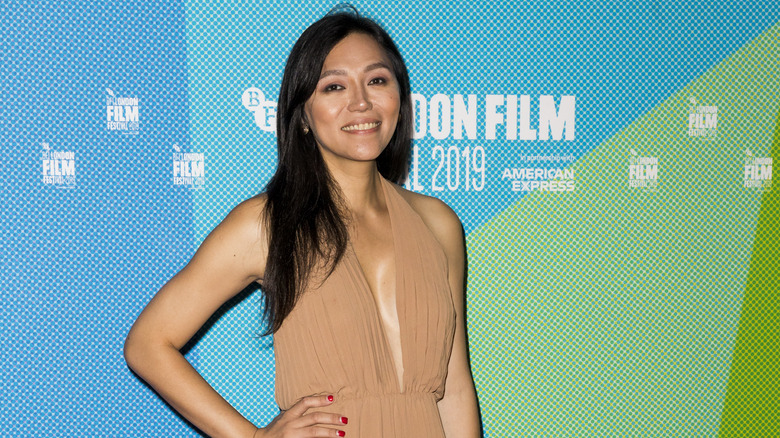 Tristan Fewings/Getty Images
In 2019, Isabel Sandoval became the first out trans woman of color to compete at the Venice Film Festival in 2019, where her film "Lingua Franca" debuted. She is an up and comer in Hollywood, but already one whose influence is clear: Sandoval has already been recognized by both the Criteron Collection and the Museum of Modern Art! In addition, "Lingua Franca" was nominated for the John Cassavetes Award at the Independent Spirit Awards, reserved for films made with a budget under $500,000, and was acquired by Array Films. 
"Shangri-la," Sandoval's latest shorts, and "Lingua Franca" can be streamed on YouTube, Mubi, the Criterion Channel, and Netflix. "Shangri-la" is a short, experimental art film that was commissioned by Miu Miu as part of its Women's Tales series, which seeks to "investigate vanity and femininity in the 21st century." Other filmmakers who appear on this list and have participated in this series over the years include Varda, DuVernay, and Martel. Excellent company to be in.