How Logan's Script Immediately Interested Patrick Stewart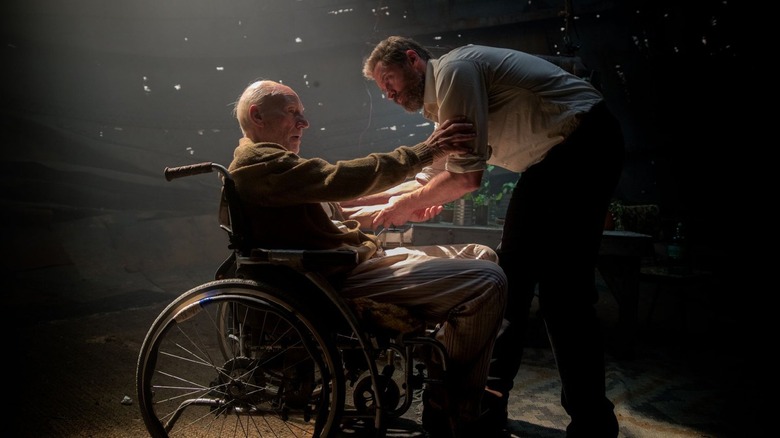 20th Century Fox
James Mangold's 2017 film "Logan" remains one of the best superhero movies ever made. In a world wherein superhero stories have gained a great deal of success by continuing stories indefinitely (it's difficult to imagine the phrase "this will be the last Avengers movie" even being uttered aloud), Mangold and his co-screenwriters Scott Frank and Michael Greene offered something unique: A final, meaningful conclusion. 
"Logan," the ninth film in the long-running X-Men feature film series, tells the story of the final, dying days of James Logan (Hugh Jackman), once known as the superhero Wolverine, but now an aging, washed-up chauffeur with little to his name, and nothing to show for a life devoted to violence. Logan's superpowers once allowed him to heal rapidly and slowed his aging, making him centuries old. Still mortal, however, Logan's powers are on the wane, and injuries aren't healing at all. His onetime mentor, Charles Xavier (Patrick Stewart), now incredibly elderly, is also losing control of his superpowers, often unwittingly unleashing psychic storms from a ramshackle shelter out in the desert. There is no money, no comfort, and no supervillains to fight. Life is just sad. 
There is a poetry to that. Superheroes, after all, are essentially freelance soldiers who commit acts of destruction and violence without oversight and very little in the way of repercussions. After decades of bloodshed, a superhero likely suffers terribly. "Logan" is the first high-profile feature film to discuss this at all. 
Stewart, who had played Charles Xavier in multiple previous "X-Men" feature films, admits that he was surprised that yet another X-Men film had been written. Stewart first played the mutant psychic character in 2000's "X-Men," and had already seen his character die (in "X-Men: The Last Stand"), and recast (in "X-Men: First Class"). In an interview with The Independent, Stewart admitted that the script caught his eye right away, mostly because it was no longer set in a posh mansion in Connecticut. 
Not Xavier's comfortable home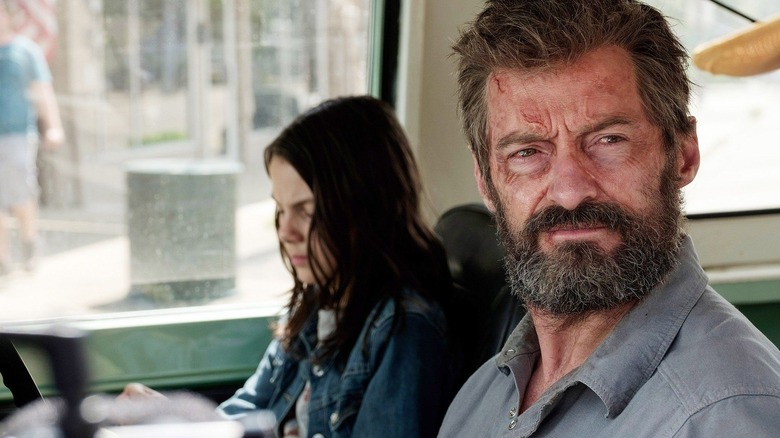 20th Century Fox
In the world of the X-Men, Charles Xavier, a mutant with psychic powers, runs a school for the gifted out of his palatial estate on the east coast of the United States. The school is, in fact, a school for mutant kids who have recently, spontaneously, developed superpowers. He teaches the kids math and literature, but also ways to control and live with their powers. Xavier also uses the school as a front for a well-moneyed team of adult mutant vigilantes — the X-Men — who trek out into the world in a high-tech super plane to do battle with evil mutants who would cause mayhem. 
"Logan" does not take place in that palatial estate, nor are the X-Men united. Xavier was going to be quite a different character. Stewart told The Independent: 
"I was a little surprised that there was another one. Then news of the content began to filter through — first of all, it might be a very limited number of us — then the script arrived. I had been told this is going to be quite a different Charles Xavier."
And while the different character was notable, Stewart admits that it was the setting that caught his eye: 
"[I]t wasn't Charles that had the impact on me when I read these scripts, it was the description of the location of the first scene that I was in. When I read the description of where we were, I was immediately very interested; This is not Xavier's magnificent comfortable beautiful home in Westchester County, Connecticut. And away we went. I was delighted."
We were crying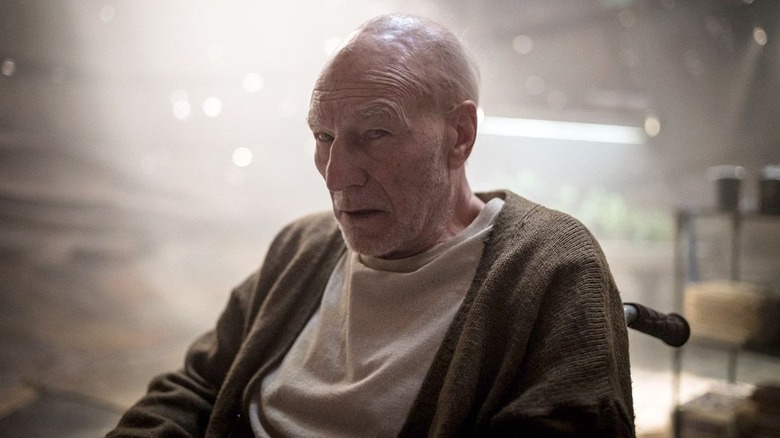 20th Century Fox
While fans of the X-Men movies were granted a beautiful, sad, painful sendoff for some of the series' more notable characters, Stewart admits that he, too, found himself feeling a little verklempt during the "Logan" premiere. Sitting with Jackman and Mangold, the three of them — finally seeing the finished picture — understood how far they had come, and how the road was at an end: 
"Hugh was sitting next to me, with James on the other side of him. And the audience were clearly very caught up in it and that was satisfying. It got into the last five or six minutes of the movie and Hugh's hand came over and he took mine and he squeezed my hand. He looked at me and he had big tears and, of course, that set me off. Here we are, the two X-Men wiping away the tears at our own movie! And then I thought while we were watching, 'My God, this is a goodbye ending. What could I possibly do that could top this?'"
The X-Men series did not quite end with "Logan," though. The franchise saw a sequel for the character Deadpool, a further sequel for the whole team called "Dark Phoenix," and an additional horror-tinged spinoff called "The New Mutants." Additionally, the rights for the X-Men characters now belong in the hands of Disney, who will — without question — begin incorporating X-Men characters into their long-running Avengers series sooner rather than later. So while "Logan" was a farewell, the X-Men movies will grind on. Stewart knows that the X-Men will live on, but Logan and Charles Xavier — at least in the form audiences knew — are done:
"As I've lived with that idea over the past few days, I thought: 'Yeah, it's absolutely right that we should both of us just move on now.' The franchise won't die [without us]."
"Logan" is available to stream on FX Now, DirecTV, and Spectrum On Demand.