Robin Williams Kept Steven Spielberg Sane While Filming Schindler's List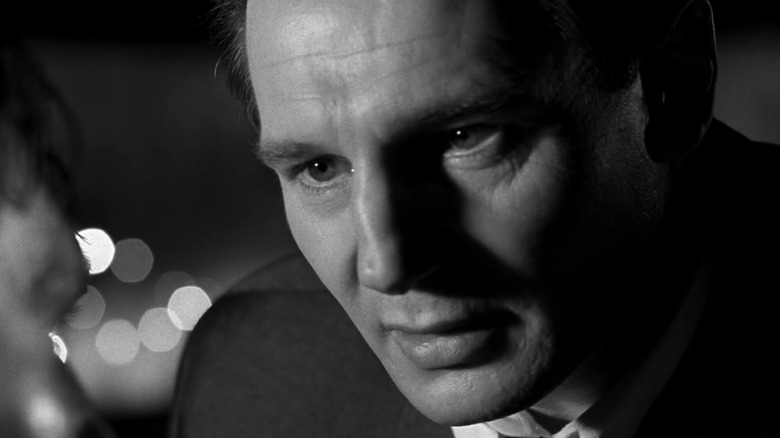 Universal Pictures
1993 was a landmark year. First off, I was born. Pretty big deal. Secondly, Steven Spielberg had one of the greatest years any director has ever had, as 1993 saw the release of both "Jurassic Park" and "Schindler's List." What a one-two punch. He made a timeless blockbuster that started a franchise that runs through today, and a sobering, powerful holocaust drama that finally won him the Academy Award for Best Director after 20 years of making movies. The two films could not be more different, yet they are equally excellent. Only Francis Ford Coppola in 1974, with "The Godfather Part II" and "The Conversation," can rival that level of quality for one year. It's remarkable.
However, the process of making these two movies was not easy for Spielberg in the slightest. "Jurassic Park" involved a great deal of revolutionary visual effects that took an immense amount of time to create. The post-production process on that film was so long that he was shooting "Schindler's List" at the same time, a process he would repeat when he shot "The Post" while finishing "Ready Player One." Then there came the subject matter of "Schindler's List." If you thought it was a heavy movie to watch, imagine making it. Recreating the events of the Holocaust in the place where these horrific events took place would unnerve anyone, especially a Jewish filmmaker like Spielberg. I could not imagine myself filming a train filled with people passing through the gates of Auschwitz. I can barely watch the scene in the movie itself.
Crushed by the heaviness of the story he was telling, as well as being neck-deep in post-production on an entirely other movie, Spielberg needed some relief. He needed a salve for what he was going through. Luckily, he had two things: a telephone and a friendship with one of the funniest people to ever live.
If Robin Williams doesn't cheer you up, nothing will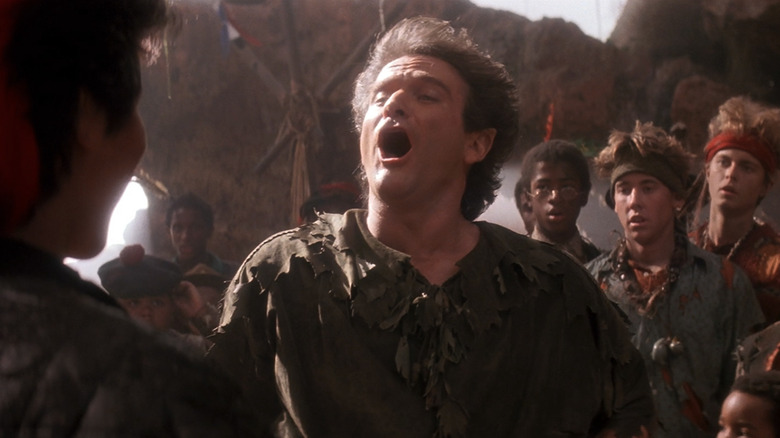 TriStar Pictures
Maybe "Patch Adams" was onto something. Laughter really could be the best medicine. Well, for the soul at least. While off in Poland shooting "Schindler's List," Steven Spielberg was in desperate need of a good chuckle, and who better to make that happen than Robin Williams? Spielberg had previously directed Williams in 1991's "Hook," and the beloved actor agreed to regularly call up Spielberg for the sole purpose of splitting the director's sides with laughter. In a Q&A for the 25th Anniversary of "Schindler's List" at the 2018 Tribeca Film Festival, Spielberg said [via IndieWire]:
"Robin knew what I was going through, and once a week, Robin would call me on schedule and he would do 15 minutes of stand-up on the phone. I would laugh hysterically, because I had to release so much ... The way Robin is on the telephone, he'd always hang up on the loudest, best laugh you'd give him. He'd never say goodbye, just hang up on the biggest laugh."
Imagine how glorious that would be in real life. Once a week, you just get a call from Robin Williams, and he just spits jokes at you for 15 minutes. That sounds like a dream. But in the context of making such a weighty movie, it was maybe even more impactful that therapy. For the length of a phone call, the only thing you would feel was complete elation entirely designed and directed for you.
Robin Williams was obviously a man who had his demons, but the generosity of spirit to do that for someone reveals what a light he was for so many people. Spielberg described his state of mind while jumping back and forth between his two 1993 pictures as having "tremendous amount of resentment and anger," and Williams could selflessly make those things wash away, even for just a brief moment. It's beautiful to think about.
We needed more Spielberg and Williams collaborations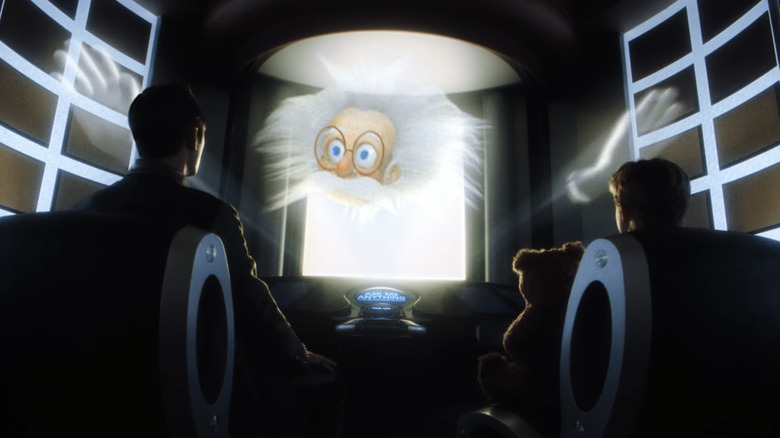 Warner Bros.
Despite their obviously close relationship, Steven Spielberg and Robin Williams only ever made two movies together. The first is the aforementioned "Hook," which I know has its fans, but is kind of a mess. Williams also briefly appears in "A.I. Artificial Intelligence" (one of Spielberg's best movies) as the voice of the holographic computer sage Dr. Know. One can imagine an alternate universe where Spielberg and Williams crossed paths more often. It's easy to see Williams taking on the role of Victor Navorski in "The Terminal" or playing against type in a supporting role in the steely sci-fi thriller "Minority Report."
The two worked on one project that did come to fruition, but at different stages of development. Back in the 1990s, Gary Marshall and Kathleen Kennedy enlisted Robin Williams to play the titular big friendly giant in an adaptation of Roald Dahl's "The BFG," which included partaking in table readings for the movie. Williams eventually dropped out of the project and died before it ever fell into Spielberg's hands in the mid-2010s, and Mark Rylance took on the part of the giant.
Alas, we did not get to see these two creative masters working together at the height of their powers (again, sorry "Hook" fans). At least they got to make each other laugh. While we did not experience that firsthand, they got to enjoy one another. In life, that's really all that matters.