How Finding The Right House For The Byrdes Helped Ozark Feel Real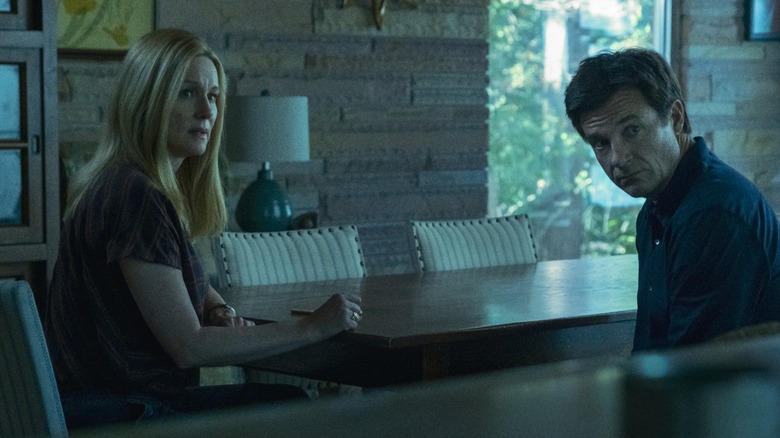 Steve Dietl/Netflix
As the final stretch of "Ozark" looms on the horizon, the mountainous, lake-set region in which the series is set has never felt more dangerous. The money-laundering Byrde family, led by steel-hearted Wendy (Laura Linney) and no-nonsense Marty (Jason Bateman), has now spent four seasons at the distinctive waterside home they fled to in the series' pilot episode. It's a house that's at once domineering and vulnerable, shot rarely as a place of comfort but often as a site of danger.
Series showrunner Chris Mundy recently spoke to The Hollywood Reporter about the Byrde home setting, explaining that all those expansive glass windows aren't meant as a metaphor for danger so much as a reminder of the importance of the series' setting. "It does make you feel the water so that you feel that you're in that location," Mundy says, before explaining that Rachel's (Jordana Spiro) Blue Cat hotel and restaurant and the Langmore family trailers serve the same purpose. It's true: while "Ozark" doesn't often revel in the beauty of its Osage Beach setting (it's actually mostly shot in Georgia), each of these locations offers a clear and purposeful peek at the open water.
It's all about the water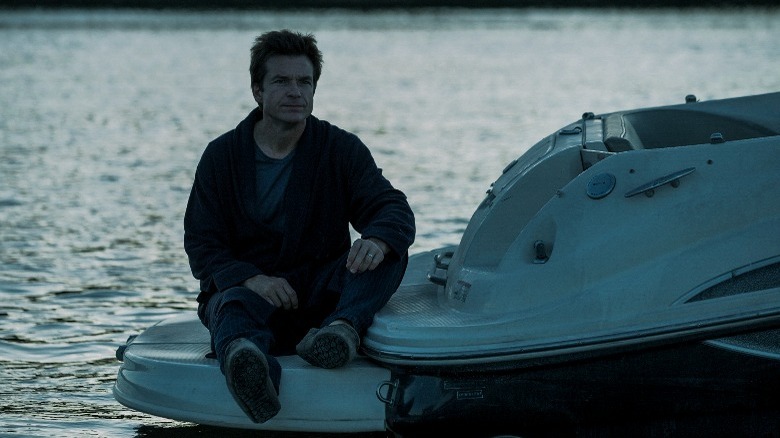 Jackson Davis/Netflix
Although Mundy shies away from confirming any metaphorical purpose for the show's setting, the Byrde house is undoubtedly a rich source of drama. Its cold blue lighting and somewhat closed floor plan make it feel less like a family home and more like a series of holding cells for each of the anxious, angry, amoral family members that live there. The window panes, numerous and unadorned by shades, show that the Byrdes' secrets can't stay hidden, but they also offer plenty of opportunities for characters to look moodily at their own reflections as they get more and more blood on their hands.
"That house just gave and gave and gave to us," Mundy tells THR of the split-level home, which is actually in Flowery Branch, Georgia. "It was the best location. As many times as we shot there, every director managed to find another way to shoot it because of those windows and its weird angles." It's true that even in the series' final episodes, filmmakers still seem to be finding new ways to make the house look new and alien to viewers.
The Ozark house may seem like just a small part of a big production, but it's actually a noticeable piece of authenticity amidst a rapidly changing filmmaking landscape. Examples of real-life sets in Hollywood productions are growing vanishingly small with the rise of cost-cutting soundstages, VR sets, and immersive digital technology like The Volume.
In contrast, "Ozark" has filmed at the 2,513-square-foot home since 2016. Mundy tells Architectural Digest that when it came to picking the house, it really was all about those water shots: 
"With those windows, you get to see the water no matter which direction you point the camera. We could have built an interior on a soundstage, but we wanted that water." 
The fact that "Ozark" filmed in a real house on a real lake adds a depth and believability to the grim series, putting viewers squarely in front of those ominous watery depths again and again. The Byrdes can't seem to escape the Ozarks, and neither can we.