Julia Garner Was Under The Gun To Get Her Inventing Anna Accent Down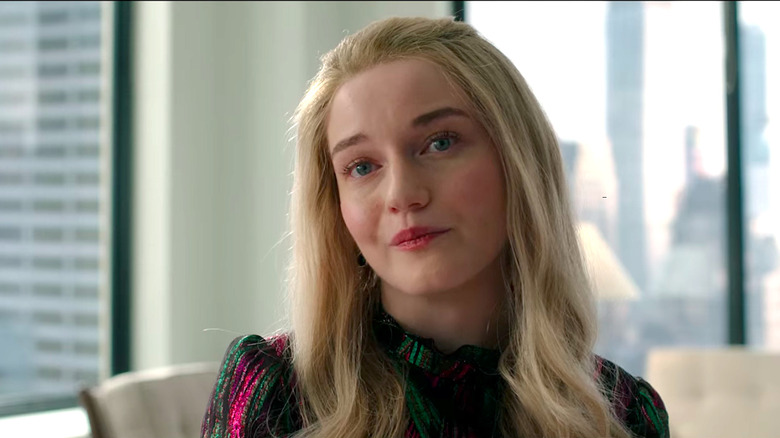 Netflix
February was, fittingly, the month everyone fell in love with Anna Delvey (or, depending on who you ask, Anna Sorokin). Her highly inflated ego took Netflix by storm when the show "Inventing Anna" — which is based on real events (except for the parts that were totally made up) — was released. Who was this bold and brazen supposed German heiress who seemed to have taken New York's most elite citizens for everything they were worth and then some? It was hard to dislike Anna, especially since her crimes seemed so outrageous that they were actually impressive. In some capacity, viewers of the show wished that they, too, could be as cunning as Delvey, living a lavish life on yachts, beaches, and in exquisite 5-star resorts without having to pay a single dime for any of it. 
But to be like Anna Delvey, you have to commit to a lot. First, and perhaps most importantly, you have to commit to the lie — or maybe even delusion — that you are somehow worth all of the lavishness that you claim to deserve. You have to know exactly how to dress and behave to get people to believe that you are, in fact, a wealthy heiress whose father will be wiring the money any day now, don't worry. You have to understand the art of the con enough to know to never admit that's what you're doing. And most importantly, you have to definitely commit to the accent.
That's right. The accent. The one we all have, at least once, tried to impersonate. The one that sounds like a garbled mess of German, Russian, and maybe something else that you can't quite place your finger on. Without the accent, you cannot be taken seriously as Anna Delvey. It is the glue holding everything else together, and for Julia Garner, the actress who portrays Anna and her inimitable accent on screen, learning the accent was not only a challenge, but also a time crunch. 
A totally V.I.P. accent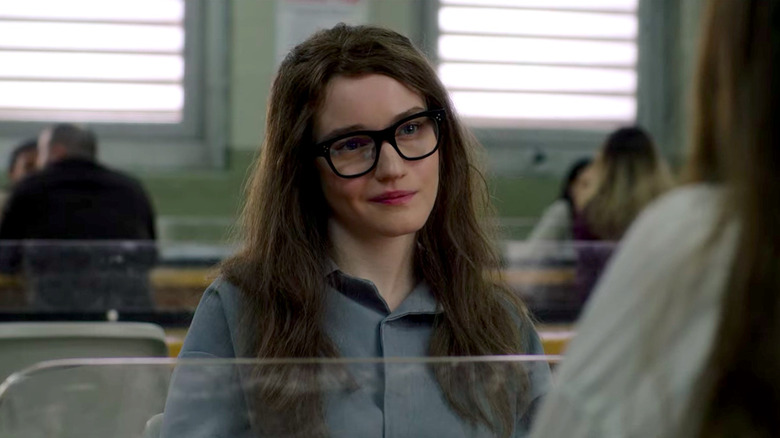 Netflix
"Inventing Anna" is filled with fantastically quotable lines from Anna, who delivers continuous zingers that are both absolutely insulting and funny as hell. But part of her quotability lies in the power of Anna's very particular accent. Julia Garner was under a lot of pressure to perfect Anna's accent. In an interview for Elle magazine, she explained the accent's origins. "It's German, but then she grew up in Russia, so you hear a little bit of the Russian inflection alongside the German. But then the musicality of it is more American," she says. Elaborating, Garner continues: 
"A lot of times, people coming from Europe to live in America, their accents starts to shift. And Anna especially does that anyway, she kind of embodies whoever she's hanging out with. She's struggling a lot with her own identity, so you see her pick up on traits from whoever she's hanging out with."
Garner had to master this accent very quickly — she only had three weeks to perfect it due to being cast very late in the process — and she "knew at the outset this was the hardest accent [she was] ever going to do in [her] career. By far. Because her accent is so consistently inconsistent." To make the process easier, Garner learned a German accent first, and then built on top of that with the Russian. Eventually, she was able to add the personal flair that makes Anna's accent so specifically "Anna." Garner even got to meet the real Anna Delvey in prison — a woman she describes as being "very funny" and "very likable" —  and the humor she picked up on during their meeting was something Garner consciously included in her portrayal — the comedy certainly comes through in the way Anna talks.
Fortunately for us, Garner nailed the accent despite the time crunch, turning "Inventing Anna" into the latest It show on Netflix. So much so that if "Inventing Anna" were a party, only the truly elite would be allowed to attend. V.I.P., of course. It's the only way to go.