One Roar Episode Took 40 Rewrites To Get Right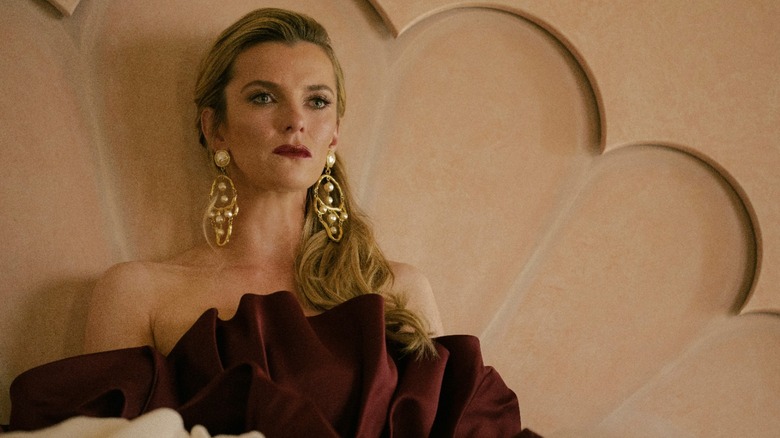 Apple TV+
The new Apple TV+ series "Roar" is one of the weirder shows to grace television screens this year. Based on a book of women-centric fables written by Cecilia Ahern, the show includes plots about solving one's own murder, dating a mean duck, and eating photographs to keep precious memories closer. It's a strange array of magical realist stories, headed up by actors like Nicole Kidman (who also produces), Issa Rae, and Betty Gilpin.
Gilpin, who starred in "GLOW" as housewife-turned-wrestler Debbie Eagan, plays a literal trophy wife in the show's third episode. In "The Woman Who Was Kept on a Shelf," she takes on the role of a model whose fairy tale dreams come true when she falls in love with a wealthy businessman ("Lost" star Daniel Dae Kim). Soon, though, her husband builds a shelf high up on one of their mansion's walls for her to sit on — indefinitely. Up on her pedestal, the wife feels first treasured, then isolated, then neglected. Within the mythical logic of "Roar," leaving the safety of her shelf would mean giving up the life she's been given, complete with resplendent dresses and expensive gifts. Eventually, though, the shelf starts to feel a little bit like a prison.
How to literalize a trophy wife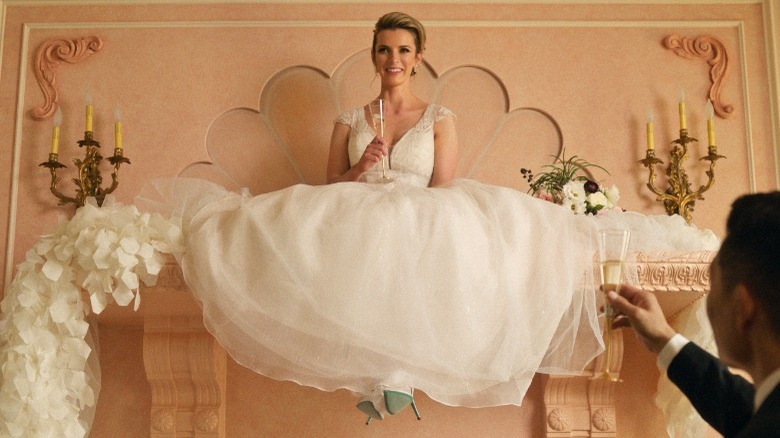 Apple TV+
The team behind "Roar," co-creators Liz Flahive and Carly Mensch, spoke with the Los Angeles Times about the painstaking process of adapting Cecilia Ahern's more challenging stories, and cited "The Woman Who Was Kept on a Shelf" as the hardest to pin down with a script. "Liz and I rewrote that episode 40 times because we couldn't crack it," Mensch told the LA Times. The filmmaker shared that other episodes hewed closer to her and Flahive's own experiences, but that "'Shelf" took "insane amounts of rewriting." Mensch continued:
"It was so new for us. It was a visual from the book that really stuck with us and that we loved that felt like an amazing cinematic dare. But we couldn't figure out the best way to honor the metaphor without denigrating trophy wives. We'd keep writing, and I'd feel like we were still judging too much. There was a brief period of time where we thought it should be about Melania Trump."
Although Flahive said it was fun to experiment with the Trump idea "for a couple drafts," the pair ultimately ended up imagining Gilpin's character as a hopeful, people-pleasing woman who doesn't know what her life might look like without the value others place on her beauty. In the final version, we learn that, far before she ever sat up on the shelf, her mother had told her always to choose to be beautiful over anything else.
Mensch was right to call the endeavor a cinematic dare. "The Woman Who Was Kept on a Shelf" is perhaps the most visually dazzling episode of "Roar," draping the shelf-bound wife in beautiful dresses that make her look like a mannequin watching over the glittering life she can't participate in. It's an ambitious if imperfect metaphor that works thanks to Gilpin's measured, sincere performance and, of course, the 40th draft of Flahive and Mensch's script.
All episodes of "Roar" are currently available on Apple TV+.