Aaron Paul Fought For One El Camino Scene To Stay In The Film
Netflix
With Aaron Paul set to reprise his role as Jesse Pinkman in the final season of "Better Call Saul," it's worth noting how integral he truly is to the tragic world of "Breaking Bad." I think it's pretty wild that series creator Vince Gilligan initially flirted with the idea of bumping him off in the first season, considering Jesse feels as synonymous with "Breaking Bad" as Bryan Cranston's science teacher-turned-meth kingpin, Walter White. Paul's Emmy Award-winning performance — he won Outstanding Supporting Actor in a Drama Series in 2010, 2012 and 2014 — is the heart of the show, despite all the terrible things Jesse does in the name of staying alive and making money.
Even though we saw Jesse triumphantly flee the neo-Nazi desert compound in the "Breaking Bad" series finale, "Felina," it would be over six years later when we'd see him again. Directed by Gilligan, the Netflix original "El Camino: A Breaking Bad Movie," serves as a series epilogue, chronicling what happens to Jesse directly after he crashes through the gates. The film sees the tortured meth cook attempting to evade capture and tie up loose ends before leaving the Albuquerque sands for a fresh start, akin to his former partner.
While not as tight as "Felina," "El Camino" was still an emotional conclusion that finally gave Jesse the happiest ending he could possibly get, especially after everything that transpires during the final season. He deserved some semblance of peace, and a few moments in "El Camino" give Jesse a moment to breathe. Paul fought to keep one of these moments in the finished film.
The heart of Pinkman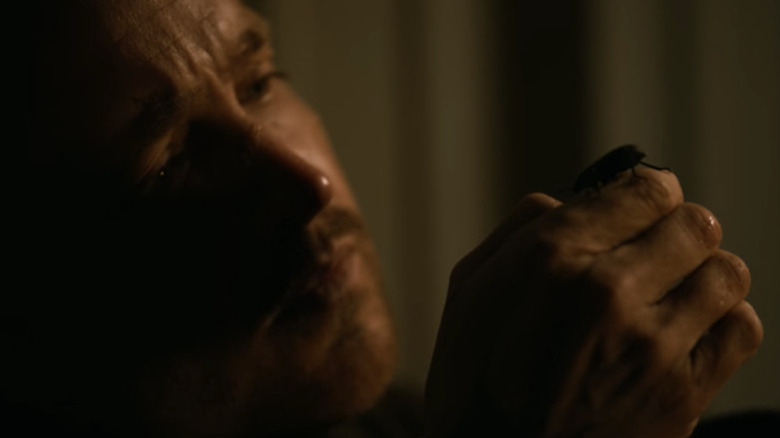 Netflix
In the world of "Breaking Bad," no detail is insignificant. The tragic world Vince Gilligan put together is filled with the occasional sweet moment, which offsets the brutal acts of violence. In an interview with Aaron Paul, Brian Davids of The Hollywood Reporter made note of such a moment, in which Jesse turns off his folks' kitchen sink. It touched the "El Camino" star:
"I love that! I love that you noticed that. I did [have a similar reaction]. He loves them deep down, and when he called them, he knew this was the last time he was going to speak with them. So it was such a beautiful moment."
In the same interview, Paul elaborates by recounting how a "Breaking Bad" callback ended up in the film:
"When we were shooting 'El Camino,' there was a night shoot that was right before he blew up [Kandy Welding Co.]. And there's a scene where he's waiting for the girls to leave, and then he sees a beetle and picks it up and looks at it. It was a throwback to 'Breaking Bad"s 'Peekaboo.' And the first AD came up to me and was like, "We're gonna scrap that little scene. We're gonna head to this other shot. We're running out of time." And I just begged them to keep that in there because I just loved that moment so much. I was like, 'Look, let's just set up the camera. We'll do one take. Let's just do it.' ... I just love those little moments that peek inside Jesse's heart."
When I think of Jesse finding peace, this moment works well to establish the innocence he has left. It serves as a breather before the film's big showdown, but it's also a sweet follow-up to a beetle encounter in season 2 in which Jesse's friend Skinny Pete (Charles Baker) casually crushes the insect. In "El Camino," however, Jesse gets to have a moment of calm and compassion before doing what needs to be done.
"El Camino: A Breaking Bad Movie" is currently streaming on Netflix.