The Morning Watch: Life On The Star Wars Galactic Starcruiser, Creating The VFX Of Halo & More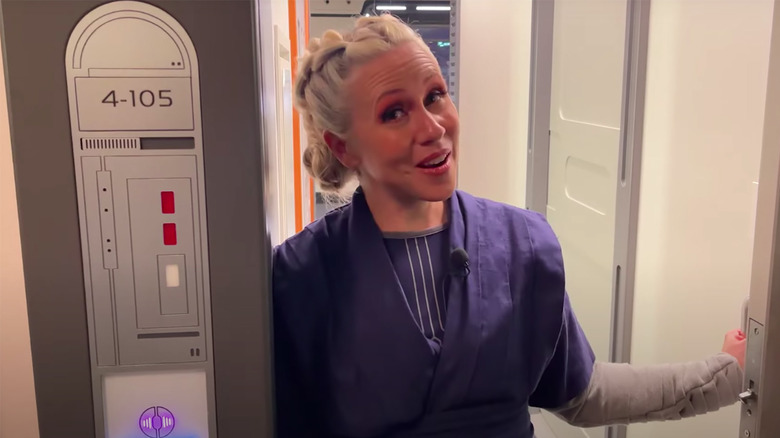 Disney
(The Morning Watch is a recurring feature that highlights a handful of noteworthy videos from around the web. They could be video essays, fan-made productions, featurettes, short films, hilarious sketches, or just anything that has to do with our favorite movies and TV shows.)
In this edition, "Star Wars: The Clone Wars" star Ashley Eckstein (voice of Ahsoka Tano) takes us on a tour of the Galactic Starcruiser experience with her two-night adventure aboard the Halcyon. Plus, we go behind-the-scenes with the cast and visual effects team from the "Halo" series to look at the balance between practical and visual effects. And finally, actor Bill Nighy breaks down his most iconic roles from films like "Love Actually," and the "Pirates of the Caribbean" franchise.
May the Force be with you (and your wallet)
A trip on "Star Wars: Galactic Starcruiser" at Disney World might be out of your reach financially, but with our first video today, you can get a taste of what the experience would be like from Ashley Eckstein, the voice of Ahsoka Tano in animated series like "Star Wars: The Clone Wars." Eckstein takes us all around the ship, showing us the Sublight Lounge, where you can play sabaac and grab some food and drinks, the Chandrila Collection that allows you to pick up some space duds to blend in with your fellow travelers, and her mission during a stopover on Batuu. Better start saving those credits, because a trip is going to cost you a whole lot of them. 
The VFX of Halo
With four episodes of the series "Halo" out (and nine more to go), Paramount+ has released a new video taking us behind the scenes. We're learning all about the visual effects department, including how the combination of practical effects and CGI are used to give us what executive producer Kiki Wolfkill describes as "nine individual movies." Cast members such as Pablo Schreiber and Bokeem Woodbine also take us through what it's like to be on set with so many practical pieces. We even get to see the puppeteers behind the Prophets. When you see how much work goes into trying to make a series just as engaging behind the scenes as it is on your screen, you appreciate it even more.
"It's hard to act while hissing"
Hopefully you know Bill Nighy from films like "Love Actually," "About Time," "Pirates of the Caribbean: Dead Man's Chest," and so many more. In this video for British GQ, Nighy breaks down some of his most beloved, including Mr. Woodhouse in the recent take on "Emma," Ambrose Hilliard in "Their Finest," Lawrence "The Girl In The Café." But of course, Americans know him from the role of Billy Mack, the aging rock star in "Love Actually." As Nighy notes, doing the film meant that "people can nearly pronounce my name." We also learn about how the hardest part of playing Viktor in "Underworld" was trying not to laugh as he hissed at the other actors during filming. Watch the whole video for more charming anecdotes!