Wild Babies Trailer: 2022 Has Been Tough, So Here's A Nature Docuseries About Baby Animals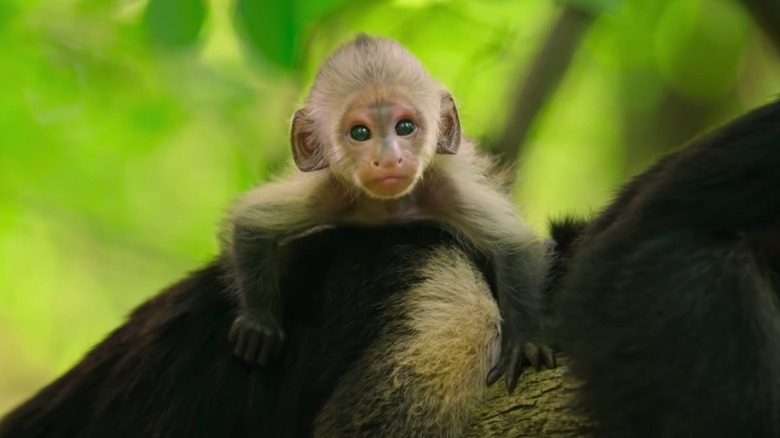 Netflix
Sometimes we need a break — not just from the world, but from the endless rush of new prestige television options. Sometimes we just need ... "Wild Babies."
"Wild Babies" looks to be a sprawling nature docuseries in the now-popular vein of shows like "Planet Earth" and "Our Planet." The series is even produced by the team behind David Attenborough's latest project, "Life in Color." Here's the catch, though, and get ready because it's a cute one: this docuseries is all about baby animals.
The upcoming Netflix show is focused specifically on the early days of wild animals' lives, and the footage in the "Wild Babies" trailer looks both adorable and informative. "Wild Babies" seems to have everything: a tiny bear falling off a log, a newborn bird that looks like a chicken cutlet rolling an egg out of a nest, the tiniest little monkey face you've ever seen. The documentarians clearly had close-up access to animals in their natural habitats, which may be even more of a feat to pull off than other nature docs, given how protective animal parents are of their babies.
Get ready to say "aww!" a lot
"Wild Babies" looks like a fluffy, precious antidote to our trying times, but it also might pack some surprising emotion in as well. There's a pretty sad clip of a shivering penguin, and if this show thinks we've forgotten about "March of The Penguins," it's sorely mistaken. Helena Bonham Carter narrates the series, and in the trailer she says, "For a baby born wild, the journey toward adulthood will be hard, but most don't have to struggle alone."
The implication here seems to be that most of these little critters will make it with the help of their families, but Bonham Carter also mentions that survival in the wilderness takes a special sort of determination. Sadly, science has not evolved to give us nature documentaries where every single animal lives forever yet, but in the meantime, this looks great.
Here's the official synopsis for "Wild Babies:"
Every living creature starts life as a baby. From the moment of birth, the adventure of life begins. Some enjoy a blissful babyhood full of playtime with siblings and the carefree fun that comes with learning skills for adulthood. Others have a brutal awakening as they are launched into a game of survival from day one, and have to learn to get by on their own ... or not. Born Wild reveals the secret lives of baby animals as we venture into their world for a glimpse of events and interactions we rarely get to see.
"Wild Babies" will debut on Netflix on May 5, 2022.