Nicolas Cage Couldn't Land A David Lynch Cameo For The Unbearable Weight Of Massive Talent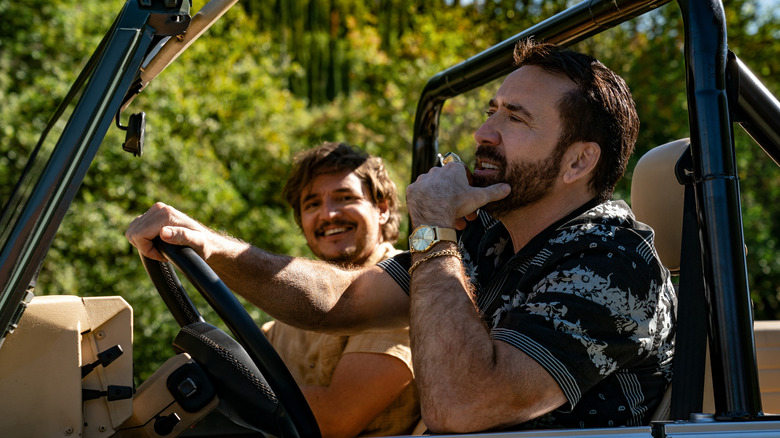 Lionsgate
Welcome to the Nicolas Cage-aissance, folks. After years of getting the outrageous meme treatment, even to the point of causing beloved "Community" character Abed Nadir (Danny Pudi) to suffer a complete mental breakdown over classifying whether he's a good or bad actor, the man, myth, and legend himself has been enjoying a well-deserved victory lap with a string of strong performances that best show everything the actor is capable of. As if he couldn't endear himself enough to Film Twitter with his role in the violent action/thriller/horror movie "Mandy" in 2018, Cage went on to star in brilliant roles like his voice acting in "Spider-Man: Into the Spider-Verse," the unhinged absurdity of "Prisoners of the Ghostland," the manic scares of "Willy's Wonderland," and even a wonderfully understated (and genuinely Oscar-worthy) turn in 2021's "Pig."
But Cage didn't get to this point in his career by resting on his laurels and basking in his accomplishments. Oh no, Cage is set to one-up the Nicolas Cagiest performances we've seen throughout his decades of success with "The Unbearable Weight of Massive Talent," in which the actor will play a fictionalized version of himself (named "Nick Cage") as he attempts to stave off bankruptcy by accepting an invitation to a birthday party for the biggest Cage fanboy to ever live (Pedro Pascal) and even get swept up in life-threatening espionage. You know, just a typical day in the life of Cage!
But in a tremendously fun use of Cage's natural charisma and aura, the actor participated in a Reddit AMA (Ask Me Anything) that took the internet by storm with all sorts of wholesome and heartwarming answers. One in particular, however, had to do with the upcoming "Unbearable Weight of Massive Talent" and a certain director's cameo that unfortunately fell through.
The Nicolas Cage/David Lynch reunion we deserved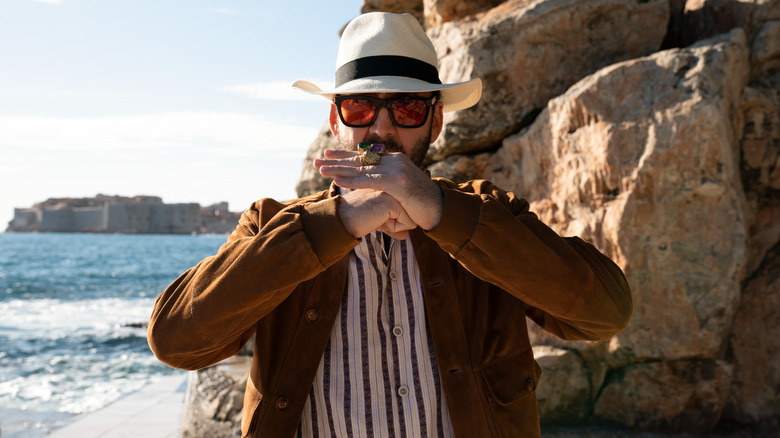 Lionsgate
Nicolas Cage is great. Reddit AMAs tend to be a great source of unexpected tidbits, fun stories, and an entertaining showcase for a public figure's wit. So when you combine the two, glorious chaos ensues. During the recent Reddit AMA Cage participated in, that's exactly what happened. These sorts of fan interactions always go better when they feature talent with a wide-ranging selection of movies, public appearances, pop culture gags, and more that provide fodder for conversation. Cage in particular has worked with some incredible directors over the years, from Spike Jonze to Francis Ford Coppola, Joel Schumacher and Werner Herzog. He even has a whole list of others he'd love to work with in the years ahead. But there's one specific filmmaker who he's collaborated with in the past and almost was able to reunite with on "The Unbearable Weight of Massive Talent." David Lynch wasn't ever in the running to direct the film, but he could've cameoed — if only the pandemic didn't get in the way. As Cage explained:
"I did call David when we were filming 'Massive Talent' because I had hoped he might play the role of the director I was auditioning for, but it was at the height of the concerns with COVID and he didn't want to leave the house. The result of David Gordon Green however was pitch perfect, and I do hope David Gordon Green does more work as a thespian."
Lynch, of course, previously directed Cage in the 1990 crime film "Wild At Heart." His cameo ultimately went to "Pineapple Express," "Stronger," and "Halloween" director David Gordon Green, who plays himself in "Massive Talent." By all accounts, the film is still a massively entertaining romp ... but we can't help but wonder how much more enjoyable it could've been by reuniting Cage with Lynch.