Hacks Season 2 Trailer: Deborah And Ava Take The Show On The Road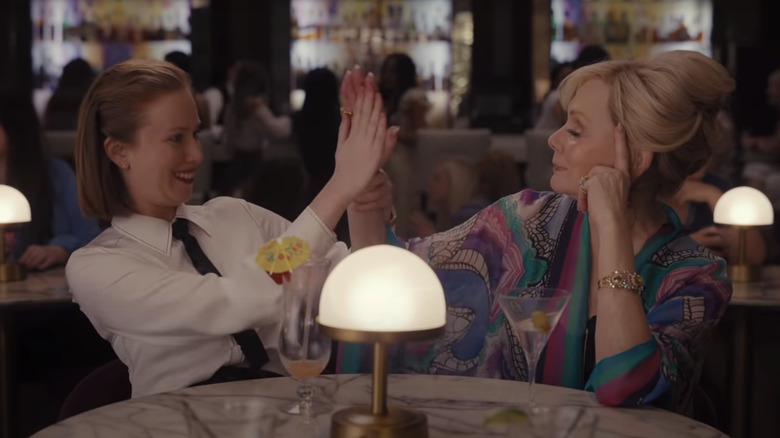 HBO Max
Jean Smart and Hannah Einbinder are back, with HBO Max releasing the official trailer for the second season of the Emmy Award-winning comedy, "Hacks." From the minds of Lucia Aniello, Paul W. Downs and Jen Statsky, "Hacks" centers on the hilarious adventures of Deborah Vance (Smart) a renowned comedian who has enjoyed spending her twilight years as a resident performer in Las Vegas, but while the world around her has evolved, her brand of comedy has not. In a last ditch effort to maintain relevancy and keep her job, Vance is paired with Ava Daniels (Einbinder), a former up-and-coming comedy writer who was "canceled" after making an insensitive tweet. Together, the duo must find a way to work together despite their constant fighting, and eventually develop a winning partnership that allows them both the space to grow as comedians, and human beings.
When we last saw the edgy jokesters, they were both coming face to face with monumental life changes. Ava leaves on the night of Deborah's final performance in Las Vegas, but it's because her father has passed away. The two rekindle their partnership and decide that they're going to take Deborah's new act on the road to test out in smaller venues across the country. Unfortunately, the season 1 finale also ended on the cliffhanger of Ava sending a drunken email ripping Deborah a new a-hole to a production company looking to make a show centered on the comedy legend.
Hacks season 2 trailer
Given the fact the trailer shows a shot of Jean Smart whipping novelty desert rocks at Ava's head at what looks to be a roadside attraction, I think it's safe to assume that the word of Ava's email is going to get back to Deborah. There's also some fascinating blink-and-you'll-miss-it moments of Deborah catching some blood on her face during what looks to be a MMA fight, Ava living her best life at a beach party, and the two of them dumpster diving for ... some reason. God, what are these two messes going to get into?!
In addition to Einbinder and Smart, "Hacks" also features Carl Clemons-Hopkins as Deborah's chief operating officer Marcus, with Kaitlin Olson, Christopher McDonald, Poppy Liu, Johnny Sibilly and Megan Stalter in recurring roles. New to this season include Laurie Metcalf, Martha Kelly, Ming-Na Wen and Susie Essman. As we previously reported, both Margaret Cho and Devon Sawa will also show up as guest stars this season. Aniello, Downs and Statsky serve as co-showrunners and executive produce alongside Michael Schur, David Miner and Morgan Sackett.
"Hacks" returns to HBO Max on May 12 with two episodes, with two episodes releasing weekly until the show's finale on June 2, 2022.