Natalie Portman's Darjeeling Limited Cameo Is Part Of A Prequel You Might Not Have Seen
Searchlight Pictures
Wes Anderson movies tend to be very white (in more ways than one), and on the rare occasions where they're less-so, the results have been, well, a bit divisive. In the case of Anderson's 2018 stop-motion film "Isle of Dogs," the movie was taken to task by critics of color for trafficking in Japanese stereotypes. His 2007 movie "The Darjeeling Limited" is also dubious in the way it uses India as the backdrop for a story about three estranged brothers (played by Owen Wilson, Adrien Brody, and Jason Schwartzman) traveling through the country on what they hope will be a journey of spiritual healing. Is Anderson poking fun at white Americans who do this sort of thing in real-life, despite knowing little about the place(s) they're visiting? I might argue yes and no.
As with any Anderson film, of course, "The Darjeeling Limited" has its staunch defenders and offers all the aesthetic pleasures we've come to expect from his work (strikingly symmetrical compositions, impeccable production design). It similarly features cameos or brief turns by Anderson's frequent collaborators Bill Murray, Angelica Huston, and Waris Ahluwalia, as well as the late, revered Indian actor Irrfan Khan and Oscar-winner Natalie Portman. However, unless you saw its short companion film, "Hotel Chevalier," you were probably confused by Portman's blink-and-you'll-miss-it wordless appearance the first time you watched the movie.
Where do you go to (my lovely)?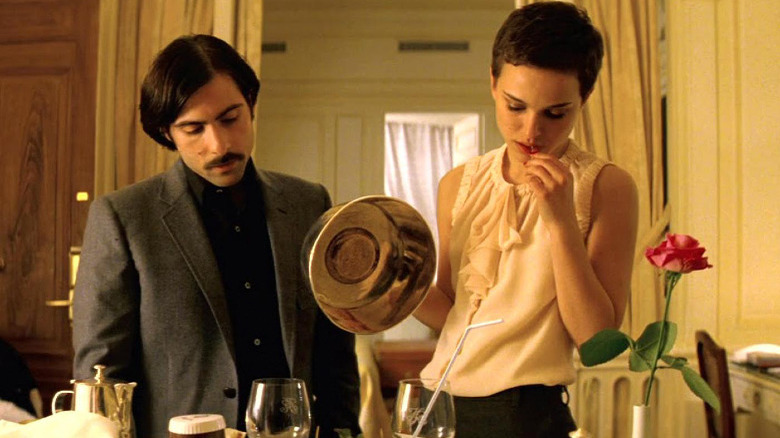 Searchlight Pictures
Running only 13-minutes, "Hotel Chevalier" finds Schwarzman's character Jack from "The Darjeeling Limited" staying at a Parisian hotel prior to his trip to India, only to receive an unexpected visit from his ex-girlfriend Rhett (Portman). The short film is full of the kind of quirky touches and scenarios commonly found in Anderson's feature-length movies, from Jack struggling to order a grilled cheese sandwich in French to the visual gag at the end where he shows Rhett the "amazing" view of Paris from his hotel room. It's also fairly quiet and melancholic, with Peter Sarstedt's 1969 faux-waltz "Where Do You Go To (My Lovely)?" (which Jack plays on his stereo system) setting the mood for much of its runtime.
In an interview with the Los Angeles Times in late September 2007 (shortly before "The Darjeeling Limited" began playing in select theaters in North America), Anderson revealed that "Hotel Chevalier" was shot in just two days at the Hôtel Raphael in Paris. He explained:
"I was financing it myself, so there was no money to raise. We got a little crew together — 15 people — and shot quickly. We dressed it with stuff from my apartment. It was like making a student film."
Anderson reached out to Portman through producer Scott Rudin, and she quickly agreed to appear in "Hotel Chevalier," even knowing it wouldn't pay anything and would require her to be fully naked at one point in the story. In fact, Anderson said the only change she requested to his script was, "Smoking. She didn't want to smoke." As such, instead of having Jack hand Rhett a cigarette like Anderson had originally written, the short film ends with him giving her a toothpick. "I think it's better," Anderson added.
Hotel Chevalier played in theaters (eventually)
Curiously, in spite of its significance to "The Darjeeling Limited," the "Hotel Chevalier" short wasn't shown with the movie during its initial limited North American theatrical release. Instead, it was made available for free on Apple's iTunes Store right before "Darjeeling" screened at the New York Film Festival on September 28, 2007. It wasn't until "Darjeeling" went into a semi-wide release four weeks later that "Hotel Chevalier" was attached to the film in theaters.
"Ideally, I wanted someone to watch the short, take a break, think about it for a week and then watch the feature," Anderson told The Hollywood Reporter at the time, explaining why he didn't just release "Hotel Chevalier" with "Darjeeling" in theaters right off the bat. "That's kind of hard to organize at a multiplex."
"Hotel Chevalier," which is embedded above, is worth taking the time to watch, especially for those who have already seen "The Darjeeling Limited" but never caught its "prologue" (for one reason or another) and were perplexed by Portman making what may've seemed like a very random cameo in the film. Even those who've never seen "Darjeeling" and/or aren't so keen on Anderson's movies in general might find the Anderson-lite style of "Hotel Chevalier" more their speed. It may even conjure up memories of your own romantic heartbreak.