Eddie Redmayne's Unexpected Inspiration For His Fantastic Beasts Performance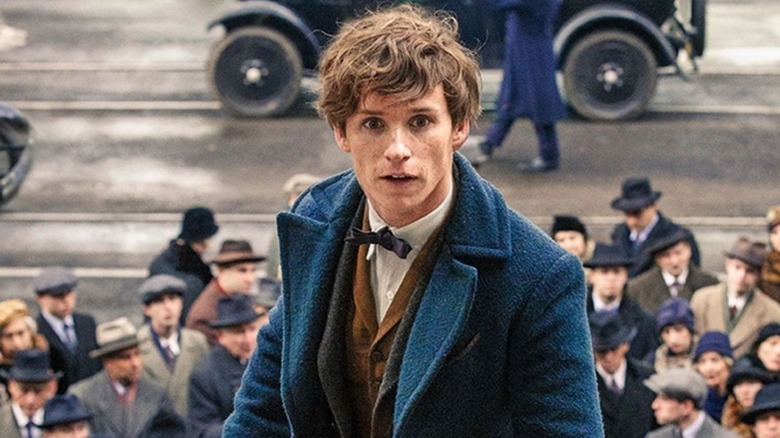 Warner Bros. Pictures
Following the tremendous success of the "Harry Potter" franchise, Warner Bros. greenlit an adaptation of "Fantastic Beasts and Where to Find Them," a five-part spinoff film series based on a Hogwarts textbook.
Where "Harry Potter" lore is concerned, the textbook is written by a magizoologist (a witch or wizard who professionally studies magical creatures) named Newt Scamander. The book became a prerequisite for all Hogwarts students in their first year. However, for the spinoff films, British author J.K. Rowling (whose transphobic statements have since marred the franchise) wrote the screenplay and brought Newt Scamander to life, a character we knew very little about.
Oscar-winning actor Eddie Redmayne has portrayed Newt in three films so far. Newt is painfully awkward in social situations and most at ease in the company of his fantastic beasts. Newt's dominant trait is his compassion and love for magical creatures, which often comes before being brave. He's a nontraditional hero who has rarely been seen in the "Harry Potter" franchise. That said, Newt is also a bit quirky. He has an interesting walk and eccentric mannerisms, and Redmayne's inspiration for the performance might surprise you.
J.K. Rowling made Newt stand out in a crowd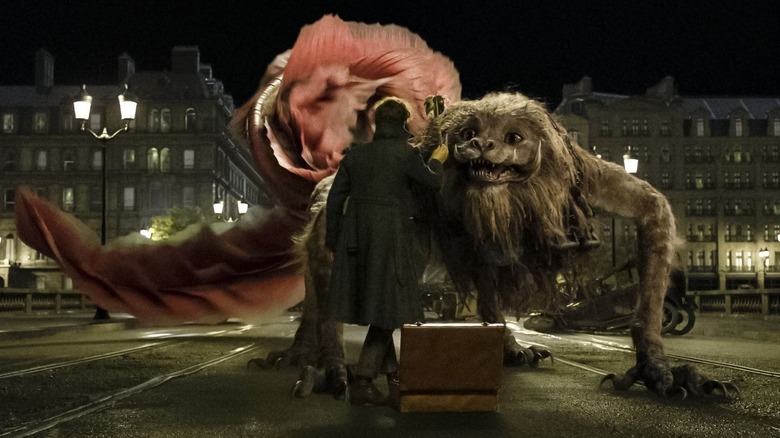 Warner Bros. Pictures
When J.K. Rowling described Newt Scamander to Eddie Redmayne, the author mentioned the character doesn't make eye contact with others and has a deliberate walk. Fans should be able to identify Newt before they see his face — and it all has to do with how he stands out in a crowd. In a 2018 interview with The Leaky Cauldron, Redmayne explained that Rowling mentioned Newt had a "Buster Keaton-esque" quality. The late American actor was a master of physical comedy, so it is understandable why Redmayne had to borrow inspiration from him. He told The Leaky Cauldron:
"That was how he was described, and that was kind of the most amazing and terrifying description. I started looking up Buster Keaton, and then meeting people."
Everything Newt does is connected to his profession. His passion for saving magical creatures from the wizarding world gets him entangled with the Second Salemers — an anti-magic group home to the Obscurial Credence (Ezra Miller), a young wizard who develops a dark parasitical magical force as a result of suppressing his magic. In the same way, Newt's work as a magizoologist leans into how he communicates with people, especially in his demeanor.
Everything about Newt is tied to his profession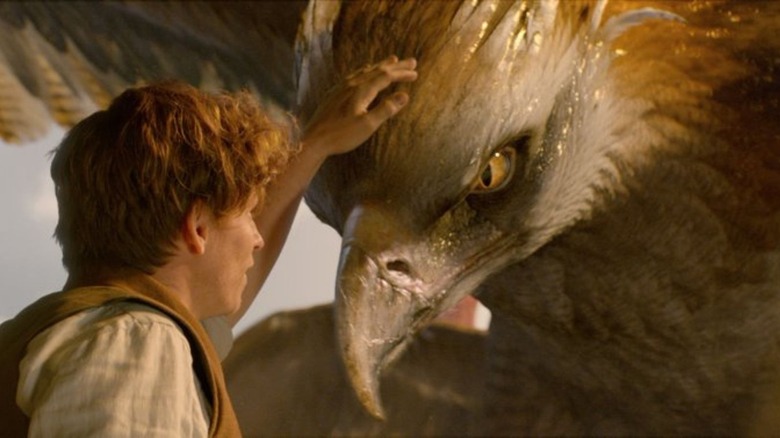 Warner Bros. Pictures
Newt's job is to track creatures, which means he has to be "super silent" while assessing the creature's location. Everything in his stance is tied to his job, as demonstrated by Eddie Redmayne during the interview:
"There are people whose job it is to track creatures. I met this guy, and he expressed to me how, when you're tracking a creature — you have to be super silent, so if there are leaves you have to have your legs, your feet totally apart, so you can keep all your weight on one foot whilst you assess where you put the next foot. This tracker guy stood like this [Eddie stands with his feet facing outwards, in opposite directions]. He walked like that, and I thought, well, that's it then. Which is great until he has to run like it, so I'll have to have that hip operation ..."
Throughout the three films — 2016's "Fantastic Beasts and Where To Find Them," 2018's "Fantastic Beasts: The Crimes of Grindelwald," and 2022's "Fantastic Beasts: The Secrets of Dumbledore" — you'll recognize that Newt Scamander has an odd way of approaching people. He usually tilts his head down and hunches a bit. Newt doesn't act like this because he's an oddball. His nature as a magizoologist is just accustomed to avoiding displays of dominance when approaching a magical creature. So he uses his body language to convey that he is harmless. How else would he be able to capture so many beasts in his briefcase?