Only One Star Was Allowed To Have A Script On The Set Of Fantastic Beasts: The Crimes Of Grindelwald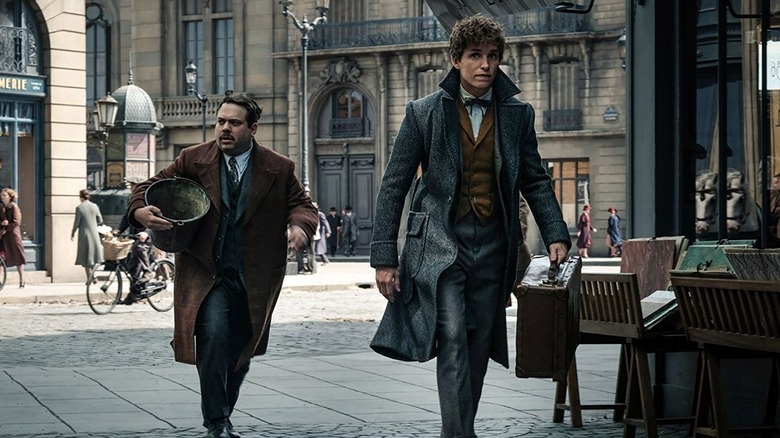 Warner Bros.
Remember the big plot twist at the end of "Fantastic Beasts: The Crimes of Grindelwald"? No, I'm not talking about the one where Queenie turns over to the dark side. This is the one where dark wizard Gellert Grindelwald (Johnny Depp) does what he knows best (which is gaslighting) and exploits Credence Barebone (Ezra Miller) into believing he's a member of the Dumbledore family ... the very brother of Albus Dumbledore himself. The plot twist, if true, could have lasting implications for the entire "Harry Potter" universe. 
Naturally, it became important to keep this twist a secret — the cast and crew behind the film wanted to ensure the movie's biggest reveals weren't leaked online, as we've seen happen often in the age of the internet. So while filming the second spin-off movie, Warner Bros. made sure members of the cast weren't given printed copies of the scripts. Except for one actor, and even he wasn't permitted to take it home.
Only Eddie Redmayne was trusted with a script!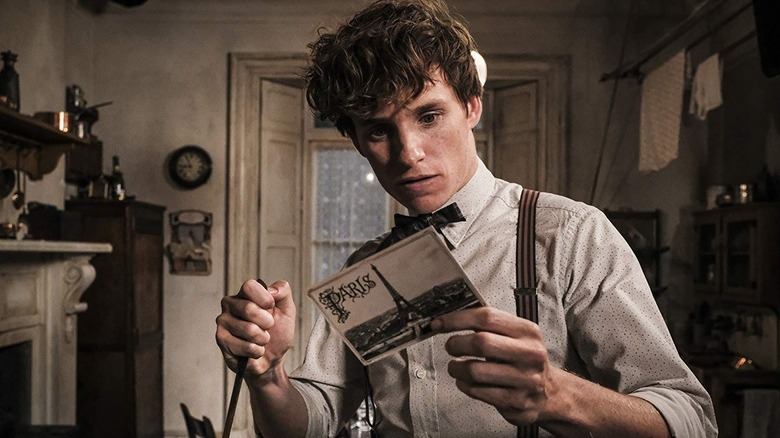 Warner Bros.
In an interview with Time Magazine, Oscar-winning actor Eddie Redmayne, who plays magizoologist and proud Hufflepuff Newt Scamander in the "Fantastic Beasts" franchise, said that the producers made an exception for him. The actor found it impossible to follow an electronic script — which made it easier to keep the film's details under wraps — but it wasn't feasible for Redmayne.
The actor was given a special copy of the script, which remained locked away when he wasn't filming. The "Fantastic Beasts" creative team even had the script printed on non-photocopy paper so it couldn't be scanned. Redmayne explained: 
"I found it impossible because the amount of time you spend with a script when you're making a film ... so they printed it out for me on non-photocopy paper. I'm not allowed to take it off set, it's locked away."
Even electronic scripts aren't "foolproof," though, as producer Tim Lewis said:
"As we know, things can be hacked. Disney got hacked. It's always a worry but you hope the systems you put in place do what they're meant to do... nothing's fool proof [though]."
J.K. Rowling wrote new stories for Eddie Redmayne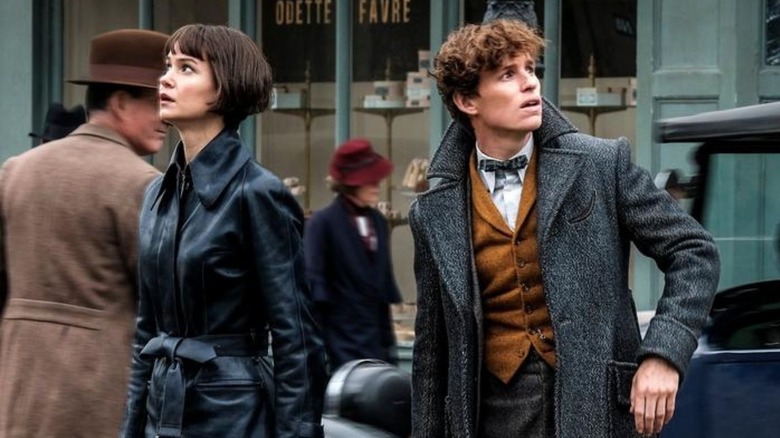 Warner Bros.
"Fantastic Beasts" has been planned as a five-film franchise and serves as a prequel story for "Harry Potter." The first two films followed Newt's adventures with his case of magical creatures against a backdrop of impending war, with Grindelwald and Dumbledore's backstories set to be revealed. But no one knows what lies in Newt's future — not even Eddie Redmayne.
"It's weird not knowing what the future's like for Newt," Redmayne said. The actor was aware that his onscreen character eventually marries his love interest Tina Goldstein, but there's little else he knew. So J.K. Rowling wrote him two-page stories on Newt Scamander's relationship with other characters, limited-edition tales only for his perusal:
"We know that he and Tina lived together and he survived this period, but I suppose he may disappear from the story. You never know what's coming, but that's kind of the thrill of it. When I asked about Newt's relationship with other characters, Jo would write these two-page stories about what our history was."
The third film in the series, "Fantastic Beasts: The Secrets of Dumbledore," dives deeper into Grindelwald's (now portrayed by Mads Mikkelsen) world and his legion of followers. Jude Law returns as young Albus Dumbledore, who teams up with Redmayne's Newt Scamander as they lead a team of witches and wizards to overthrow the dark wizard. The film opens on April 15, 2022.