Baby Driver's Editing Process Was As Action-Packed As The Final Film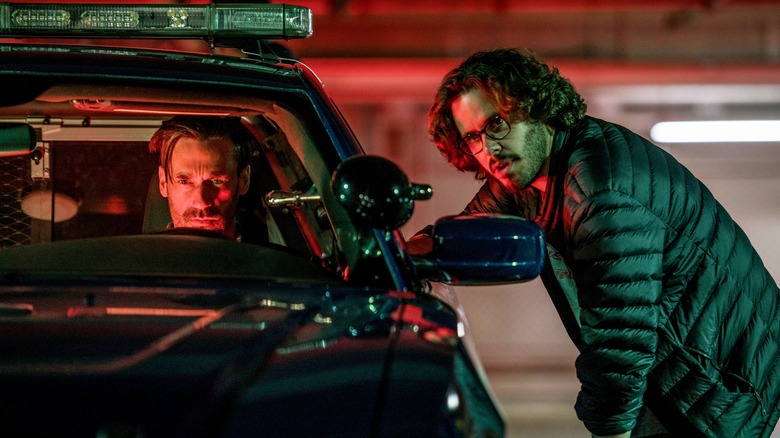 Sony Pictures
Edgar Wright may have reinvented himself to a certain extent with his most recent film, taking a much more direct route to outright horror with last year's "Last Night in Soho" than we've ever seen him attempt before. With movies like the "Shaun of the Dead," "Hot Fuzz," and "Scott Pilgrim vs the World" under his belt — all ambitious to various degrees and all incredibly well-made — the director clearly made a purposeful and impressive choice to avoid getting pigeonholed into a certain "type" of filmmaker. But even before his neon-tinted trip to the dark underbelly of 1960s London, Wright had already flexed his creative muscles and made some huge strides with the critically acclaimed and thoroughly entertaining thrill ride "Baby Driver."
To be sure, the 2017 film still boasts many of the filmmaker's classic trademarks, such as a deep and abiding love of music, kinetic energy, and a deceptively strong grasp of action and comedic timing, all working in perfect harmony. But in terms of his prior output to that point, "Baby Driver" clearly marked new genre territory for Wright, telling the story of the getaway driver known only as "Baby" (Ansel Elgort) to his dangerous, criminal associates as well as to his newfound crush, Debora (Lily James). With Wright behind the (metaphorical) wheel, "Baby Driver" pulls absolutely no punches as we watch the stunt team perform all sorts of nifty tricks. But perhaps the most praise ought to be reserved for Wright and his editing team of Jonathan Amos and Paul Machliss, who all basically pull off a minor miracle — or a series of miracles, to put it more accurately.
'We were dropping shots in as we filmed them'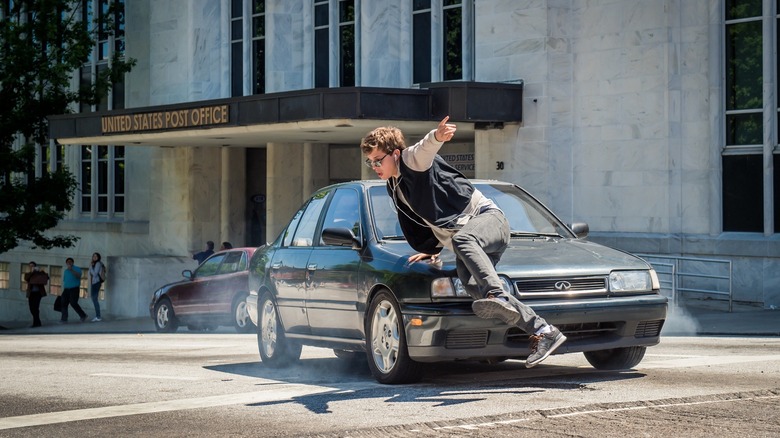 Sony Pictures
Edgar Wright is absolutely no stranger to creating an intricately connected balancing act in the edit, making footage, music, sound, and choreography all flow in perfect synchronicity. You can look to the impromptu Queen concert that breaks out in the middle of "Shaun of the Dead" or, more relevant to "Baby Driver," Edgar Wright's own music video that he directed for the band Mint Royale, which involved a getaway driver killing time during the robbery by listening to a killer beat. Sound familiar?
In a behind-the-scenes look into the editing process behind "Baby Driver" with The Hollywood Reporter, Wright and his editors, Paul Machliss and Jonathan Amos opened up about the intensive process that went into matching every beat with the on-screen action. As Machliss put it:
"It's such a big mix of music and action, and so many things were required to fall on the beat and interlock with other elements. Edgar said, 'I think we are going to need you out here every day.' ... So my cutting room became a portable sort-of editing trolley — a magliner with a laptop, monitor, and some storage and a connection to video assist. And for the assemble, that's how the film was put together.
Machliss further described the hectic editing process to THR: 
"Sometimes it actually become necessary to edit on the move. ... I'd be in a command vehicle, with a safety jacket, and a laptop strapped to an apple crate. I was sitting next to Edgar, and we were dropping shots in as we filmed them around downtown Atlanta."
The frantic pace of the production sure seems to reflect the flow of the action taking place within the movie itself, ranging from car chases, frantic getaways on foot, and even impeccable dancing that marries set design, shot blocking, and the constantly blaring soundtrack carefully curated by Wright himself. Though many would likely insist that the director will never top the glorious highs of his Cornetto Trilogy, I for one hope he continues to pick projects that test him to his very limits.