One Of Spartacus' Most Important Scenes Was Missing For More Than 30 Years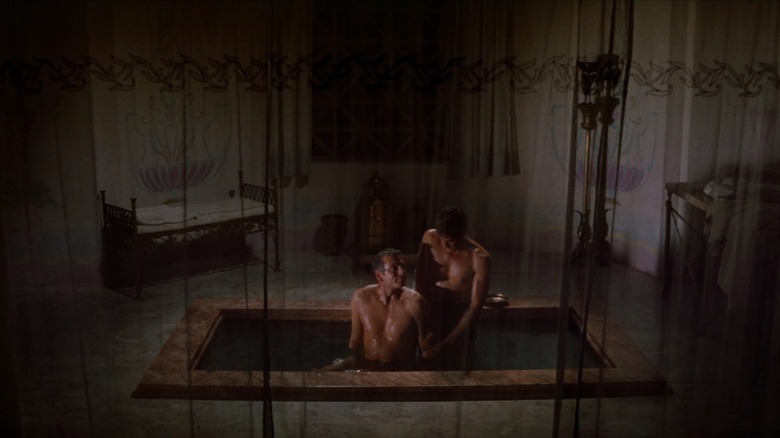 Universal Pictures
The production of Stanley Kubrick's "Spartacus" was notoriously troubled. The story goes that star Kirk Douglas, miffed that Charlton Heston landed the leading role in "Ben-Hur," elected to put his own Roman epic into production out of spite. Douglas hired director Anthony Mann, but fired him within a week after the two of them clashed. Because Douglas and Kubrick had worked together on "Paths of Glory," the star hired the director after a lot of the film had already been assembled. Kubrick is on record with how much he hated working on "Spartacus," having constantly argued with both Douglas and the film's already-hired cinematographer Russell Metty. Since Metty ended up winning an Academy Award for "Spartacus," it looks like he had the last laugh. But Kubrick remained unhappy with the finished film. 
Two other notable problems hung over "Spartacus" as well. Firstly, Douglas hired a blacklisted writer Dalton Trumbo to write a script based on a previous draft by Gore Vidal. Because Trumbo was blacklisted, and wrote the film in secret, he was not credited on the final print. Trumbo and Douglas were both attempting to make a "great man" biography wherein Spartacus, based on a real-life Thracian gladiator who led a slave uprising in c. 73 BC, was to be depicted as a grand flawless hero. Kubrick wanted Spartacus to be more human, flawed, and pathetic. 
Secondly, there was a scene in "Spartacus" that attracted the ire of censors. Tony Curtis plays a slave named Antoninus, and Laurence Olivier plays Marcus Licinius Crassus, the richest man in Rome. In the scene in question, the two of them get into a bath together and Crassus explicitly comes out as bisexual.
The bath scene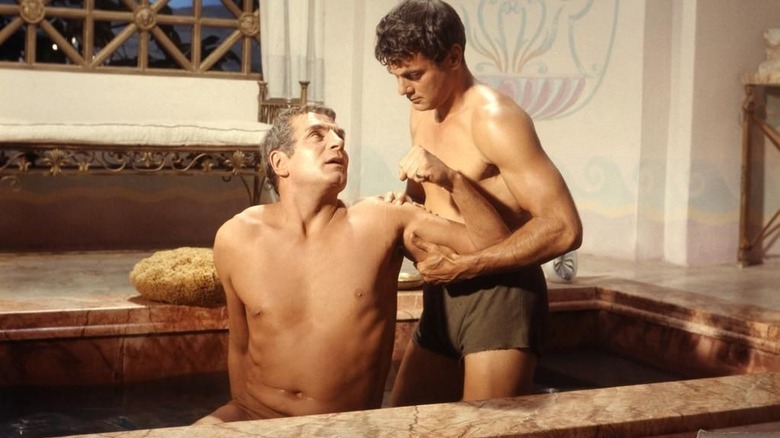 Universal Pictures
The bath scene was filmed through a translucent tapestry, giving it a voyeuristic hue. This is not something we're supposed to be seeing. As Antoninus washes Crassus, their conversation turns to cuisine, specifically that of oysters and snails. "Do you eat oysters?" Crassus asks. "When I have them, master," Antoninus replies. "Do you eat snails?" Crassus presses. "No, master," Antoninus suspiciously answers. Crassus goes on to talk about the morality of the two foods, and it becomes very clear that he is talking about sexual attraction to women and to men. When Crassus exits the tub, he confesses: "My tastes include both snails and oysters." Sexuality, he is saying, is a mere matter of taste, and has nothing to do with morality. 
The scene was erotically charged to begin with, but Crassus opening up about his sexuality was too much for some people. As reported in the New York Times in 1991, a busybody censorship group called The New York Legion of Decency — a movie watchdog adjunct of the Roman Catholic church that ran from 1936 to 1978 — demanded that the scene be cut. Additionally, because the film was so long, editorial whittling on "Spartacus" continued over the years, all without Kubrick's oversight. Kubrick's original version was 197 minutes, but the most popular version shown around the country was a mere 160 minutes. Some of these cuts were presumably made for time, although none of them had the bisexual coming out scene. 
In a 2002 interview with Metro Weekly, Tony Curtis seems to have recalled the studio's trepidation about the scene when he and Olivier filmed it:
"I remember when we were going to shoot it, the studio said, 'Well maybe we won't.' And both Larry and I objected. We said, 'We want this scene in the movie.' So they did it in one shot. No coverage. We knew there was trouble right there."
Curtis also keyed into the importance of the queer love triangle at the center of "Spartacus," and how skittish the world is when it comes to queer characters:
"It wasn't until the picture was released that we realized that they lost the most important part of that movie. That movie was the love story of three men — Spartacus, Marcus Licinius Crassus and my character, Antoninus — not a heterosexual relationship between Spartacus and a woman, and their child who will grow up to be the future ... Stanley and I were perhaps a little more progressive in our thinking than Kirk and all those other guys who were making the movie. Sure, let's talk about everything but let's not talk about homosexuality. That's a no-no. Especially at Universal Pictures."
The restoration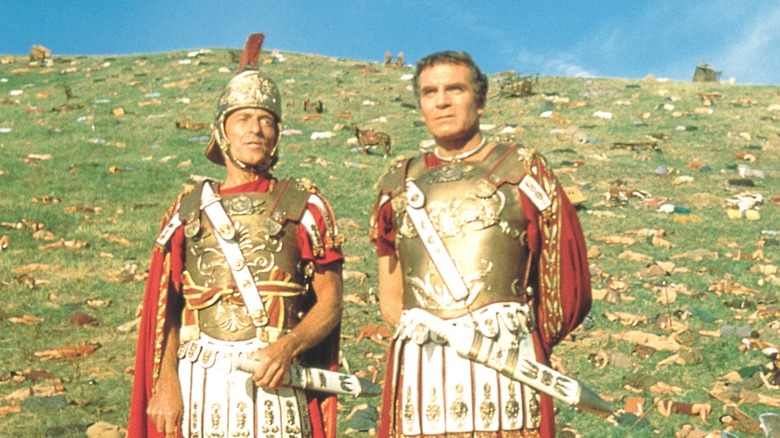 Universal Pictures
Thirty years after its release, prints of "Spartacus" had fallen into disrepair. With only a limited number of prints still in circulation, dirt, scratches, and fading became a presentation issue. Over time, acetate prints shrink, sometimes to the point of not being able to work their way through a projector, and the emulsion will begin to erode, leaving only the strongest color, red, remaining. Thanks to the American Film Institute, and Universal bothering to put some money into cleaning it up, "Spartacus" was restored to its former glory and re-released in limited screenings in April of 1991. 
Using discarded clips discovered at Universal — clips that the studio had ordered destroyed, but which had somehow escaped the furnace — as well as excerpts lent by private print collectors, a complete version of "Spartacus" was once again assembled. 
While the now-infamous snails-and-oysters scene was salvaged from the Universal vault as well, Jim Katz, the head of the restoration project, found that it had no soundtrack. Luckily, Katz had access to the shooting script, as well as Tony Curtis, who was happy to come back in 30 years later to re-record his dialogue for the scene. Olivier, sadly, had passed away in 1989, so the studio hired a long-working Welsh actor named Anthony Hopkins, to read Crassus' dialogue. The music was re-recorded, and the scene was re-inserted into the film. After 30 years, "Spartcaus" was complete once again. Kubrick may have hated working on the flick, but fans and historians had plenty of reason to celebrate. With the bisexual coming-out scene restored, audiences could now appreciate how daring "Spartacus" was for 1960. Curtis, in the Metro Interview put it thus: 
"That's done in all the movies: Everyone's always holding up something for 'the future.' This will be the kid of the future.' But what about these three men [Antoninus, Crassus, and Spartacus]? I always thought that should have been the basis for the movie. Sure, the guy f***s a girl and makes a baby. Sure, our freedom is being trounced on by everybody, black, white, all nationalities or religion. Yet we delicately avoid the physical love between men. We never discuss those scenes, and if we do they're always salacious and always lewd and never really capture the real sense of what we are as people."
With the full version of "Spartacus," we can see the complete people once again.