The Weird Way May Calamawy Landed Her Moon Knight Audition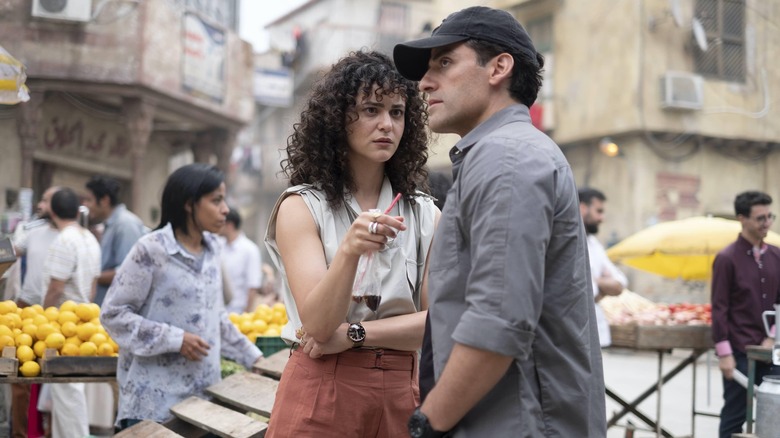 Marvel Studios
Ah, yes, every actor's favorite part of the job: the audition process. The grueling exercise in tireless hustle, torturous patience, and frequently crushing disappointment can't be a fun or easy landscape for anyone to navigate, let alone performers born in a different country entirely and who endured a long journey to finally getting their big break. When "Moon Knight" and its cast was first announced, fans all over the world naturally gravitated towards the two big names involved: Oscar Isaac and Ethan Hawke (though we later learned of a crucial assist by F. Murray Abraham in a gloriously cranky voice role). But after the latest episode, another crucial cast member just might be threatening to steal the show.
Egyptian-Palestinian actor May Calamawy plays Layla El-Faouly in the new Marvel series, the estranged wife of Marc Spector and fellow adventurer on the hunt for the mystical scarab relic that leads to the tomb of the Egyptian god Ammit. Finally, given an almost equal amount of screen time along with Isaac, Calamawy more than meets the challenge of standing toe-to-toe with her co-lead and helps provide a much-needed grounding influence on Spector himself. And just as importantly, the addition of an actor of Egyptian and Palestinian background certainly adds a sense of authenticity to the show's ongoing mythology-based storyline.
So with all of that going for her in Calamawy's biggest role yet, she was naturally asked about just what the audition process must've been like to land such a prominent role. According to the actor, she has Instagram, of all things, to thank for helping her snag the part.
'She was the channel for which we were representing Egypt'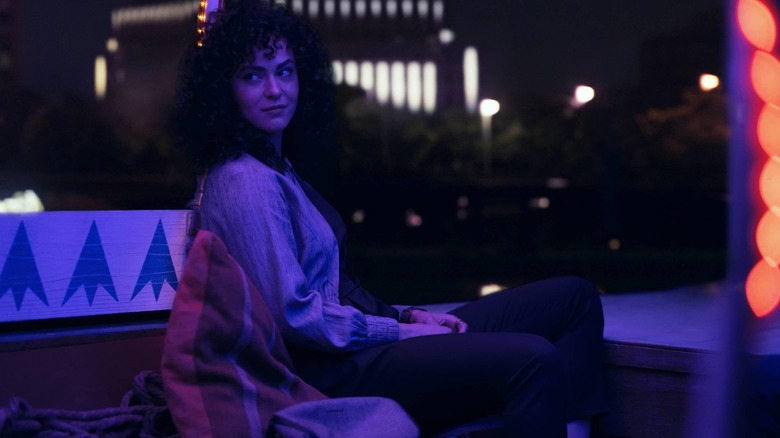 Marvel Studios
As much as social media may have been a huge mistake for humanity in general (don't you dare @ me to disagree!), it's nice to know that at least some good can come out of it every now and then. In an interview with Entertainment Weekly, May Calamawy opened up about the unusual way she found out about "Moon Knight" director Mohamed Diab's interest in her for the role of Layla. Be warned, however: the story is heartwarming and, if you ask me, pretty damn adorable. Calamawy said:
"Mohamed Diab's wife Sarah [Goher, who also served as a consulting producer on 'Moon Knight'] messaged me on Instagram, like, 'My husband's interested in you for this Marvel show.' I asked my manager if it was real — because you get a lot of weird stuff on Instagram! She did some fishing, and she's like, 'Okay, it's real, and I got you an audition.' There wasn't much information about it.

For the audition itself, I was really nervous, and I really wanted to do well — because I cared, but I also didn't have that much information. So, I had fun with it. Two weeks later, I had a chemistry read with Oscar, and then three days later, my manager called me. She was like, 'Have you heard anything?' I was like, 'No.' She says, 'Alright. Well, I have. You got it.' And then we both cried on the phone. [Laughs] My boyfriend was also there, and he cried. It was really cute."
The actual experience of joining such a large production turned out to be as intimidating as you might imagine. Calamawy goes on to talk about the pressure she felt, particularly from a representation point of view. Any fears she may have had about a thinly-sketched character, however, were quickly put to rest. The actress explained:
"I didn't know how much free reign we were going to get to be able to collaborate. I thought I was going to be handed a role, like, 'They've written this Egyptian role, and I'll take it.' But I realized that Mohamed and his wife Sarah were huge champions of Layla. She was the channel for which we were representing Egypt."
How's that for a little dose of wholesomeness to revive any cynic's cold, dead heart! Fans can see Calamawy on "Moon Knight," with new episodes dropping every Wednesday.