It's Hard To Argue With Nicolas Cage's Top Three Nicolas Cage Films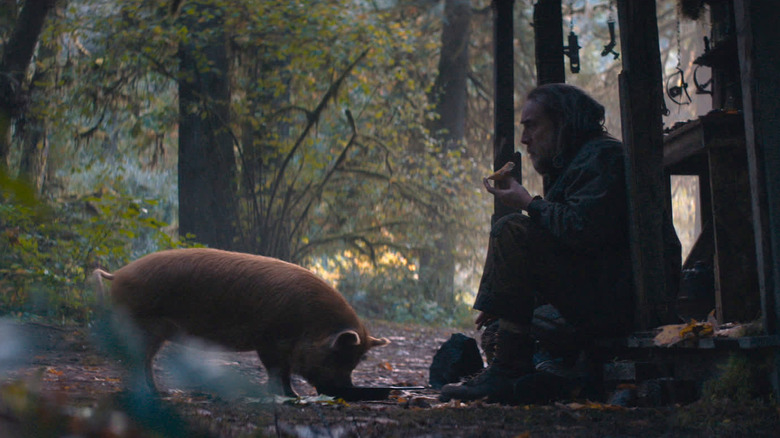 Neon
Since the 1980s, the ever-meme-able Nicolas Cage has been one of the most memorable and widely beloved performers in modern film history, a true national treasure. The actor plays a fictionalized version of himself in the forthcoming film "The Unbearable Weight of Massive Talent," so it isn't much of a surprise that career reflections and examinations will be widespread as the film nears its April 22, 2022 release date. In a Reddit AMA session, Cage was asked by Reddit user Lukeh41 which three films of his diverse oeuvre he would see preserved for posterity. The answer provides an interesting look at which of his arsenal of films would win his personal filmographic face off.
For fans of Cage's cinematic works, digging into the deep crate of his film outings must be like getting trapped in paradise. At the same time, the sheer diversity of his myriad film roles means that asking to choose a favorite is like getting stuck between the rock and a hard place. As hard as it is to really dig into that question, at any moment it could happen to you. Let's dig into his personal top three, and explore which other Cage entries truly kick-ass so that none get left behind.
Knowing the best roles of this cinematic army of one is difficult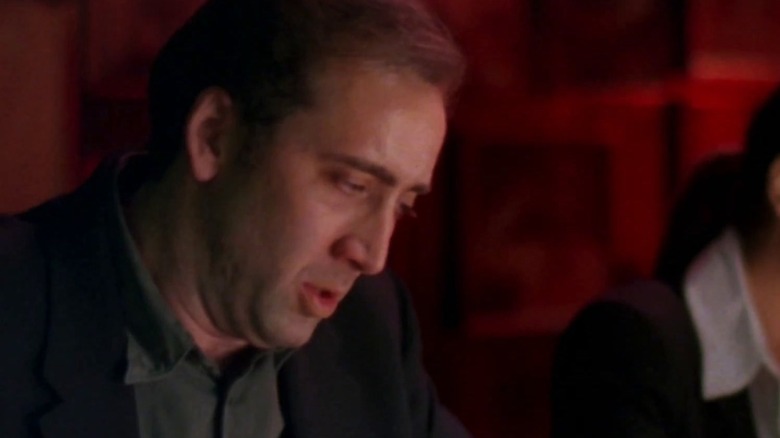 MGM/UA
Choosing favorite films always makes the filmgoing world seem like a dog-eat-dog place, but Cage's performances are always worth noting if you have some time to kill. In the AMA, Cage answered that the three films he would preserve for posterity would be "Bringing Out The Dead," "Pig," and "Leaving Las Vegas." He explains:
Thank you. I think Leaving Las Vegas, Pig and Bringing Out The Dead are my three favorite performances of my own body of work. I have not seen Leaving Las Vegas recently, however that movie and Elizabeth Shue's work in that movie are what I aspire to continue towards, and did continue towards with Pig, which is why I am always going to be up for small budget, independent, dramas.
These are easily three films that showcase Cage at his best, and it's clear from his answer that he loves the performances he is able to give in smaller, independent dramas. While Cage is known for his ability to bring to life larger than life (sometimes bombastic) characters, he often shines most in these more nuanced and subtle roles. 
"Leaving Las Vegas" is an exceptional choice, with Cage's powerful turn as suicidal alcoholic Ben Sanderson serving as the only time the actor has been awarded an Academy Award. "Bringing Out The Dead" sees Cage collaborate with Martin Scorsese as a paramedic at the end of his rhetorical rope, finding a little solace in befriending a victim's daughter (spectacularly played by Patricia Arquette). Both roles see Cage give complex and nuanced performances as characters at the end of their ropes. "Pig" is one of the most surprising turns in recent memory, with Cage starring as a chef-turned-truffle-hunter living off the grid, when his prized truffle pig gets stolen. It's a remarkable performance in a wonderfully complex film that answers the question "what if we made a John Wick film but John Wick was Thomas Keller." It's easily one of his finest performances yet.
Seeking justice for his arsenal of other great roles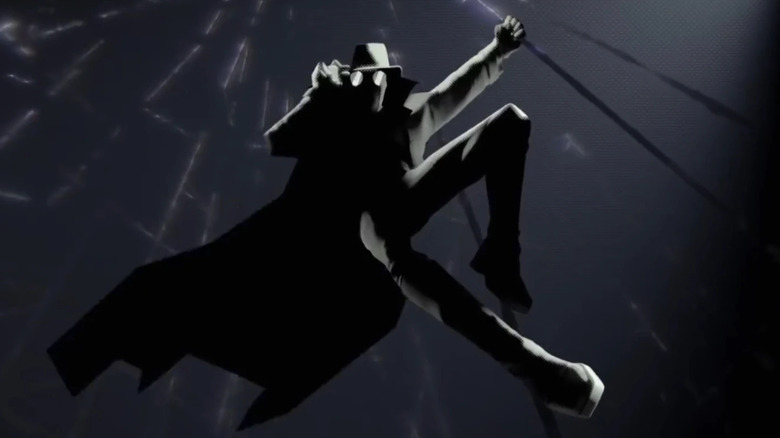 Sony Pictures
While each of Cage's chosen roles are easily among the actor's finest, there are many additional roles worth highlighting that showcase his range alongside the wonderful attributes he can bring to even the most unbelievable entries in genre cinema. In the critically acclaimed Spike Jonze outing "Adaptation," penned by Charlie Kaufman, Cage plays both Kaufman and his fictional twin brother Donald Kaufman in their attempt to adapt Susan Orlean's "The Orchid Thief." It is one of the best films ever made about the perils of being a writer, and Cage excels in both roles as only Nicolas Cage can. 
In "Mandy" Cage plays Red Miller, a man with an ambiguous violent past who has since settled down in an isolated cabin with his love Mandy Bloom ... until a religious cult attacks the pair, ultimately tying Red up and burning Mandy alive in front of him. This sets Red on a grief-and-LSD-fueled revenge mission in a surreal but excellent action-horror hybrid that indirectly answers the question "could a Terminator kill the Cenobites?" He loves, grieves, rages, and freaks out against a surreal and colorful horror backdrop, and anyone who hasn't seen it should.
Finally, though he was one of the smaller players in the film, his turn as Spider-Man Noir in the animated film "Spider-Man: Into The Spider-Verse" was an easy highlight in an otherwise spectacular film. There are many Spider-folks in that film, sure, but Cage has so much gravitas as the trenchcoat-wearing 1930's-era hero that, frankly, he steals every scene he's in despite the film being positively loaded with talent.  While Nicolas Cage himself has a clear penchant for his more subtle entries, these are still three very different films that highlight the range of one of our era's finest talents (at least in this author's estimation).