The Northman Director Robert Eggers Says Studio Pressure Can Be Good Sometimes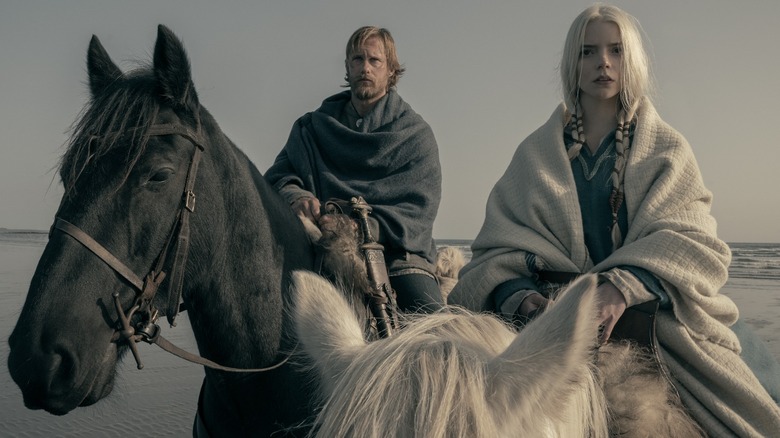 Focus Features
Robert Eggers' cinematic vision can be summed up as unique and surreal, although these terms do not even begin to cover the sheer breadth of emotions evoked by his previous offerings, "The Witch" and "The Lighthouse." In a hard pivot to the blockbuster arena, Eggers' "The Northman" is his most mainstream and ambitious project to date, which came with its share of studio pressure. But the director recently said that the pressure from the studio, Focus Features, while creating such a piece was actually helpful as opposed to detrimental to his vision.
Speaking about the test screening process for "The Northman," Eggers talked about the positive aspects of studio pressure, which helped craft "the most entertaining Robert Eggers movie" he could possibly make (via The Guardian): 
"I hadn't had to do test screenings before. My first two films [The Witch and The Lighthouse] were all tested for marketing, but I didn't have to change anything. So this was new, and as much as I didn't like that process, I did learn something from it. But more than that, this is the film I wanted to make. This is my director's cut. 

The studio pressure made the film what I originally pitched to them, which was the most entertaining Robert Eggers movie I could make. Honestly, without their pressure, I couldn't have done that. It's hard for me to tell a story with a beginning, a middle and an end, for goodness's sake."
Meeting halfway for an epic Nordic saga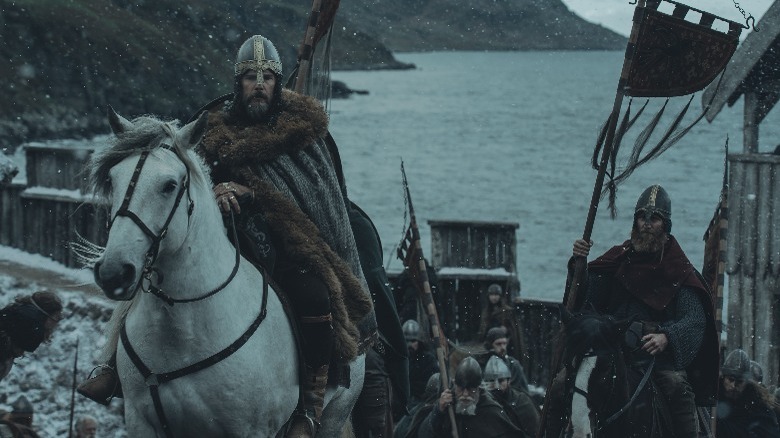 Focus Features
While "The Northman" is vast in its scope, in the vein of a blockbuster Viking movie, the treatment of the narrative is reflective of Eggers' style, given how painstakingly faithful it is to Scandinavian myth and folklore. "The Northman," after all, is a brutal revenge tale, a retelling of the folk legend of Prince Amleth (Alexander Skarsgård), who must avenge his father's murder against all odds and reclaim his right to his kingdom.
Apart from bloody scuffles in stark, cold climates that lent to a grueling filming process, "The Northman" also features a brand of spiritual mysticism that echoes Eggers' previous work, highlighting his love for folk legends steeped in witchcraft and powerful parables about essential truths. As his first two films allowed him to exercise full creative control, the shift from independent filmmaking to a bigger, more mechanized macrocosm came with its challenges, but Eggers acknowledged the lessons learned in the process of receiving feedback from producers and test audiences (via The New Yorker):
"Some audience member wrote, 'You need to have a master's degree in Viking history to understand, like, anything in this movie.' Like, ahhh, f***."
While Eggers admitted to feeling "frustrated" by the process, he highlights the amount of give and take involved, which helped him incorporate feedback while still having a major say in the theatrical cut, helping him carve his vision on a grander scale.
"The Northman" hits theaters on April 22, 2022.