The Harry Potter Producers Originally Had A Much Different Plan For Fantastic Beasts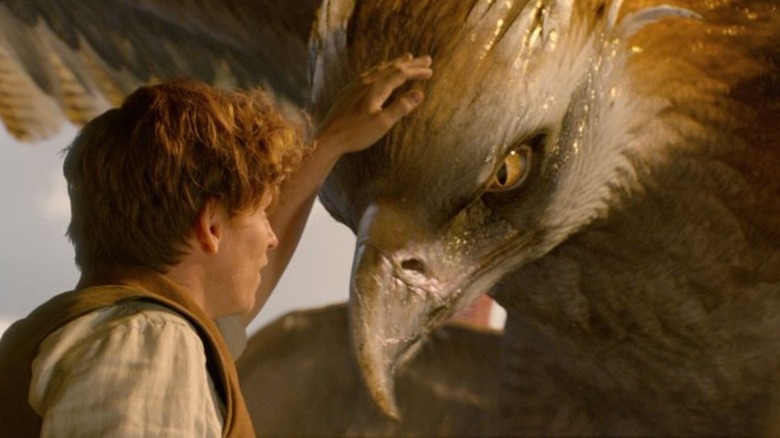 Warner Bros.
The "Harry Potter" series ended in 2011 with "Harry Potter and the Deathly Hallows — Part 2" serving as the fantasy franchise's sweeping conclusion. So Warner Bros. found another way to keep the magic going.
"Fantastic Beasts" promised fans a return to the magical world of Hogwarts, but not without complications. Since 2019, author J.K. Rowling has been doing her best to ruin the experiences of "Harry Potter" fans with her consistent retcons and heinous comments against the transgender community. It has heavily influenced the existing love for "Harry Potter," causing many fans to boycott the film's merchandise as well as the "Fantastic Beasts" franchise.
"Fantastic Beasts and Where to Find Them" is based on a Hogwarts textbook written by Newt Scamander, a magizoologist (a witch/wizard who studies magical creatures). The film detailed his adventures in 1920s America, featuring near-dangerous magic, a swarm of magical creatures, and a familiar dark wizard. Rowling penned the screenplay, and David Yates, who directed six "Harry Potter" films, returned to the helm. Regardless of its quirks, Warner Bros. was able to deliver a fun adventure movie that was resonant with the magic we once experienced as "Harry Potter" fans. This is why it's surprising to hear that the original plan for "Fantastic Beasts" was different.
A Newt Scamander documentary was planned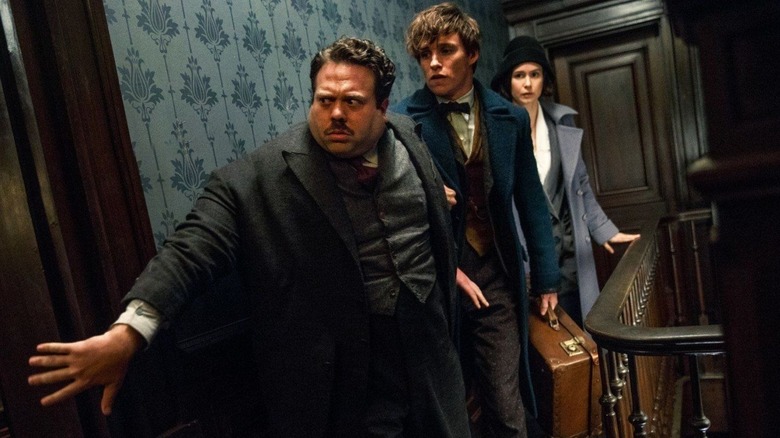 Warner Bros.
During a conversation with Collider, the film's producer David Heyman revealed one of the early ideas for the "Fantastic Beasts" franchise. It wasn't always going to be a five-film franchise that documented the rise and fall of Gellert Grindelwald ... it was going to be a documentary about Newt. Unfortunately, J.K. Rowling wasn't on board with the idea, and the producers were hesitant to move forward without her blessing.
"We were thinking about what to do and Lionel Wigram, who was one of the producers on this and who was the executive who I first sent Harry Potter way back in the beginning of 1997... He was thinking about what we could do and he had the idea of maybe doing a documentary about Newt. But ultimately I think Jo got word of that and sort of—I mean, we wouldn't have done it without Jo's permission or also a lot like, not sure we could've, but most certainly wouldn't have done even if we could've [without her blessing]."
J.K. Rowling had another idea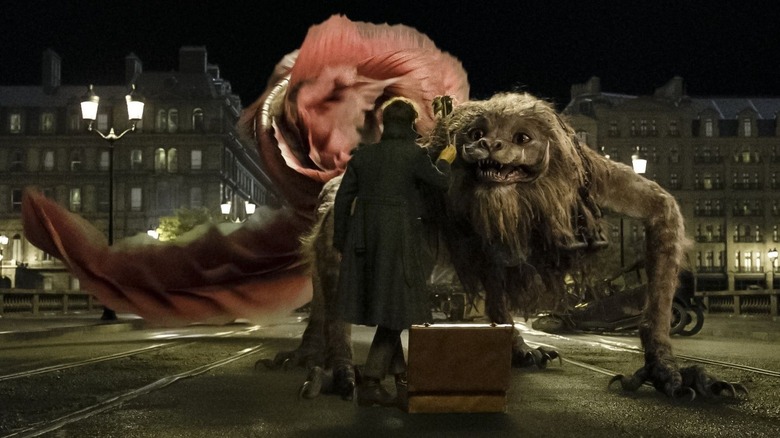 Warner Bros.
When Heyman and Wingram reached out to the British author, she had a script already prepared in some capacity. Rowling later developed the idea — but she knew how Newt's story could connect with her already-existing universe. She knew the history of the magic at Hogwarts before Newt's story could begin — and where the film's supporting characters Tina and Queenie came from. As for Newt's magical creatures, from Bowtruckles to Nifflers, J.K. Rowling imagined them first, so she had it all figured out.
"So, Lionel had this idea. Jo got wind of it. She said, 'Well, funny enough I'd been thinking about something already.' And she had this whole idea in some form. I mean, it's changed and developed over the course of the year and a half and two years that's been going on. But she knows how each part connects with her universe. She knows the history of magic before we were with Newt Scamander. She knows the history of the school where Queenie and Tina may have gone—I mean she has all this in her head. She knows creatures, their history, where they're from and so on. She's knows who Newt's family is, she knows Queenie and Tina's family, she has it all figured out in some way. So, when she started, she showed us the script and [we] went, 'Whew. Thank you.'"
'How could we come back to this world?'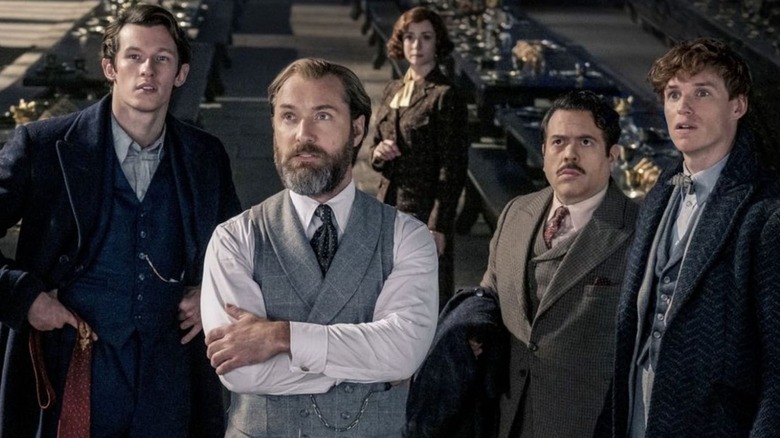 Warner Bros.
"Harry Potter" and "Fantastic Beasts" producer David Heyman spoke with /Film in 2016, revealing the details of their Newt Scamander documentary pitch. It was supposed to be a faux-documentary of sorts, with the cameraman traveling with Newt as he searched for his magical beasts.
Heyman also shared his initial aversion towards Rowling penning the film's screenplay because the author had never done it before.
"... Halfway through the beginning of my work on Paddington, Potter began knocking in my head. I was with [producer] Lionel Wigram and we were trying to figure out how could we come back to this world? And Lionel had the idea of doing a documentary about Newt Scamander, a faux-documentary where we go with him to see as he's looking for his magical beasts. Pitched that idea to Jo, she said, you know, it's funny, I've been thinking about Newt Scamander myself, and I have this whole story about him, and what do you think of it? She told us and we went, uh-huh."
It eventually paved the way for Fantastic Beasts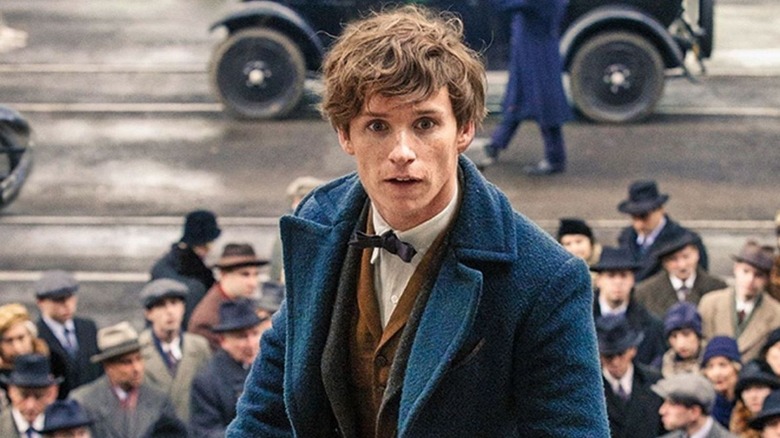 Warner Bros.
Heyman later stated he was impressed by Rowling's work on the "Fantastic Beasts" screenplay and described the characters as "vivid" and the adventurous scenes as "thrilling."
"And she says, so yeah, and I'd like to write the screenplay. And [we had] mixed feelings about that, because she's a novelist, she's never written a screenplay before. So when the screenplay arrived — she handed it to me. And I read it. And as soon as I opened it, I felt [dramatic sigh] relief. Because while it was very rough, it's a first draft from a person who had written their first screenplay, the characters were so vivid. The scenes were thrilling. It's a bit whimsical, a bit light, didn't have the gravitas that one would have liked, that one associates with Potter. And then the second — we hired David Yates, brought David Yates on, Steve Kloves and myself and Lionel and David. And then Jo did a second draft. And that draft was really dark. Really, really dark."
"Fantastic Beasts" may not have achieved the success of "Harry Potter," but it did exceptionally well at the box office, making over $814 million against its $180 million budget. The film's sequel made significantly lesser at $653 million — with critics often saying that the franchise failed to capture what made "Harry Potter" special. Instead of creating a new adventure with Newt Scamander at the center, the films have traversed along a different path, putting the rivalry between former lovers Albus Dumbledore and Gellert Grindelwald at the forefront.
The third film in the franchise, titled "Fantastic Beasts: The Secrets of Dumbledore," takes the focus away from the charming Newt Scamander and his case of magical creatures, as it develops the story between Dumbledore and Grindelwald instead. I just hope that it delivers and its potential isn't lost in J.K. Rowling's world of retcons.
"Fantastic Beasts: The Secrets of Dumbledore" opens in theaters April 15, 2022.