'Fantastic Beasts: The Crimes Of Grindelwald' Scores Lowest U.S. Box Office Opening For A 'Harry Potter' Film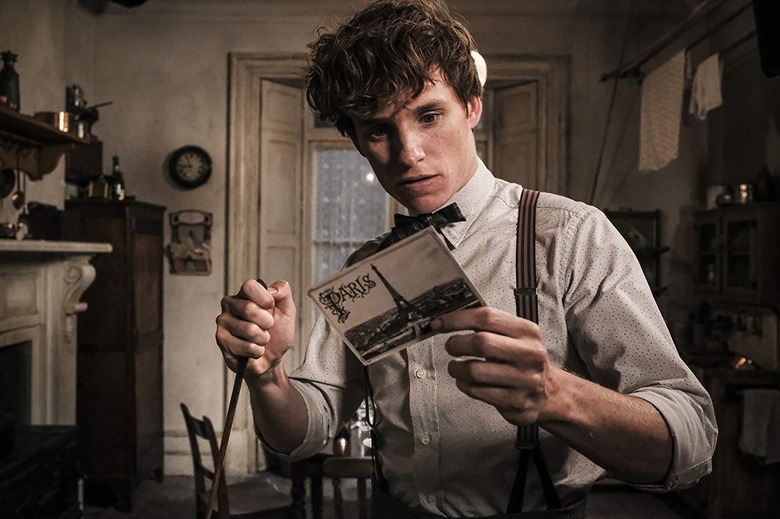 Fantastic Beasts: The Crimes of Grindelwald managed to score not only the lowest Rotten Tomatoes score in the history of its franchise, but it also had the lowest-grossing opening for a Harry Potter film.
Raking in an estimated $62 million at the domestic box office on its opening weekend, Fantastic Beasts: The Crimes of Grindelwald still managed to take the No. 1 spot at U.S. theaters, but fell a bit short of Warner Bros.' anticipated $65 million debut, according to Box Office Mojo. Luckily for the expensive production (an estimated $200 million budget), the film charmed on the international stage with $191 million from 79 markets, making a $253 million global debut.
Fantastic Beasts: The Crimes of Grindelwald hasn't seemed to enchant viewers as much as the previous Harry Potter films, scoring the lowest box office opening for the franchise yet. The second entry in a planned series of five films, Fantastic Beasts: The Crimes of Grindelwald falls below the previous franchise-low, the Harry Potter spin-off Fantastic Beasts and Where to Find Them, which raked in $74 million in 2016. The lowest openings for the core Harry Potter films were 2007's Harry Potter and the Order of the Phoenix ($77.1 million) followed by 2009's Harry Potter and the Half-Blood Prince ($77.8 million).
The 2018 film also unfortunately holds the indignity of being the worst-reviewed film in the franchise, hovering at 40% on RottenTomatoes, with critics slamming its emphasis on lavish visuals over story and characters. /Film critic Josh Spiegel joined in, calling the movie "a slog of a story that features an excess of dry, dull dialogue and a lack of story propulsion."
But that didn't stop Fantastic Beasts: The Crimes of Grindelwald from apparating to the No. 1 spot this weekend, as newcomers Instant Family ($14.7 million) and Widows ($12.3 million) barely cracked the top 5. The Grinch and Bohemian Rhapsody took the No. 2 and No. 3 spots, respectively, at $38.1 million and $15.7 million.
This low-ball opening weekend probably won't stop the Fantastic Beasts train soon, with director David Yates and screenwriter J.K. Rowling set to expand the franchise even further with three more planned films. And Warner Bros.' president of worldwide distribution Ron Sanders anticipates a stronger showing from families over the Thanksgiving break, saying, "We're extremely pleased with the opening weekend and think it will play well over the holidays. Clearly the brilliance of what [Rowling] created is something fans continue to embrace."