Oliwia Dabrowska, The Girl In Red From Schindler's List, Is Helping Ukrainian Refugees Cross Into Poland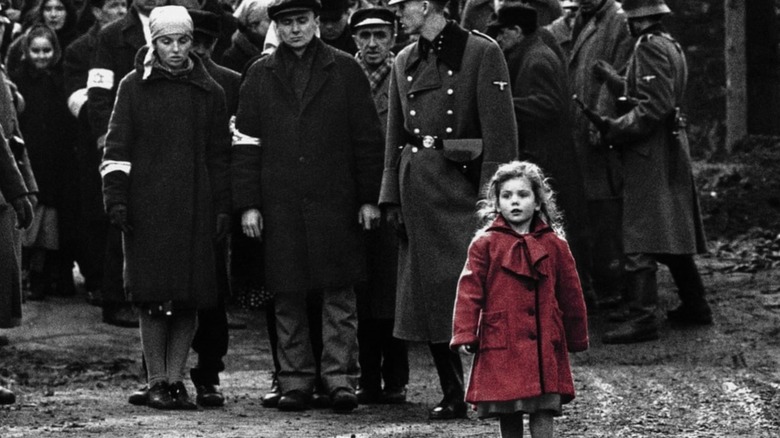 Universal Pictures
History has a way of repeating itself, even in the strangest of ways. And in the same vein, art certainly tends to imitate life, while life is almost always imitating art. Oliwia Dabrowska, who is known for her performance as the girl in red in "Schindler's List" at age 3, is helping refugees in Ukraine make their way to safety amid the war. Dabrowska, who is now 32 and a resident of Poland, first shared an art piece depicting her key moment in the film via Instagram on March 9. "She was always the symbol of hope. Let her be it again," she captioned the post. In subsequent days, she updated her followers on her experience at the Polish-Ukrainian border.
"We need your help here at the Polish-Ukrainian border," she wrote in a separate Instagram post. "Every little bit helps: we need material and financial donations, you can also volunteer to help out in person. The situation is dramatic; I'm also a volunteer here, at the border, and I've seen it with my own eyes..."
On March 13, she opened up about her efforts in helping a Ukrainian family who requested transport into Germany. "Today Russia bombed Yavoriv," she wrote. "Only 20 kilometers from Poland. So close! I'm scared, but that only motivates me more to help refugees." She added:
"Usually we transport refugees in our area, but this time we couldn't just say 'no'. They were desperate to get to their sister. Those kids...my God, I can barely hold back my tears. ... I can't tell you everything I saw there, because I don't have rigth [sic] words in my mind...Nobody, who have never seen this, can't imagine this nightmare in eyes of those people."
Art imitating life imitating art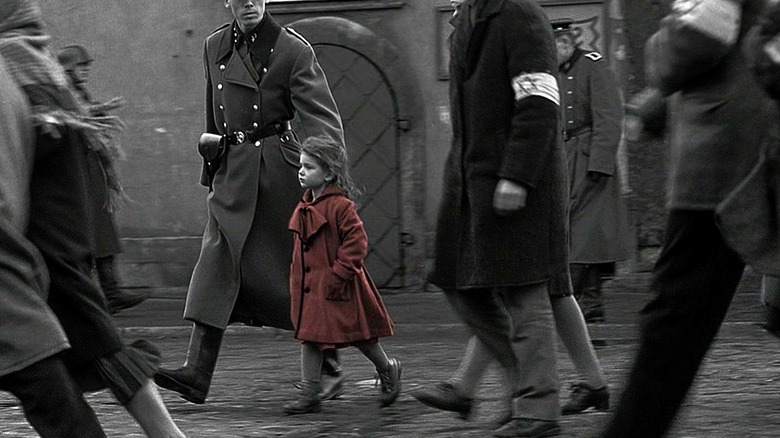 Universal Pictures
Most recently, Dabrowska revealed via Instagram on April 6 that she and her team had been successful in "actively helping the refugees, physically or online" by making strides toward getting first aid supplies to Ukrainian soldiers and creating a system for facilitating donations to the cause.
It appears that the actress' iconic role — and the implications that character have on the greater story of complacency and bravery — has made a real impact on her as the war in Ukraine continues to mount. Her actions harken back to director Steven Spielberg's comment about her character in an interview with NBC News in 2018:
"In the book, Oscar Schindler — Thomas Keneally's book — could't get over the fact that a little girl was walking during the liquidation of the Krakow Ghetto — everyone was being put on trucks or shot in the street. One little girl in a red coat was being ignored by the SS. The SS were taking everybody, but somehow were ignoring this 6-year-old child walking down the street wearing the brightest color. And yet she wasn't being seen. And to me that meant that the people — Roosevelt and Eisenhower and probably Stalin and Churchill — knew about the Holocaust. It was a well-kept secret, and [they] did nothing to stop it... For me, it was like a glaring red flag that, anybody who was watching, they could have seen."