A 2000s One-Hit Wonder Became A Vital Part Of Everything Everywhere All At Once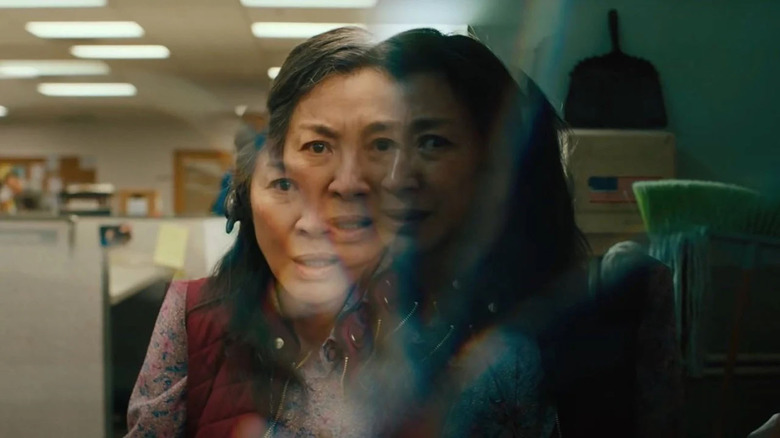 A24
"Everything Everywhere All At Once" is exactly what the film's title leads you to expect: a feast for the eyes, ears, and the soul. There are so many little details that will certainly take several rewatches to uncover — but if you have eagle ears, you may have noticed one particular 2000s hit that played a crucial part in the through-line of the film: Nine Days' "Absolutely (Story of a Girl)."
During a March 30 post-screening Q&A that /Film's own Ethan Anderton attended, "EEAAO" directors Daniel Kwan and Daniel Scheinert — known collectively as Daniels — explained that the song was a major influence in the script first before it actually made it to the screen. The track is initially used during the pivotal scene when Evelyn (Michelle Yeoh) is told by her husband (Ke Huy Quan) that she is the only hope of the multiverses to be saved from an evil force called Jobu (Stephanie Hsu). Kwan explained:
"We were writing this scene, and as we were writing this monologue, we were struggling. Then these words came out of my hands. Like, the muse inspired us. I was like, 'Oh, this is good! But I didn't write this. Where did this come from?' So I Googled the lyrics, and I was like, 'Oh, this is a song from the '90s that has been stuck in my brain, somewhere in my subconscious, wanting to come out.' And I was like, 'That's really funny. I'm not gonna tell anyone and just see if anybody notices.' ... So the night before [shooting], we were like, 'We have to rewrite it. We can't just steal this guy's lyrics. That's so stupid.' But we couldn't come up with anything better. So we just shot it with the lyrics."
"The test was, does anybody notice in the screenplay. But on the page, on the paper, it's not as noticeable," Scheinert added during the post-screening conversation. "As soon as he said it out loud, we were like, 'Oh, it's really noticeable.' Your brain just connects it once you hear the words."
The line serves as a turning point for Evelyn, because it marks the moment where she not only comprehends the gravity of the situation at hand — despite its unbelievability — but she agrees to take part in it. "It was that way [in the script] for years, we could never beat it," Scheinert explained during an interview with Mashable. "Then instead of replacing it, the joke became, maybe we can just put the song in the movie, and it'll become part of it?" Kwan agreed, "For some reason, it makes sense in the multiverse. And then it just kind of grew from there." Additionally, they recognized how fitting the track was in relation to Jobu's character, who deals with a metric ton of emotional turmoil and inner angst throughout the film. Kwan told Mashable:
"It's little things like that push us over the edge. Because I think there was probably a moment where we're like, 'Let's just cut [the lines] out. Let's try something else." But then, we're like, 'But look at the lyrics. It's about [her]. She's so sad [that] she's going to destroy the world.' Come on!"
One song four ways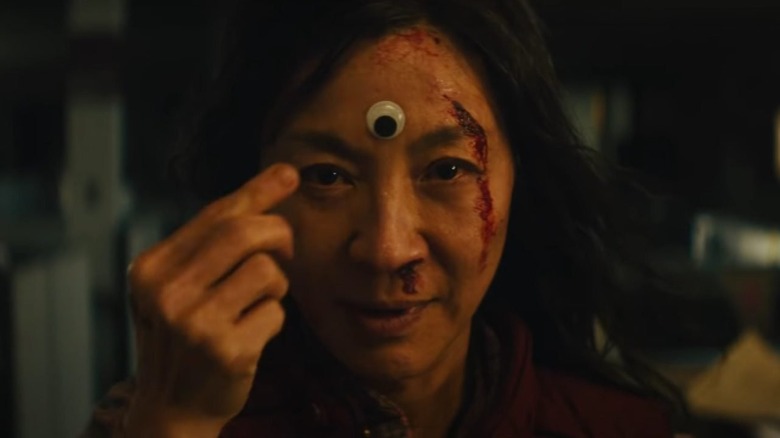 A24
The filmmakers ended up loving the addition of the soft treatment of the song that they reached out to Nine Days' lead singer, John Hampson, who was thrilled about their decision to use his song in the film so distinctly. Hampson is now a teacher and has teen sons who "love the multiverse," according to Mashable, so the former musician decided to go the extra mile and collaborate even further with Daniels. "We thought, 'What if we lean into it more? What if we reach out to the lead singer of Nine Days [John Hampson] and ask him to re-record his song with different lyrics so we can put them in different universes," Kwan revealed during the March 30 Q&A. 
Yeah, you read that right. There's layers upon layers to this stuff. So what and where are the three custom covers, you ask? Some sharp fans may have already caught them but here goes. The first usage is in a parallel universe where Evelyn and her husband are sitting in an RV and having a conversation. A country ballad cover of the original song plays on the radio during the scene in an effort to convey Evelyn's pain about her crumbling marriage.
Next, the song is used during a scene where Evelyn is a hibachi chef in another parallel universe. The second version of the track is actually called "Absolutely (Story of a Chef)," and includes some telling lyrics if you listen closely as it plays over the restaurant's PA system. Finally, the tune is used in a third parallel universe scene where our leading lady is a performer at a BDSM club, and it accompanies her on the radio. During the Mashable interview, Scheinert confirmed the lyrics to first verse of this version — Absolutely (Story of a Dom) — are as follows:
"This is the story of a Dom / She ties me up so good, but it's so wrong / And while she'll post uncensored photographs / I absolutely love it / My safe word's smile."
Kwan said of witty lyrics and inventive stylings of the new versions of "Absolutely (Story of a Girl)": 
"That's all John Hampson. He's the lead singer of that band, and now he's an English teacher. We were like, it can be 'This is the story of a dom,' and then the rest of the lyrics are the same. But he was like, 'No, no, no.' And then he wrote his own version. He came to a screening the other night, but he had to leave to pick up his kids, and we didn't get to meet him. We've still only Zoom'd with him. But he sat with an audience like this one and heard everyone laugh. He was so excited."
Clearly, the song is an incredible fit for the emotional life and chaotic container of "Everything Everywhere All At Once." It deeply represents its flawed and beautiful characters and it's truly the perfect linchpin to connect the audience with a grandiose film with a lot of moving parts. Needless to say, this meeting of the minds — Daniels and Nine Days' John Hampson — was a match made in multiverse heaven.
"Everything Everywhere All At Once" is playing in U.S. theaters in wide release now.