Quentin Tarantino Played A Surprising Role In The Production Of Swiss Army Man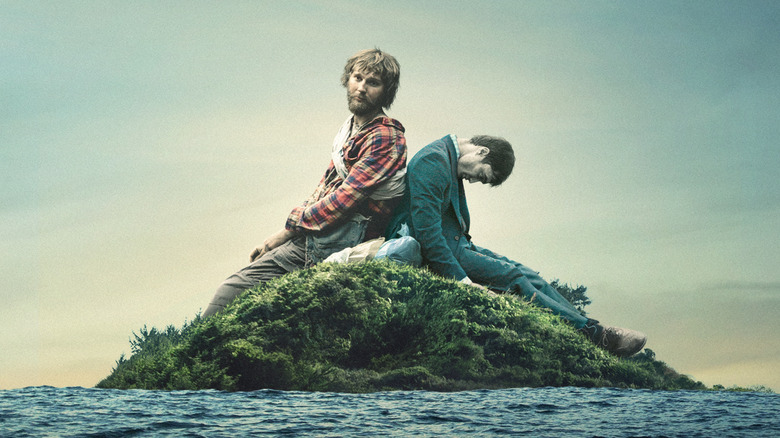 A24
The directing duo known as Daniels, made up of Daniel Kwan and Daniel Scheinert, have been enjoying a well-deserved victory lap after the release of their latest project, "Everything Everywhere All At Once." First getting their start in the music video scene with some of the zaniest, most out-there stylistic flourishes you'll ever see, the pair quickly established their own distinct artistic voice that soon had them knocking on the door of Hollywood itself. But make no mistake: it wasn't all sunshine and rainbows on the way from point A to point B. In order to end up in a place where their latest movie could inspire overwhelming amounts of praise from some of the most humbling talent in the business — from director Barry Jenkins to Mike Flanagan to Lilly Wachowski — they first had to navigate the profound uncertainty of releasing a movie that inspired angry walkouts at its film festival premiere.
In no time at all, "Swiss Army Man" gained a divisive reputation as "That farting corpse movie" which, well, isn't all that inaccurate. Starring Paul Dano as a stranded castaway on a tiny island and Daniel Radcliffe as the aforementioned farting corpse, the supremely underrated 2016 film boasted exactly the kind of high-concept creativity, off-kilter humor, and genuinely intuitive grasp of storytelling form and function that would go on to serve Daniels so well with "Everything Everywhere All At Once."
But for all their uphill battles to land at the very top of the mountain, perhaps their greatest test came as early as 2014. At the Screenwriters Lab at the Sundance Institute, Kwan and Scheinert submitted an initial draft of "Swiss Army Man" so hardened advisors could put them through their paces and critique them to within an inch of their lives. In a stunning twist, one such advisor happened to be world-famous filmmaker Quentin Tarantino. And — wouldn't you believe it — the director had plenty to say about Daniels' script.
'I was so scared. He's a no filter kind of guy.'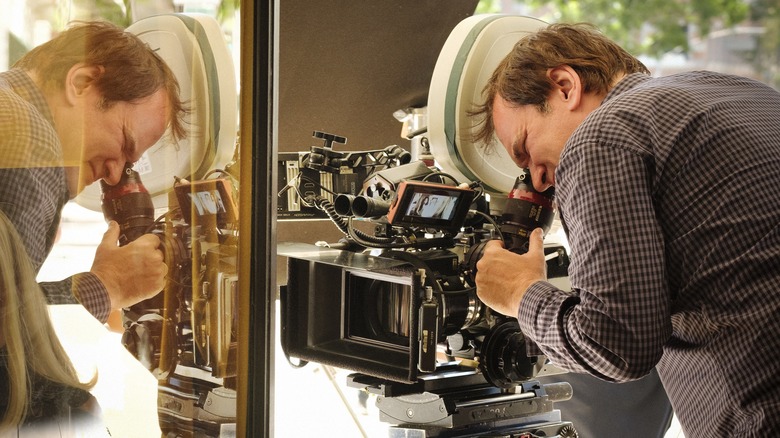 Sony Pictures
"You're placed with no cell reception and hanging out with other filmmakers who were trying to develop their voice. And you're not allowed to write. They don't let you, it's all about talking and processing, talking and processing. It's a marathon." 
That's how Daniel Scheinert originally put it in a sit-down with Indiewire back when "Swiss Army Man" first released, explaining the experience of putting their screenplay out there at such an early juncture and subjecting it to the opinions of others. Little did they know that one such opinion would come from none other than Quentin Tarantino.
What prospective, up-and-coming storyteller in their right mind wouldn't be intimidated by such an interaction? For his part, Daniel Kwan remembers the moment in all its hilarity and surrealism:
"Every single day you're talking to advisors who are just industry professionals. One of the people who read our script and talked to us was [Quentin] which was absolutely insane. It was so much fun to talk to him about the movie. I was like, 'Let's not talk about our movie, so in 'Kill Bill...'"
So what did Tarantino have to say about their movie? The famously strong-willed and opinionated filmmaker apparently had no shortage of suggestions. Scheinert chimes in and reveals just how nerve-wracking of an experience that was:
"I was so scared. He's a no filter kind of guy. One idea he had was that we should put the 'Gilligan's Island' theme song somewhere in there. Like, 'It should be he's farting and there's the 'Gilligan' theme song floating behind them.'"
While that moment ultimately never made it to the finished product, nobody can claim that Tarantino wasn't fully in-tune with the oddball antics prevalent throughout the script of "Swiss Army Man." Kwan goes on to explain that they sat down with advisors for up to three hours at a time, which means someone simply has to ply them with questions during the "Everything Everywhere All At Once" press tour (and every future movie they make, for that matter) about what else they discussed with Tarantino.
We do know one last on-brand suggestion of his that was directed to Daniels. As Scheinert joked, "He also wanted us to shoot on film and we didn't."