Michael Bay's Dog Caused Some Chaos Behind The Scenes Of Ambulance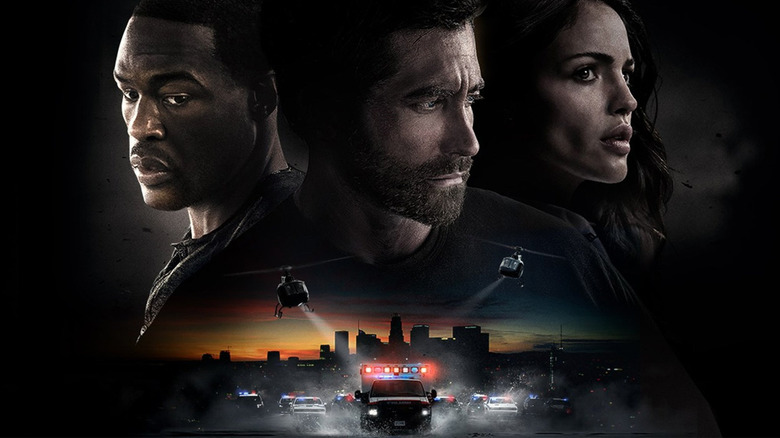 Universal
"Ambulance" is another wild and entertaining Michael Bay movie. Following the success of other blockbusters like "Armageddon" and the "Transformer" movies, this 2022 film does what Bay movies do best: overwhelming set pieces and turbo-charged thrills. In the words of /Film's own Chris Evangelista, "Ambulance" is "one hell of a ride." And according to Bay himself, that chaos onscreen was matched by some mayhem behind-the-scenes — thanks to his dog, Nitro.
"Ambulance" is an action thriller film starring Jake Gyllenhaal as criminal Danny Sharp and Yahya Abdul-Mateen II as Will Sharp, a war veteran and Danny's adoptive brother. When Will's wife Amy (Moses Ingram) needs a surgery they couldn't possibly afford, he reaches out to his law-breaking brother for help. This eventually results in the two of them hijacking an ambulance and fleeing from the LAPD. Predictably — this is a Michael Bay movie after all — this results in the most epic first-responder vehicle chase ever put on film. There are helicopters! There are snipers! And there are explosions.
There is also a cameo by Michael Bay's dog Nitro — and it was not easy to get that shot.  
Michael Bay's pup was a bit much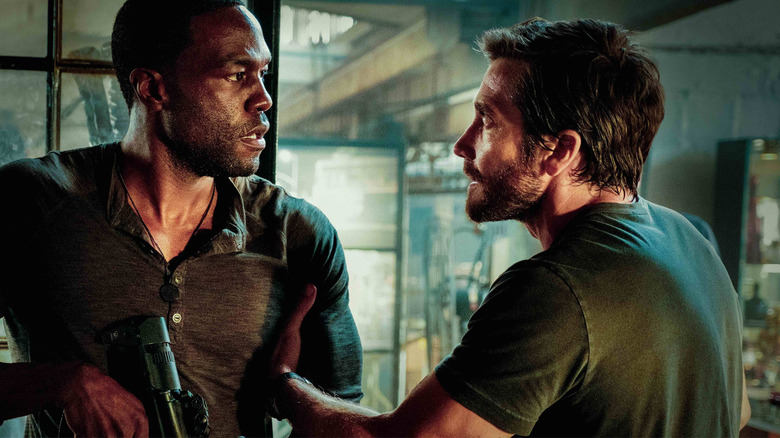 Universal
Michael Bay loves his dogs — so much so that he puts them in his movies, whenever he can. As the director told Screen Rant, filming a cameo for his 217-pound mastiff caused some problems on the "Ambulance" set. As it turns out, big dogs don't like being in small cars:
"I didn't put myself in this movie, but I did put my dog in it. That's Nitro, my mastiff. It was probably one of the tensest days because I had 19 minutes left of sunlight and he's 217 pounds. I had to push him in a little teeny Fiat. And he's like, 'What are you doing? I can't fit in here.'"
While there's an old saying in Hollywood that you should never work with children or animals, it's actually kind of sweet that Bay put so much effort into giving his pooch the spotlight. The Michael Bay movie is no doubt richer thanks to the cameo; it's a personal touch (and big dogs in little cars is, admittedly, amusing). The anecdote also serves as a reminder of Bay's process: he likes sunsets, practical effects, and sight gags. His work may not be for everyone's tastes, but it is unique to his directorial vision. 
Michael Bay has a soft spot for doggos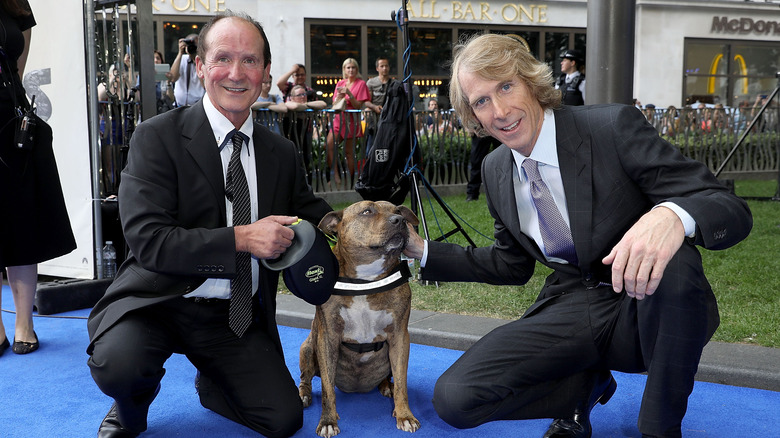 Tim P. Whitby/Getty Images
Michael Bay is obviously a dog lover. He owns three English Mastiffs dogs: Nitro Zeus (who is named after the "Transformers" character), Rebel, and Bumblebee (also a "Transformers" reference). Some directors like to cameo in their own films — Bay likes to put his mastiffs in his movies (not unlike Alfred Hitchcock and his Sealyham Terriers). 
Interestingly, Michael Bay's comments about his canine-crisis on the set of "Ambulance" is actually not the first time the director has made news thanks to a dog being in one of his films. In 2016, Bay made headlines when he cast Freya, "the world's loneliest dog," in "Transformers: The Last Knight," which premiered in 2017. Bay tweeted about the casting, saying that he hoped to find her a home. It seems to have worked! Shortly after the news broke, Ray and Jackie Collins adopted the special needs pup — giving her a happily every after.