Rae Allen, The Sopranos And A League Of Their Own Actress, Dies At 95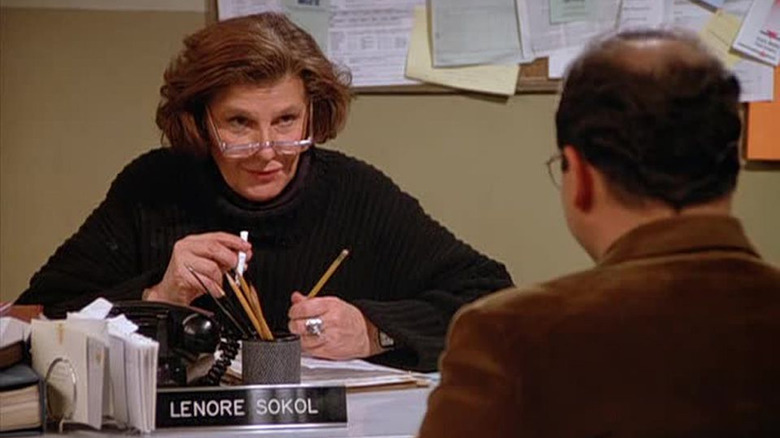 NBC
Rae Allen, a veteran actress across stage, television, and film, died peacefully in her sleep earlier today, according to Deadline. She was 95 years old. Over her lengthy career, Allen was nominated for the Tony Awards three times, ultimately winning the award in 1971 for Best Featured Actress in "And Miss Reardon Drinks a Little."
Rae Allen was born Raffaella Julia Theresa Abruzzo in 1926 in Brooklyn, New York. Prior to beginning her professional acting career, she trained at the famed HB Studio in Greenwich Village. In 1948, she had her first stage appearance as a singer and understudy in "Where's Charley" at the St. James Theater. In these early roles, she was credited as Rae Abruzzo, switching to Rae Allen with her supporting role as Poopsie in "The Pajama Game," starting in 1954.
A year later, Allen joined the cast of the original Broadway production of "Damn Yankees" as Gloria Thorpe, a sports reporter. The show follows the exploits of a real estate agent who sells his soul to the Devil to become a hot-shot baseball player for the Washington Senators. Allen would get her first nomination for a Tony Award for Best Featured Actress in the role and continue with the show for two years. Subsequent nominations would come for "Traveller Without Luggage" in 1967 and "And Miss Reardon Drinks a Little" in 1971.
Moving to the screen
Allen would make the successful transition to film with the adaptation of "Damn Yankees" in 1958. She reprised the role of Gloria for the production, alongside fellow Broadway castmates Shannon Bolin, Gwen Verdon, Ray Walston, and Russ Brown. She anchors the song "Shoeless Joe from Hannibal, Mo" in both the stage musical and the film.
She followed that role with guest-starring roles in shows like "The Untouchables," "Car 54, Where Are You?," and "The Patty Duke Show," while continuing on Broadway. She was Beverly in the 1967 film "The Tiger Makes Out," a black comedy film about a mailman kidnapping a young woman. That was followed by two more comedies, "Where's Poppa?" and "Taking Off," in 1970 and 1971 respectively. The next year she landed a role on "All In The Family," as Edith Bunker's (Jean Stapleton) rich cousin Amelia DeKuyper.
Across the 1980s, Allen would continue to have television appearances in shows like "Soap," "The Greatest American Hero," "Remington Steele," and "Lou Grant." On the former show, she played Judge Betty Small in a run of four episodes.
In her own league
Some may remember Rae Allen from some of her more modern roles in Hollywood. In an episode of "Seinfeld," Allen played Mrs. Sokol, an unemployment office clerk who interacts with George Costanza. That same year, "A League of Their Own" premiered in theaters, a comedic retelling of the real-life All-American Girls Professional Baseball League (AAGPBL). Rae played Ma Keller, the mother of team pitcher Kit Keller, portrayed by Lori Petty, and Dottie Hinson, played by Geena Davis.
Allen's career would continue through the '90s in films like "Calendar Girl," "Angie," and "Stargate." She would later transition mostly to television roles, including mother Lucy Fearing in "The Fearing Mind" and Tony's aunt Quintina Blundetto in "The Sopranos." In the latter case, Rae played a proud, but protective mother trying to keep her son, played by Steve Buscemi, out of a life of crime. Allen also had several guest appearances on shows like "NYPD Blue" and "Grey's Anatomy," and in films like "Reign Over Me."
Allen had no children and is survived by her nieces Laura and Betty Cosgrove. She leaves behind an amazing career on stage and screen.